Domestic Data Center Services
This page describes the locations of the main facilities that provide KDDI's domestic data center services for corporate and business customers.
Notice regarding new data centers

KDDI has established two new data centers to function as core bases for the domestic data center services in Japan. TELEHOUSE OSAKA 2 opened in August 2015, and TELEHOUSE TOKYO Tama 3 will open in February 2016. Click the links below for more information.

With a wealth of reliable experience and advanced expertise, KDDI's domestic data center services provide powerful business support

KDDI main data centers, TELEHOUSE are now established in 9 cities in Japan [1].
KDDI-affiliated data centers are also available in Hokkaido, Toyama, Fukuoka, and Okinawa prefectures.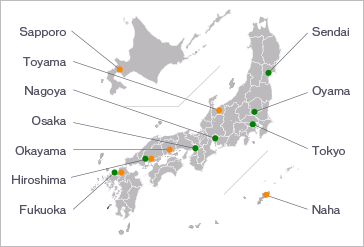 List of KDDI's domestic TELEHOUSE data centers
Click the link below for the basic information and specifications of each data center.
Data Centers - Basic Information and Specifications
Area
Location
Basic Information and Specifications
Japan
Sapporo
TELEHOUSE SAPPORO
Sendai
TELEHOUSE SENDAI
Oyama
TELEHOUSE OYAMA
Tokyo
TELEHOUSE TOKYO Shinjuku
TELEHOUSE TOKYO Otemachi
TELEHOUSE TOKYO Odaiba
TELEHOUSE TOKYO Shibuya
TELEHOUSE TOKYO Tama
TELEHOUSE TOKYO Tama 2
TELEHOUSE TOKYO Tama 3
Basic Information and Specifications
TELEHOUSE TOKYO Koto
TELEHOUSE TOKYO Fuchu
TELEHOUSE TOKYO Mejirozaka
TELEHOUSE TOKYO Iidabashi
Nagoya
TELEHOUSE NAGOYA Nagoya-naka
TELEHOUSE NAGOYA Sakae
Osaka
TELEHOUSE OSAKA Osaka-chuo
TELEHOUSE OSAKA 2
Basic Information and Specifications
Hiroshima
TELEHOUSE HIROSHIMA
Fukuoka
TELEHOUSE FUKUOKA
Naha
TELEHOUSE NAHA