KDDI HOME

Business

Cloud, Network, Voices

Intranet Services

KDDI Wide Area Virtual Switch

Function Overview
KDDI Wide Area Virtual Switch
Notice regarding termination of acceptance of new applications and the end of the service

For the following service menu and items for KDDI Wide Area Virtual Switch, the services are no longer provided, and new applications and applications for changes for the services are no longer accepted as shown below.

Click the name of a service below to show its details.
Centralization of information assets growing in business ICT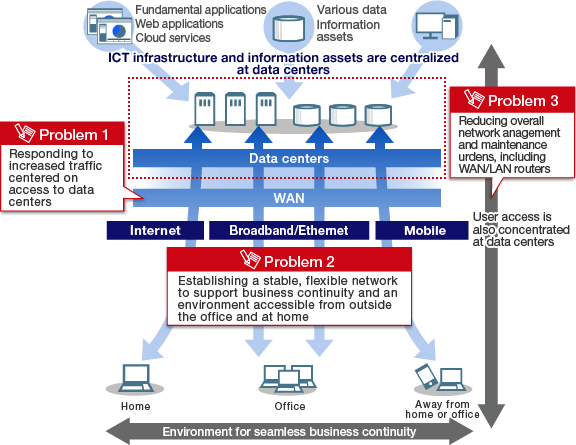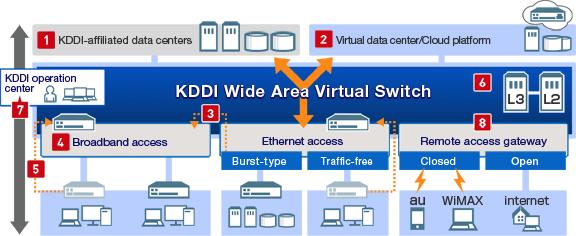 1

Traffic-free function and affiliated data centers

[Solution to Problem 1]

Improves cost performance of networks for customers aiming to concentrate and centralize information assets, by expanding the bandwidth for communications with numerous data centers.
2

Virtual data center and cloud platform

[Solution to Problems 1 and 3]

Reduces plant and equipment investment, operational burden, and costs for customers who wish to shift from data possession to data utilization, by providing a server environment that supports the traffic-free function on the backbone.
3

Burst-type communication

[Solution to Problem 1]

Improves network performance for customers with remaining distributed data, by expanding our best-effort bandwidth for communication with data centers and other offices.
4

Plug-in function

[Solution to Problems 1 and 2]

Enables the construction of a simple network for customers who wish to freely use broadband networks, by providing a virtual Ethernet network on a highly cost-effective broadband network.
5

Customer premises router-free function

[Solution to Problem 3]

Provides functions such as routing and access control on the network, eliminating the need for customer premises routers. This reduces equipment costs and operational burdens/costs for customers who are currently burdened with equipment configuration and management.
6

L2/L3 multi-layer structure

[Solution to Problem 2]

Enables the construction of an efficient, flexible network for customers who seek an optimized network that can respond to environmental changes, by uniformly providing layers, selectively and in combination, according to the scale of the office.
7

Network management service - Basic plan

[Solution to Problem 3]

Reduces operational burden and cost for customers who face operational challenges with their intranet, by providing integrated monitoring and operation not only for the WAN, but also for the LAN.
8

Remote access gateway

[Solution to Problem 2]

Supports greater speed and efficiency in business operations for customers that seek a business environment with no time or place restrictions, by providing a secure, high-speed access environment that extends outside of the office.
Contact

---

Support Information