The INMARSAT BGAN (Broadband Global Area Network) services uses the light and compact INMARSAT BGAN equipment, with global coverage, to offer you communication by the telephone, ISDN at 64 kbps, and two types of high-speed IP packet telecommunications (standard IP packet telecommunications at a maximum of 492 kbps and streaming IP packet telecommunications with high bandwidth guaranteed at 384 kbps (maximum approximately 450 kbps)). Now, with voice and IP packet telecommunications possible simultaneously, the INMARSAT service is further enhanced.
The actual means of communications available and transmission speeds depend on your INMARSAT BGAN equipment.
Standard IP services are based on best-effort. To ensure bandwidth, use either ISDN (64 kbps) or streaming IP. For more about Streaming IP services, please see below.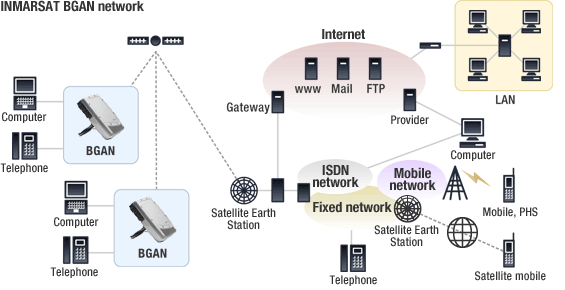 The INMARSAT BGAN/FB services use a dedicated access point established in Tokyo.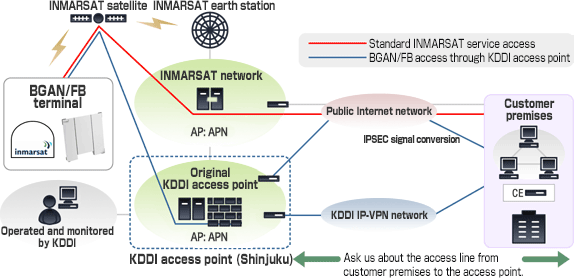 | Access for BGAN/FB up to now | Access for BGAN/FB through KDDI access point (Shinjuku) |
| --- | --- |
| A global IP address is assigned to the terminal each time you access the service | As well as a global/private address being assigned, a fixed private address is also assigned to the terminal each time you access the service |
| Data connection available only through the Internet | Data connection through a secure access line |
| Streaming possible only in the satellite sector | Bandwidth guaranteed, end-to-end transmissions now possible |
| Nothing added by KDDI | Now providing customer services and network monitoring |
An INMARSAT BGAN/FB access point (AP) was established in Tokyo in September 2008.
This access point in Tokyo has made the following modes of use possible.

Live transmissions of high-quality images from disaster-afflicted areas where other forms of communication have been cut off, or from scenes of emergencies overseas.

Collect data and carry out maintenance using remote-controlled BGAN terminals located in overseas facilities or isolated areas.

Construct a closed network and enable secure access to sensitive data with BGAN terminals overseas or FB terminals on ships.

Enhance security of the data exchange environment that ensures stable operations onboard through connections between operations control on land and the ship's LAN.
No applications are necessary to use KDDI's access points. And, they are free to use!
All you have to do is change your current access point (bgan.inmarsat.com) to the new one (kddi.bgan.inmarsat.com). For details, please contact us.
To have a static IP address (private) assigned costs 2,000 yen (one-time payment) per IP address.
Main INMARSAT BGAN equipments

INMARSAT BGAN/FB service areas
On August 19, 2008, INMARSAT successfully launched the third of their Fourth Generation satellites.
This meant that the INMARSAT BGAN and IMARSAT FB services became global on February 25, 2009.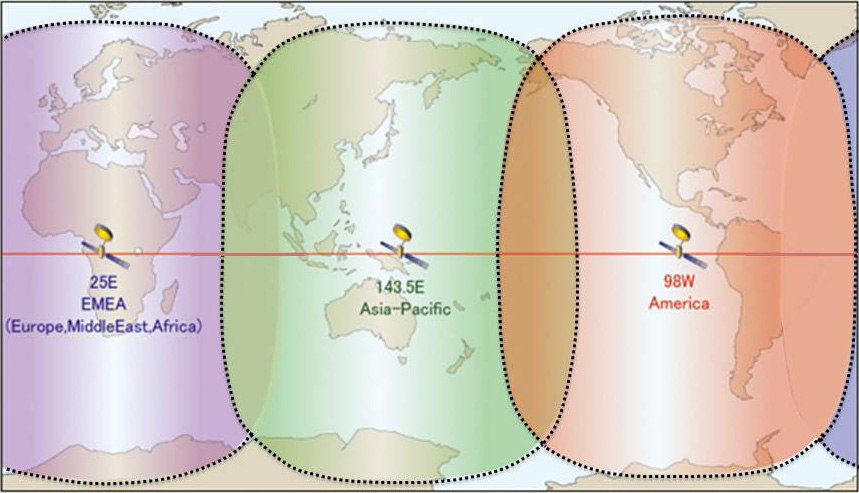 All of the indicated amounts

exclude tax

unless otherwise specified.