Business

Cloud, Network, Voices

Satellite Communications

INMARSAT

INMARSAT FB (FleetBroadband)
INMARSAT FB (FleetBroadband)
Notice regarding the revised charges and new rate plans

Part of the existing rate plan for INMARSAT FB (Fleet Broadband) has been revised, and new rate plans (the 75MB Plan, 1GB Plan, and 40GB Plan) have been available since March 1, 2016.
For the content of the revised rate plan and new rate plans, click the link below.
Notice regarding termination of acceptance of new applications and the end of the service

New applications for the 200MB Plan of INMARSAT FB (Fleet Broadband) are no longer accepted as of December 31, 2014, and the service is no longer provided as of April 30, 2016.

As of December 31, 2014, new applications for the 2GB Plan and the 6GB Plan are no longer being accepted.
As an alternative plan, the 250MB Plan, 4GB Plan, 8GB Plan, and 20GB Plan are available.
As of March 31, 2015, new applications for the IP Fixed Rate Plan are no longer accepted.
As an alternative plan, the 20GB Plan is available.
Customers who are currently using the service may continue to use it until it ends.
INMARSAT FB (FleetBroadband) is the world's first global maritime satellite communications service, that uses a small antenna, and allows you to use voice communications and data transmissions with a speed of up to 432 kbps (best effort) simultaneously.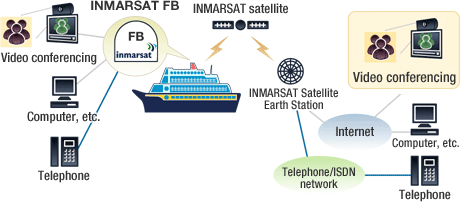 INMARSAT FB (FleetBroadband) function comparison chart


FB150
FB250
FB500
Data communications
Standard IP
Up to 150kbps
Up to 284kbps
Up to 432kbps
Streaming IP
-
32, 64, and 128 kbps
32, 64, 128, and 256 kbps
ISDN
-
-
64kbps
Audio
4 kbps, 3.1-kHz digital audio
FAX
3.1-kHz audio with G3 fax [1]
SMS
Standard 3G (up to 160 characters)
[1]

FB150, FB250: Antenna elevation of 20 degrees or more
INMARSAT FB (FleetBroadband) network configuration
The INMARSAT BGAN/FB services use a dedicated access point established in Tokyo.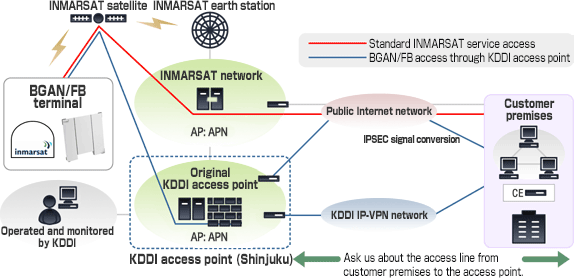 | Access for BGAN/FB up to now | Access for BGAN/FB through KDDI access point (Shinjuku) |
| --- | --- |
| A global IP address is assigned to the terminal each time you access the service | As well as a global/private address being assigned, a fixed private address is also assigned to the terminal each time you access the service |
| Data connection available only through the Internet | Data connection through a secure access line |
| Streaming possible only in the satellite sector | Bandwidth guaranteed, end-to-end transmissions now possible |
| Nothing added by KDDI | Now providing customer services and network monitoring |
An INMARSAT BGAN/FB access point (AP) was established in Tokyo in September 2008.
This access point in Tokyo has made the following modes of use possible.
Live transmissions of high-quality images from disaster-afflicted areas where other forms of communication have been cut off, or from scenes of emergencies overseas.

Collect data and carry out maintenance using remote-controlled BGAN terminals located in overseas facilities or isolated areas.

Construct a closed network and enable secure access to sensitive data with BGAN equipments overseas or FB equipments on ships.

Enhance security of the data exchange environment that ensures stable operations onboard through connections between operations control on land and the ship's LAN.
No applications are necessary to use KDDI's access points. And, they are free to use!
All you have to do is change your current access point (bgan.inmarsat.com) to the new one (kddi.bgan.inmarsat.com). For details, please contact us.
To have a static IP address (private) assigned costs 2,000 yen (one-time payment) per IP address.
INMARSAT FB (FleetBroadband) coverage
<Current coverage>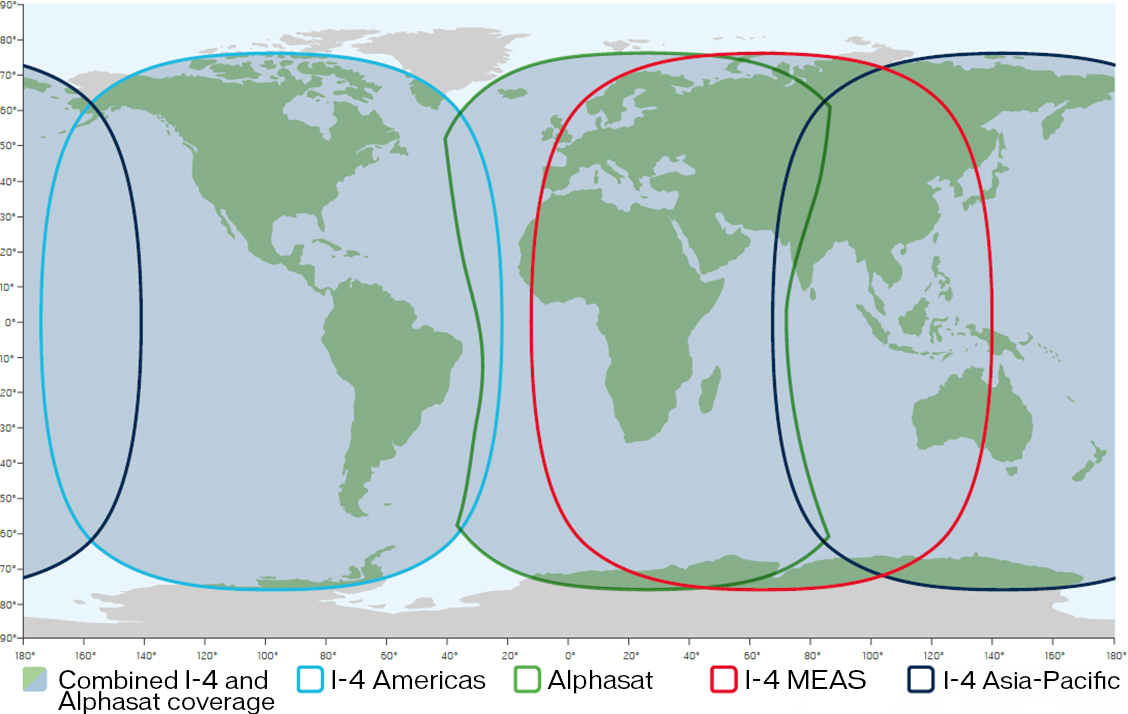 With the addition of the MEAS satellite, which became formally operational on July 12, 2016, the current four-satellite system provides worldwide coverage.
Emergency distress communication communications can also be made from INMARSAT FB (Fleet Broadband).
You can make free emergency distress communications by dialing "505". (Note that 505 emergency distress communications differ from GMDSS [2].)
| | |
| --- | --- |
| Applicable terminals | INMARSAT FB (FleetBroadband) 500, 250, and 150 |
| How to use | Dial 505. You will be directly connected to a rescue station in one of three possible locations. You can dial 505 even while using IP data transfer, but not while using ISDN. When using ISDN, disconnect the ISDN connection first and then dial. |
KDDI is planning to phase GMDSS [1] communication into INMARSAT FB services.
[2]

GMDSS is short for "Global Maritime Distress and Safety System," a global system for maritime distress calls and safety.
Maritime communication made a complete switch from the Morse code transmission system to GMDSS in 1999. Cargo ships 300 tons and over engaging in international maritime transport and all passenger ships are required by law to be equipped with GMDSS equipment.