KDDI HOME

Business

Cloud, Network, Voices

Satellite Communications

INMARSAT

INMARSAT IsatPhone Pro (TM)
INMARSAT IsatPhone Pro (TM)
Notice regarding the termination of sales of IsatPhone Pro (TM) devices

IsatPhone Pro (TM) devices are no longer available for purchase by new customers as of December 1, 2015. You can continue to use the device you are currently using. The maintenance support for the devices will continue until October 2019. The succession model will be announced in the future.
IsatPhone Pro (TM) is the first global satellite mobile phone provided by INMARSAT. In addition to voice calls, IsatPhone Pro (TM) can be used for short text messages, E-mail, and GPS location information.
Battery life is the longest among the satellite mobile phones sold by KDDI, providing up to 8 hours of talk time and up to 100 hours of standby time. The phone also features a large, high-visibility color LCD screen and a large keypad for easy dialing even when wearing gloves.
This service is not provided to individual customers.
Diagram of INMARSAT IsatPhone Pro (TM) network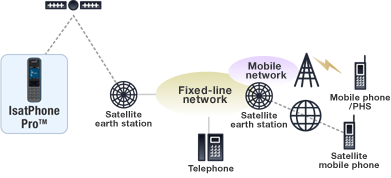 Device specifications
INMARSAT services are available with INMARSAT satellite mobile phones.
INMARSAT IsatPhone Pro (TM) satellite mobile phone

Manufacturer
Inmarsat
Size (mm)
170 (H) x 54 (W) x 39 (D) mm
Weight
279g
Continuous standby time [1]
Up to 100 hours
Continuous talk time [1]
Up to 8 hours
Standard set
·IsatPhone Pro

(TM)

handset (with SIM card installed)
·Battery
·Three types of chargers (four types of AC chargers, micro USB cable for computer, 10-30 volt in-vehicle charger)
·Headset
·Phone strap
·Quick Start Guide (Japanese available)
·Software CD
·Soft case
Functions
·Voice calls
·GPS location data
·SMS (short messages)/E-mail [2]
Retail price
(with one standard set)
Open price
[1]

Figures for continuous talk time and continuous standby time are based on average usage time in environments with proper signal reception.
Times may be reduced due to factors such as signal reception, temperature, settings, and battery condition.

[2]

Maximum message length is approximately 1,600 single-byte characters or 740 double-byte characters, including the recipient's E-mail address. Messages are divided into a maximum of 10 parts when sent.
IsatPhone Pro (TM) service area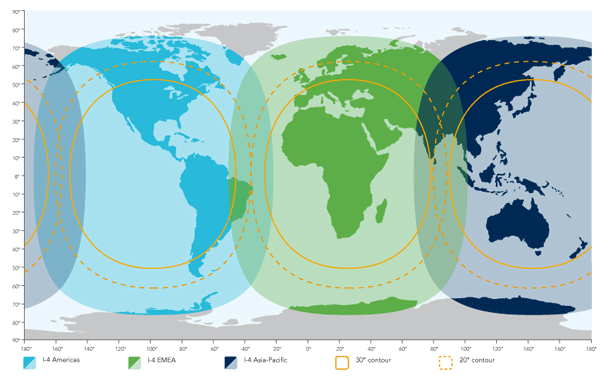 Japan is located within the 30-degree area, so you can extend the antenna straight out during use.