Satellite Mobile Phone Lineup
Service
Iridium satellite mobile phone
INMARSAT satellite mobile phone
Image
Model
9555
Extreme

(TM)

IsatPhone Pro

(TM)

Size
143 (H) x 55 (W) x 30 (D) mm
140 (H) x 60 (W) x 27 (D) mm
170 (H) x 54 (W) x 39 (D) mm
Weight
266g
247g
279g
Retail price
(with one standard set)
¥238,000
Open price
Open price
Coverage
Most of the world [1]
Most of the world [2]
Satellite type
66 mobile satellites orbiting at altitude of 780 km
3 geostationary satellites in orbit 36,000 km above the equator
Antenna

Extendable omni-directional antenna
Able to use while carrying, without worrying about satellite direction

Folding omni-directional antenna
Antenna must be pointed in direction of satellite

Talk time
4 hours max.
8 hours max.
Standby time
30 hours max.
100 hours max.
IP (Ingress Protection rating)
–
IP65
IP54
Operating temperature range
-10°C to 55°C
-20°C to 55°C
Voice
Satellite phone communications
Mail

SMS (up to 1,000 single-byte alphanumeric characters)
E-mail (up to 1,000 single-byte alphanumeric characters)
Webmail for satellite phone

SMS (up to 1,600 single-byte alphanumeric characters)
E-mail (up to 1,600 single-byte alphanumeric characters)
Webmail for satellite phone

Data communications
–
–
GPS functions
–
Screen display
Interface
Mini USB/Audio socket/External antenna port/DC charger
Micro USB/Audio socket/External antenna port/Bluetooth

(R)

Display languages
21 languages, including Japanese
8 languages, including Japanese
Features

66 satellites provide global coverage, enabling you to communicate without worrying about satellite position

66 satellites provide global coverage, enabling you to communicate without worrying about satellite position
One-touch sending of emergency messages to recipients registered in advance

3 geostationary satellites provide global coverage, enabling you to communicate while antenna is pointed toward satellite
Affordable price for handset
Long-life battery provides up to 8 hours of talk time

More details
Iridium satellite mobile phone
INMARSAT IsatPhone Pro(TM)
[1]

Not available in the Democratic People's Republic of Korea (North Korea) and the northeastern region of Sri Lanka. In addition, some countries may not allow you to bring in and use IRIDIUM satellite mobile phones purchased through a contract with KDDI. Please inquire about details.

[2]

Except in areas near the North and South Poles.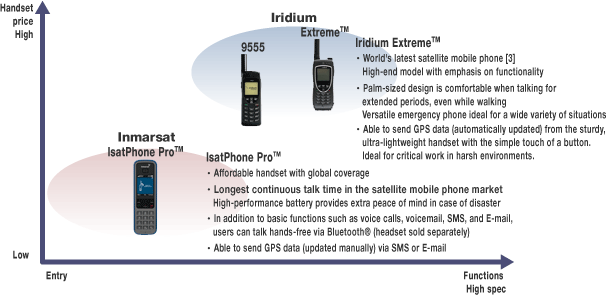 [3]

IsatPhone Pro(TM) worldwide service began in 2010, and Extreme

(TM)

service began in 2011.
All of the indicated amounts

exclude tax

unless otherwise specified.