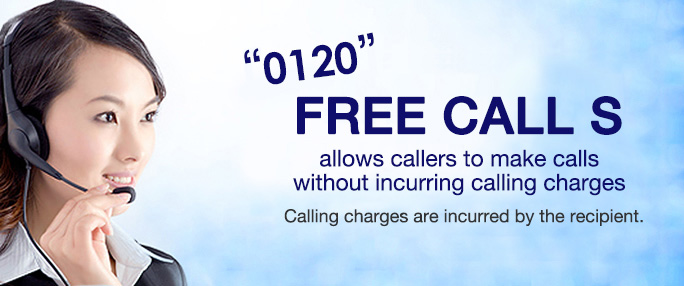 Overview
FREE CALL S is a call recipient charge service for numbers that begin with "0120" and "0800". This service supports your business opportunities by letting you use easy to remember toll-free numbers.
Features
Number portability
Benefit from the KDDI FREE CALL service without changing your current 0120 number.
Number portability is a system that allows you to change your telephone company without changing your toll-free call service number [1]. As the switch-over between telephone companies can be done instantaneously, it doesn't even interrupt ongoing calls.

[1]

The following 7 service providers participate in the number portability system: SoftBank Mobile Corp., NTT Communications, NTT East, NTT West, UCOM, Rakuten Communications, and KDDI (as of December 1, 2015).
Switch-over with number portability is available for numbers starting with 0800 as well.
Your phone number stays the same
No need to notify customers of a number change.
Keep benefiting from the recognition you have built.
Be listed in TOWNPAGE and HELLOPAGE and included in "104" directory assistance.
Convenient plans
Various reasonable rate plans are available to match your usage needs.
Click here for more details (in Japanese only)
Various features
Choosing your own number and other convenient optional services are available for free.
Click here for more details (in Japanese only)
Definite results
Read success stories from customers who achieved cost reduction and increased business by introducing this service.
Click here for more details (in Japanese only)
Select a FREE CALL number starting with 0120 or 0800 [2].
Choices for 10 digit phone numbers

Choices for 11 digit phone numbers

[2]

FREE CALL numbers that are already in use are not available.
All of the indicated amounts

exclude tax

unless otherwise specified.