KDDI Hikari Direct fulfills your communication needs as described below.
We want to lower our calling costs.

Various price plans are available to suit your communication environment.
You can greatly reduce your communication costs by selecting the optimum service for your needs.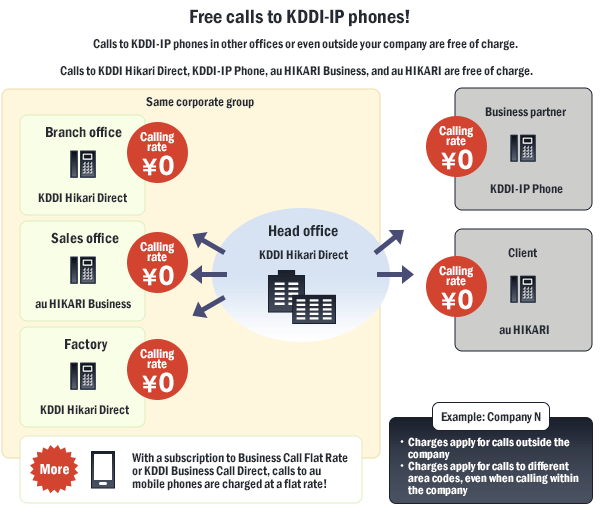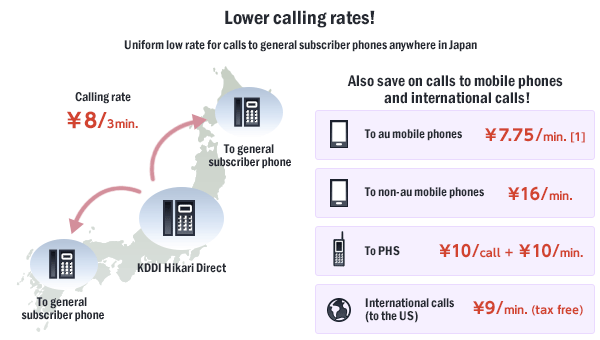 [1]

With subscription to au Mobile Call Reception Discount.
We want to save money while using smartpones and cloud services.


With a subscription to KDDI's Basic Pack cloud application service package, au smartphones [2] under the same corporation name as the one specified in the KDDI Hikari Direct contract receive a smartphone usage fee discount of up to ¥1,410 [3] per month for up to 2 years.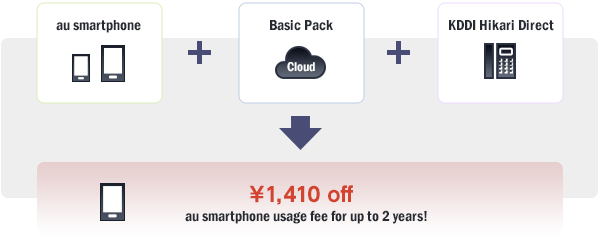 [2]

Limited to smartphones with a subscription to IS Flat or Plan F Simple/Plan F.

[3]

Permanent discount of ¥910/month + Discount of ¥500/month for up to 2 years. The number of au smartphones that receive the discount corresponds to the number of IDs specified in the Basic Pack contract, and shall not exceed 50 au smartphones per fixed line.
Smart Value (R) is the registered trademark of EMC Co., Ltd.
We want to continue using our current communication environment without making any changes.

Number portability [4] is supported, enabling you to continue using your same number, even when switching from another telecommunications operator. If you require a new phone number instead of keeping your current number, KDDI will provide one.
[4]

For precautions about number portability, refer to the information at the link below.
We want to improve our work efficiency.

A wide range of add-on services and highly compatible related services are available.
You can achieve greater work efficiency by using these services in combination with each other.
Benefits of using KDDI Hikari Direct
Reduce communication costs
Reduce TCO
Enhance network infrastructure reliability
Construct the optimum voice network
All of the indicated amounts

exclude tax

unless otherwise specified.