KDDI Audio Conference Service
WebEx enables users to organize a conference more efficiently by sharing applications and desktops.
The efficiency in various business operations can be improved by using this function with Audio conferencing.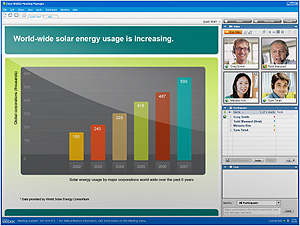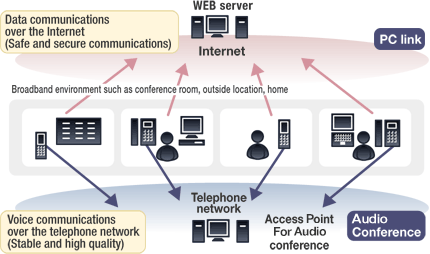 Sharing of presentation files and applications
You can share documents such as MS-Word, Excel, PowerPoint, and PDF files.
Sharing of applications You can share applications installed in your PC.
Sharing of desktops
You can share a desktop of your PC with conference attendees.
Whiteboard
You can paint freely using the pointer, or write down text on the whiteboard.
Text chat
You can send text chat messages to conference attendees.
Other functions


Remote control
File transfer
Web browser, contents sharing

Compatible models, system requirements [1]


OS
Microsoft Windows, Macintosh, Linux, Solaris
Other requirements
Internet connection (A broadband connection is recommended)
Special software (Meeting Center) must be installed [2].
[1]

This service is available with almost any store bought PCs.

[2]

The ActiveX control is installed automatically when you run the software for the first time.
How to use the service
Step1 A host books and initiates a meeting.

Access a specific URL and log in with an account.
Set a schedule for a meeting.
Invite attendees (by entering email addresses on the invitation screen).
Invited attendees will receive an invitation email which indicates necessary information including URL and password.

Step2 Attendees participate in the meeting.

Access the URL indicated in the invitation email, and enter name, email address, and password to log in.
The conference begins when all attendees log in!
Contact

---

Support Information