Recommend for companies where employees make frequent business trips to remote locations, including overseas offices, for attending conferences!
KDDI Telepresence Service is a conference service offering an extremely high realistic sensation. This service is usable not only for in-house meetings, but also for conferences with other companies.
KDDI Telepresence Service solves customer's problems as follows:
We want to enhance governance of overseas affiliated companies

This service provides a high realistic sensation, enabling you to feel like you are seated around a table with other participants and establishing closer communication.
We want to make decisions quickly in various situations, such as in the event of an emergency.

This service is useful for not only debrief meetings, but also more important meetings to make decisions, which was only believed to be possible through face-to-face communication.
We want to enhance a relationship with our customers and partners.

This service enables you to hold not only in-house meetings, but also conferences with other companies seamlessly.
We want to eliminate wasting time on our management team's business trips.

You can manage your management team's time more effectively by using this service in various settings, such as meetings to make important decisions or conferences with other companies.
We want to obtain a total support in overseas offices located around the world.

This service ensures a total support and uniform maintenance, offering domestic and international networks as well as telepresence devices necessary for the use of the service.
Even after implementing this kind of service, it takes time to prepare for a conference.

If you book a conference on a dedicated portal site for booking, you can start a conference simply by pressing a button at a conference room.
Service Image
This is a service to connect domestic and overseas telepresence devices through a KDDI network service. A portal site necessary for booking conferences and a function to initiate a conference simply by pressing a button are included as standard.
This service establishes a network between in-house offices/companies simply by installing a telepresence device at a customer premise.
Staff at KDDI overseas offices supports your network and telepresence devices.
This service provides uniform maintenance for your network and telepresence devices.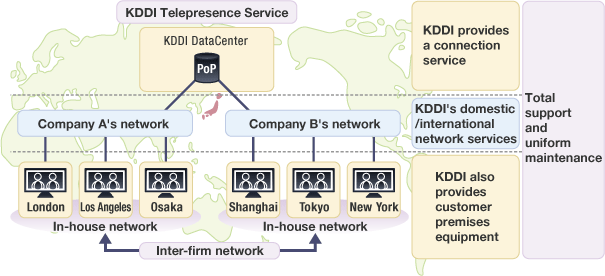 Telepresence devices
With an extensive lineup, this service is suitable for various settings.
The service offers extremely high realistic sensation with a display that shows participants in real size and spatial wideband audio.
Joinery work may be required at the installation site (e.g. conference room) depending on installation requirements for devices to be installed.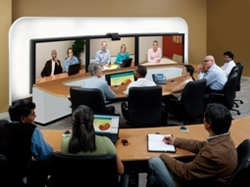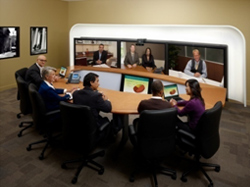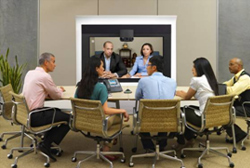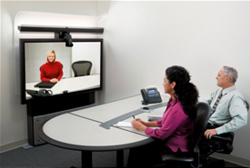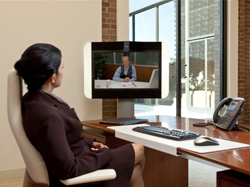 All photos by courtesy of Cisco Systems, Inc.
Reproduction and distribution without permission is strictly prohibited.
Fees
Please contact our sales representatives or KDDI Corporate Customer Center.