by KYOCERA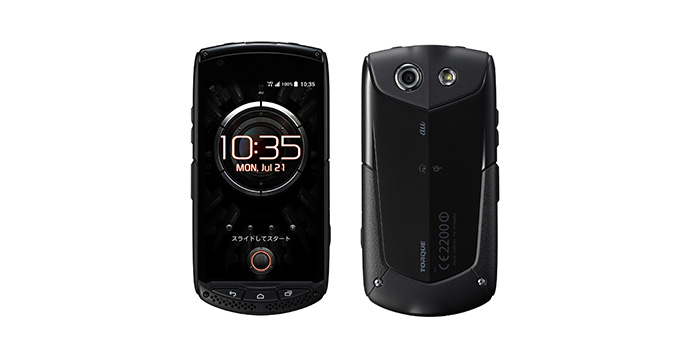 Color: Black
au's toughest smartphone ever [1] meets US Department of Defense standards for durability
[1]

First au smartphone to satisfy 11 test criteria of the MIL-STD-810G equipment performance standards defined by the US Department of Defense.
As of April 1, 2014, according to research by Kyocera.
See the au website for further details.

TORQUE G01
Built to MIL-STD-810G standards, for extreme durability under the harshest of conditions
Exceptional performance defies convention, even with wet hands or in noisy conditions
Tough, well-designed body with great attention to operational feel
The ultimate
*1

smartphone for extreme durability under the harshest of conditions

*2

, including impact, solar radiation, low temperatures, and salt water exposure.
Built with the robustness of hardware compliant with the 11 performance requirements set out in the MIL-STD-810G military equipment durability tests defined by the U.S. Department of Defense.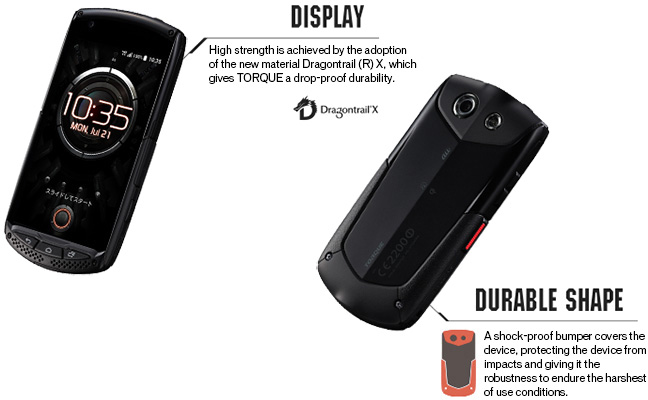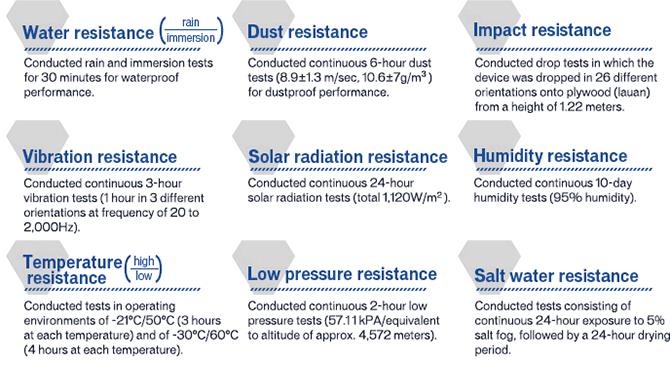 *1

Based on impact resistance tests (device was dropped in 26 different orientations onto plywood (lauan) from a height of 1.22 meters), solar radiation resistance tests (continuous 24-hour solar radiation; total 1,120W/m²), low temperature resistance tests (continuous 3-hour operation under -21°C and continuous 4-hour storage under -30°C), and salt water resistance tests (continuous 24-hour exposure to 5% salt fog, followed by a 24-hour drying period). Satisfaction of performance standards through these tests does not guarantee trouble-free operation.

*2

First au smartphone to satisfy the 11 test criteria of the MIL-STD-810G military equipment performance standards defined by the U.S. Department of Defense, as of July 1, 2014, according to research by Kyocera.
[About MIL-STD-810G] Conducted tests compliant with 11 test criteria of the MIL-STD-810G military equipment performance standards defined by the U.S. Department of Defense: dust, shock, vibration, high temperature, low temperature, blowing rain, low pressure, solar radiation, salt fog, humidity, and immersion. The tests according to the above criteria were conducted on this product for the purpose of performance verification under test environments, and do not guarantee operation under all conditions in actual use nor do they guarantee damage-free or trouble-free operations.
Innovative functions defy convention, even with wet hands or in noisy conditions.
TOUCH PANEL
Featuring a touch panel that can be operated when wet or when you are wearing gloves.

This function does not guarantee operation with all gloves. The precision may vary according to personal differences.

SMART SONIC RECEIVER (R) for easy audibility in noisy conditions
Kyocera's proprietary technique allows conveyance of sound through display vibrations.
The fitted design of the display that covers the ear blocks ambient sounds, enabling clear audibility over the phone.
DUAL SPEAKER
Two built-in speakers support a maximum volume of over 100dB (3kHz).
Incoming calls can ring at high volumes, and hands-free conversations are available with clarity and comfort.

Excellent operability that allows manipulation even when wearing gloves
*3
DIRECT BUTTON
Easy-press large buttons on the side can be used to start calls or frequently-used apps.

The setting must be configured before use.
HANDS-FREE KEY
Calls can be switched to hands-free conversations easily by pressing this button.
*3

Operability can be affected by glove type.
USER INTERFACE
Widgets that make up the world of TORQUE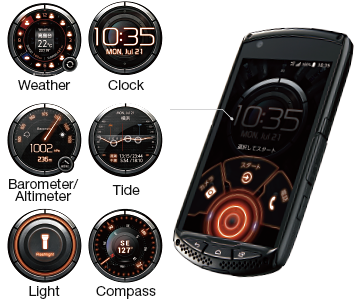 APPLICATION SOFTWARE
Barometer/Altimeter
This app displays the atmospheric pressure and altitude of the current location, which can be useful in trekking and other outdoor activities. Changes over time can be presented in a graph.
Tide
This app displays tide information (wave height) of a selected area.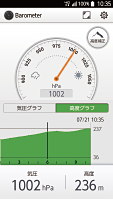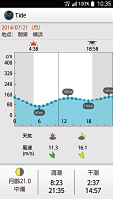 Tide data is not accurate and is for reference use only.
Wireless Charging
Easy charging―Just place your phone on the dedicated charger
Simply charge your phone by using the separately sold Wireless Charger 01, which frees you from the hassle of connecting and disconnecting charger cables.

Compliant with the Qi interface standard developed by the Wireless Power Consortium for inductive electrical power transfer over distance.

Notes

[Water resistance and Dust resistance] Be sure the caps are securely fastened and the battery cover on devices with a removable battery cover is firmly in place. Do not immerse the unit in ocean, pool, or hot water. Do not place the unit on the sand.
[Water resistance] IPX5 rating: The unit will retain its functionality as a phone even if blasted with water projected at all angles through 6.3 mm nozzles at a flow rate of approximately 12.5 liters/minute for more than 3 minutes from a distance of approximately 3 meters. IPX8 rating: Water will not leak inside and the unit will retain its functionality as a phone even if it is gently immersed in a tank of still tap water at room temperature at a depth of 1.5 meter and placed on the bottom for approximately 30 minutes.
[Dust resistance] IP6X rating: The unit is protected to a point where test dust (a diameter of 75 µm or less) will not enter the unit even if the unit is churned for 8 hours inside a dust resistance testing tube.
To connect to the Internet, subscription to the "LTE NET course" is required. Subscription to a data (packet) flat-rate service is recommended.
Available only with an au Nano IC Card (4G LTE).
EZweb service and EZ apps are not available. When you switch from the current mobile phone contracted under the EZ WIN Course to a new one, note that your subscription to EZweb service and EZweb site, e-mail newsletters, Machi-Uta is not automatically terminated or cancelled. To cancel or unsubscribe from these services, please take necessary procedures.
Smartphones may access the Internet in some applications even when a user does not operate the device. Accordingly, a subscription to a data (packet) flat-rate service is recommended. In regards to the installation of apps, some apps installed from the Internet pose the risk of making smartphones' (and PCs alike) operations unstable or of making smartphones complicit in illicit activities due to attacks by malicious hackers. Accordingly, make sure that a provider of an app to be installed is reliable and check its operating conditions before use. Please note that apps installed by yourself and any malfunctions arising from them are not covered by the warranty. KDDI is not responsible for any trouble resulting from installation of apps.
All screen depictions are simulated images. Actual screen may differ.
Supported services
[1]

"GLOBAL PASSPORT" has changed its name to "au World Service" from May 31, 2016.
Contact

---

Support Information