Notice regarding termination of acceptance of new applications and the end of the service

As of July 1, 2016, new applications for Business Convenient Pack are no longer accepted. As of March 31, 2018, the service will no longer be provided. Customers who are currently using the service may continue to use it until it ends.
As an alternative service, KDDI Smart Mobile Safety Manager is available.
Click the link below for details.

KDDI Smart Mobile Safety Manager (in Japanese only)
Notice

SSL certificates used in the service server for Business Convenient Pack will be upgraded to SHA-2, the successor of the current algorithm with higher encryption strength, due to the security trends. Because of this upgrade, some models will not be able to communicate with the server on November 1, 2016, and they will no longer be compatible. For details, see "Business Convenient Pack / GSP MAP - List of Compatible Models per Function"

Operating requirements (in Japanese only)
Ensure security measures
Loaded with useful functions for emergency situations
Remote data deletion function ––Delete data by remote operation when a mobile phone is lost
When a mobile phone is lost, the data saved in the mobile phone can be deleted by remote operation using the Center Push function from the administrator PC.
If the mobile phone is turned off or out of the service area, data deletion cannot be completed. When the launcher/menu application or Secret restriction function is working on the mobile phone and depending on the model, if the dial callout restriction, auto lock or other restrictions are active, data deletion may not be possible.

Address book deletion

This function deletes the address book registered in a mobile phone. GPS positioning is performed after deletion, making it possible to check the location of the lost mobile phone on the administrator PC.

Memory deletion/Remote locking and unlocking

Data saved on a mobile phone, including the address book, emails and call history, can be deleted. In addition, the mobile phone can be locked and unlocked by remote operation.

Personal information leak insurance

In cases of paying for statutory damages in Japan attributable to a leakage of personal information and the risk thereof due to the loss or theft of a mobile phone, you can claim for insurance regarding the cost incurred.

<Insurance coverage>

Compensation for damages

Statutory damages
Litigation costs, including attorneys' fees, and preservation cost for the right of indemnity

Brand protection cost

Costs incurred in relation to apology press conference, apology advertisement and apology statement creation
Solatium cost
Cost for dealing with complaints
Consulting cost for taking actions

<Insurance payment caps>



Reduced compensation rate
Indemnified amount
Compensation caps
Compensation for damages
–
¥100,000 per accident
¥5,000,000 per mobile device per year
¥300,000 per one case of personal information for emotional distress damages
¥5,000,000 per contractor per year
Brand protection cost
90%
¥500,000 per mobile device per year

KDDI CORPORATION is a policyholder of business malpractice damages insurance with SOMPO JAPAN INSURANCE INC. to make contractors of the Business Convenient Pack (for corporate customers only) insured for business malpractice damages under the au Business Convenient Pack additional clauses and the special policy clause for businesses that handle personal information.
KDDI CORPORATION does not pay insurance, nor warrant any matter regarding the personal information leak insurance, and does not bear any responsibility thereof.
Personal information leak insurance may be subject to change or termination without notice.

Insurance company: SOMPO JAPAN INSURANCE INC.
Security monitoring function ––Manage access restrictions on mobile phones on the administrator side
This function monitors the access restriction details of mobile phones from a PC via remote operation. Access restriction settings set on the mobile phone can be automatically changed to those designated by the administrator, enabling a thorough management of security measures for mobile phones used by members.

Address book backup function ––Save the address book of a mobile phone on the server
This function saves the address book of a mobile phone on the server. Backup of important address books offers a fallback in the case of unexpected loss or deletion of address books.

Periodic backup

Backup is automatically performed at the interval designated by the administrator (daily, weekly or monthly).

Instant backup

Address books can be backed up by sending Center Push from the administrator. This function is useful for backing up the address book on the spot, such as in the case of a loss of a mobile phone.
Emergency contact function ––Sending an emergency message from the administrator to mobile phones
Using Center Push, emergency messages can be directly sent from the administrator PC to au mobile phones. Whether or not the message has been opened can be checked on the administrator PC. au mobile phones can also send reply messages to the administrator PC.
Member information reference function ––Know members' current condition instantly
By sending work status (condition) from an au mobile phone, the administrator and other au mobile phone user members can share the sending member's status information. It is also possible to view member mobile numbers and email addresses from an au mobile phone.
Launcher menu management function ––Add applications and frequently used sites to the Launcher menu
Not only can you add frequently used applications and sites (URL) to the Launcher menu (Icon menu), you can also configure the Launcher menu of all mobile phones registered as members collectively from an administrator PC.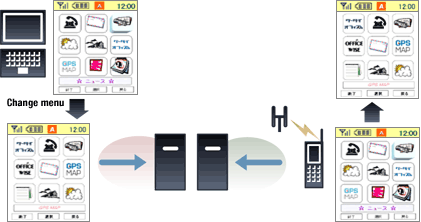 Contact

---

Support Information