Disclosure of CSR Information
Approach to the Disclosure of CSR Information
KDDI publishes its Integrated Report as a means for disclosing financial and non-financial information. In addition to the normal Integrated Report, which focuses on financial information, KDDI publishes its Integrated Report (Detailed ESG Version), which expands on the non-financial information of the environment and social aspects in PDF format (Japanese and English).
The Integrated Report (Detailed ESG Version) expands on information referencing the report of the GRI's Sustainability Reporting Guidelines 4th Edition (G4), as well as information determined to contribute to promoting the understanding of the creating of KDDI's value. Furthermore, in order for KDDI's message to reach a wider range of stakeholders, KDDI releases its Highlights of 2016 in Japanese and English on its CSR website. We will continue fashioning ways to communicate with all stakeholders while promoting our CSR initiatives.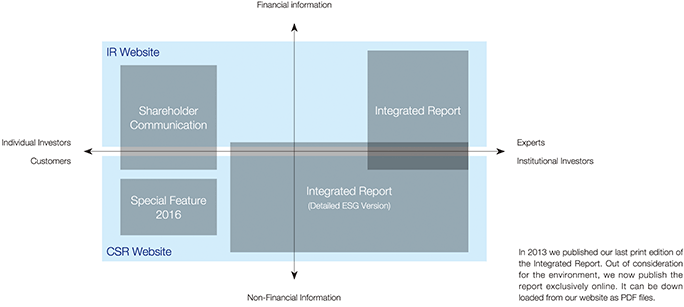 Period Covered
This report covers business activities for FY2015 (April 1, 2015 to March 31, 2016). However, this report also contains descriptions of a few initiatives from before and after this period.
Scope of Report
Although the scope of this report covers the business activities of the 164 companies in KDDI and its Group, it focuses on KDDI only since the ratio of Group's consolidated sales is approximately 1.17 times of KDDI's unconsolidated sales.
Publication Date
Integrated Report (Detailed ESG Version) and Highlights of 2016 (CSR website and PDF version) August 2016 (Next scheduled publication: August 2017; Previous publication: August 2015)
Referenced Guidelines
GRI (Global Reporting Initiative)
Sustainability Reporting Guidelines 4th Edition
SASB (SUSTAINABILITY ACCOUNTING STANDARDS BOARD) (Telecommunications)
IIRC (International Integrated Reporting Council)
ISO26000: 2010 (Guidance on Social Responsibility)
JISZ26000: 2012 (Guidance on Social Responsibility) Japanese Industrial Standards
Ministry of the Environment, 2012 Environmental Reporting Guidelines
External Assurance
To ensure reliability, environmental data has received independent third party assurance by Lloyd's Register Quality Assurance Limited. In Scope 3, CO2 emissions have been assured by Waseda Environmental Institute.
In 2013 we published our last print edition of the Integrated Report.
Out of consideration for the environment, we now publish the report exclusively online.
It can be downloaded from our website as PDF files.