Corporate Information

Sustainability

Stakeholder Engagement

KDDI Corporation Integrated Report 2017 (Detailed ESG Version) Third-Party Opinion
KDDI Corporation Integrated Report 2017 (Detailed ESG Version) Third-Party Opinion
KDDI Corporation Integrated Report 2017 (Detailed ESG Version) Third-Party Opinion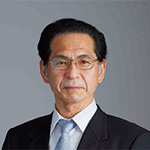 Masahiko Kawamura
Alterna Research Institute- President and Chief ESG Analyst
NLI Research Institute - Visiting ESG Analyst
Kawamura earned his master's degree from the Kyushu University Faculty of Engineering in 1976, and joined Mitsui Ocean Development & Engineering Co., Ltd. (MODEC). He entered NLI Research Institute in 1988 and the Alterna in fall 2016.His areas of expertise are environmental management, environmental business, CSR management, and integrated reporting. He has served at various organizations, including the Sustainable Management Forum of Japan (Vice Chairman), BERC (Fellow), and Sun Messe Co., Ltd. (Adviser), and his published works include "Perfect Guide to CSR Management (CSR Keiei Paafekuto Gaido) (sole author), "New Trends in Integrated Reporting" (Tougou Houkoku no Shin-chouryuu) (co-author), and "Carbon Disclosure" (co-editor).
This opinion is intended to provide an evaluation and discussion of issues and expectations based on the information published in the KDDI Corporation Integrated Report 2017 (Detailed ESG Version), particularly with respect to the disclosure of CSR management information, as well as to the approach to CSR management and the details and results of initiatives. This is the second opinion, following the one from last year.
1. Disclosure of CSR Management Information
The Integrated Report (Detailed ESG Version) expands on non-financial information, and is published as a companion to the Integrated Report, which focuses on financial information. In recent years, other integrated reports have included only a summary of the CSR and ESG information, but I highly evaluate this report for its reliable qualitative expansion on information disclosure. Employment and environmental performance data are easy to understand, and the disclosure of customer used rank (scope 3) CO2 emission details are particularly worthy of appraisal.
Unlike last year's report, the construct of this report is in accordance with KDDI's more distinct CSR System Diagram, making it easier to understand. That is to say, in addition to KDDI's CSR and the Material Issues for CSR, "CSR Initiative Through Business" (KDDI Products and Services) and "CSR Initiatives Supporting Operations" (KDDI Business Foundations) are also largely included. In particular, understanding of the essence of CSR is expressed in the latter, which conforms to the core subjects of ISO26000.
As stated in the editorial policy, this report is centered on the KDDI company itself, but the boundaries of each subject are clearly stated as applying to the KDDI company alone or to the KDDI group, clearly defining the current scope of CSR management. As a global corporation, the issue from here out is how to expand the CSR to the whole group, including overseas bases.
In the Targets, Results and Issues in Material Issues for CSR progress supervision table, self evaluation and future issues are stated for each item, making it possible to evaluate from the view of PDCA. However, although policies, systems, activities, and results of each item are concisely described in the report, their issues and measures for resolution are not listed, so I would like to see this resolved in the future.
2. Disclosure of CSR Management Information
The KDDI's Approaches (Recognition of Social Issues, Risks and Opportunities,, and Management), KPI, Stakeholders, and Future Issues for each of the four Material Issues for CSR (Governance x 1, Society x 2, Environment x 1) are described so that they are easy to understand. I expect to see these materialities lead to "Integrated Thinking" for creating value in the future.
The materialities determined in 2008 are currently under review, and I believe that employing SDGs that aim to solve social and environmental issues on a global level by 2030 is a good idea. However, as a corporation whose main market is domestic Japan, KDDI must also give consideration to drastic decreasing birthrate and population, that is the Japan's greatest social issues.
In order to tackle the rapidly changing business environment, it is a necessity for KDDI to change from a homogenized organization to an organization that possesses many diverse viewpoints. Work reform is currently a management issue in Japan, and I can highly appraise KDDI for formulating the KDDI Group Human Rights Policy, LGBT response (redefining the definition of a spouse), hiring employees of foreign citizenship, creating systems to support a variety of working styles, and taking other actions from the viewpoint of diversity and inclusion.
The new environmental conservation plan, KDDI GREEN PLAN 2017-2030, differs from past ones, and the fact that it was determined with a long-term perspective of 14 years is worthy of note.
I believe that exceeding energy-saving goals and displaying CO2 emission reduction goals in total amounts means a lot (KDDI (domestic): 7% reduction by FY2030 with comparison to FY2013).
However, while this reduction goal satisfies the 7% industrial sector global warming countermeasure plan goals of the Japanese government, it does not achieve the 26% mid-term goal of Japan as a whole, including the household and transportation sectors. With an understanding of the various initiatives based on industry characteristics made up to this point, including reducing the power consumption at base stations, and with the Paris Agreement currently in effect, I expect to see a review of value goals during the execution of this new long-term plan.
To this point, I would recommend an examination of SBT (Science Based Targets). This relates to the transition risks and financial impacts toward a low carbon economy by TCFD (Task Force on Climate-related Financial Disclosures), which has the attention of ESG investors. In addition, I believe that with CDP climate change, KDDI should not be content with topping the domestic telecommunications sectors in Japan, but must focus on the highest ranks of the "A list".
At this point, I am veering away from this Integrated Report (Detailed ESG Version) to lastly express my opinion on what an integrated report should be based on the IIRC's International Integrated Reporting Framework.
Typically, an integrated report is meant to comprehensively integrate the context of long-term and structural business environmental changes with financial and non-financial elements from strategic point of view and shows how corporate value is created (or avoids damage), in other words, recording "Integrated Thinking". ESG investors around the world are making efforts to remove carbon from their portfolios, making corporations that have a large amount of CO2 emissions ineligible for investment.
Due to this, I look forward to KDDI's long-term strategies and actions as a telecommunications company that represents Japan.
Our Response to the Third-Party Opinion
I would like to express my deep appreciation for the valuable opinion about the Integrated Report 2017 (Detailed ESG Version).
In this year's report we followed the report from the previous fiscal year in strengthening transmission of ESG information to investors, making proactive, exhaustive efforts to disclose the information. In order to increase awareness of CSR management, we used the KDDI Group Philosophy and KDDI Code of Conduct as a basis and altered the report structures which conform to KDDI's CSR System, such as CSR Initiatives Through Business and CSR Initiatives Supporting Operations. In addition to promoting workstyle reform, we have also executed initiatives to strengthen and intensify CSR management, including establishing and publishing the KDDI GREENPLAN 2017-2030, a new environmental conservation plan that aims to reduce KDDI's CO2 emissions by 7% by FY2030 with comparison to FY2013.
With regards to information disclosure, it was noted that the construct of this report was easier to understand and understanding of the essence of CSR is expressed. For CSR management, it was noted that our creating of systems to support a variety of working styles was worthy of high praise, and our exceeding energy-saving goals and displaying CO2 emission reduction goals in total amounts mean a lot. We are pleased to receive such positive evaluations.
At the same time, we also received the suggestion to list the issues and measures for resolution in each subject in the report. With regards to our records of "integrated thinking" which states how corporate value is created (or avoids damage), we are discussing improvements with the aim to respond to expectations for genuine integrated thinking. In addition to promoting reliable and easy-to-understand disclosure of information required by stakeholders, I believe KDDI's business activities should continue to create value for our stakeholders and society, as well as promote CSR management that leads to the long-term creation of value for our corporation.
Moving forward, KDDI will value communication with our stakeholders as we work to accomplish SDGs and solve social issues that are unique to Japan, and continue to contribute to the development of a sustainable society.