Corporate Information

Sustainability

Delivering Reliable Telecommunications Services at Japanese Levels of Quality to Myanmar
Delivering Reliable Telecommunications Services at Japanese Levels of Quality to Myanmar
The telecommunications business in Myanmar has lagged far behind other South East Asian nations, but it is being significantly transformed due to the progress of privatization. In 2013, the penetration rate of mobile phones was just 10%, and it was rare to see someone using a mobile phone. However, the current penetration rate in 2016 is said to be well over 70% as men and women of all ages walk the streets of Yangon carrying "smartphones" and are often seen enjoying new forms of communication such as watching videos on the Internet.
In contrast, the infrastructure still needs to be built out in the countryside, and there are a huge number of issues which need to be overcome.
KDDI's mission in Myanmar
In July of 2014, KDDI together with SUMITOMO CORPORATION established KDDI Summit Global Myanmar Co., Ltd. (KSGM) in Yangon in order to develop a telecommunications business in Myanmar. KSGM is currently providing telecommunications services through a joint enterprise with Myanmar Posts and Telecommunications (MPT). Because it is essential to improve the telecommunications infrastructure which forms the backbone of Myanmar's economic growth, KDDI is providing technology and know-how based on many years of experience to carry out its mission of expanding the service area and delivering reliable telecommunications quality to every region of Myanmar.
Bring Japanese levels of service to the people of Myanmar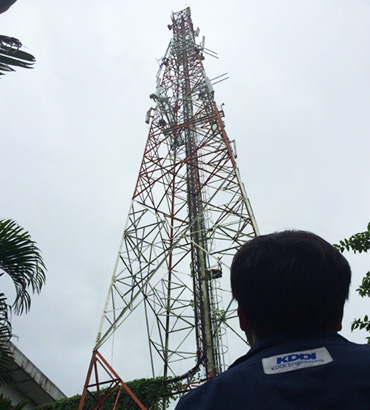 I was sent for the purpose of "constructing a reliable telecommunications environment in Myanmar", but when I actually visited the country, I realized the importance of this project.
Signing up for a fixed-line telephone in Myanmar is very expensive due to the cost to install the line in the subscriber's house.
For that reason, smartphone and mobile phones which can be obtained through low cost plans are becoming popular in the countryside where they have become essential daily items for connecting people. However, the telecommunications environment is poor, and I myself have seen many people facing emergency situations where they cannot get network service. I feel that my mission is to improve this situation by providing Japanese levels of service quality so that people can "connect whenever and wherever" to lead a comfortable life.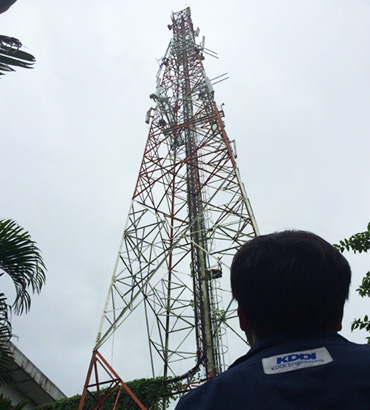 Aiming to expand telecommunications service areas to connect people whenever and wherever
1. Constructing the base stations and building the network
After I was assigned to this position, we would set up base station construction plans and track the progress every month in order to provide service areas for connections in the countryside as well, but it was very challenging to proceed according to the plans. In addition, most of the roads have not been developed in Myanmar's countryside, so it takes a considerable amount of time to recover them when flooding occurs due to heavy rains. The delivery of construction materials is also delayed, because vehicles cannot be driven on damaged roads. For that reason, when the schedule somehow got delayed, we had to resort to any available solution including occasionally transporting the materials by hand as well as using horses and elephants.
2. Transferring the technology to MPT staff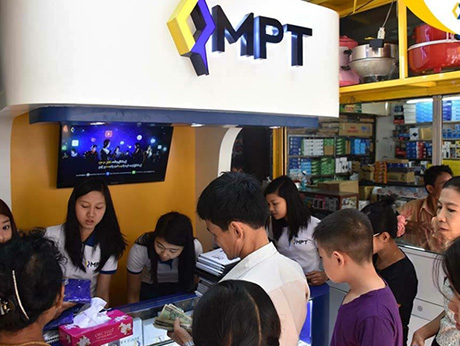 The number of base stations has significantly increased, and the service area has greatly expanded compared to March of 2015, when the first base station was constructed after KDDI entered the business, but the requests to "quickly make MPT smartphones and mobile phones usable in the countryside as well" show no sign of stopping. KDDI has a limited window to set up the business in Myanmar. In order to provide reliable and robust service all the way to the countryside, KDDI's technology and know-how must be taught to the local MPT staff so that they will be able to independently run the operations. As a first step, some of the operations which were concentrated in Yangon until now are being shifted to the countryside, and a system was constructed so that the local MPT staff can independently run those operations. MPT staff began operating base stations in 18 regions around the country from July of this year, and the highly motivated and excited staff members are seriously engaged in the operations.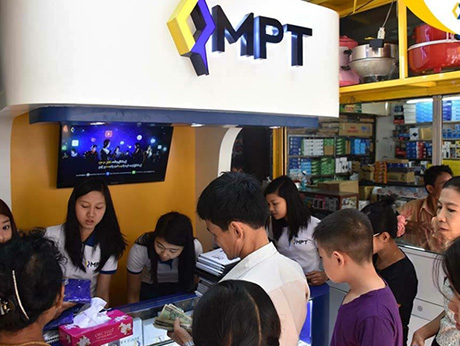 As a result of these low-key initiatives, the coverage area has been expanded to 96%* as of March of 2016. KDDI's telecommunications technology and know-how have crossed national "barriers" and are now spreading across Myanmar as well. Going forward, KDDI will continue to fulfill its mission of "delivering the 'joy of connecting' to customers around the world."
Stakeholder's Voice (Customer)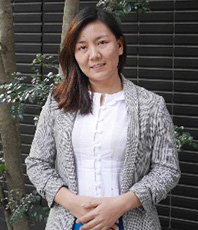 Previously, if you wanted to contact a friend or family living far away, you had to go to the fixed line telephone shop and then have the friend or family member called to their local telephone shop.
Now, with the spread of smartphones and mobile phones, you can contact a friend or a distant family member any time you want. I also work at a travel agency. Since MPT's regional coverage is better than other companies, it makes it easy for our business to recommend trips to the countryside to customers. It's easier to do business, which makes me very happy.