Material Issue: Governance
Offering Reliable Information and Communications Services
KDDI's approach
Recognition of social issue
One can say that communications services are the most vital lifeline for a society whose information is becoming more advanced. Natural disasters, cyber-terrorism, and other occurrences that obstruct this lifeline are major causes of anxiety to society and the economy. We believe that it is our duty to continuously provide stable information communications services 24 hours a day, 365 days a year in any condition that may present itself in order to support a society where people can live securely.
KDDI's risk and opportunity
It is projected that our company value will drop should we become unable to provide communications services for any reason be it a natural disaster or cyber-terrorism.
We feel that continuously providing communications services under any circumstance will lead to the support of society and the economy thus resulting in the increase of our company value.
KDDI's management
As an operation system during times of large-scale disasters, we have in place a business continuity plan (BCP) as well as a Disaster Agreement with the Ministry of Defense and the Japan Self-Defense Forces. Furthermore, the KDDI Security Operation Center is responsible for detecting, analyzing, and providing protection against cyber attacks in which they have a 24-hour/365-day system where they are aware of the communications conditions. With these robust systems, KDDI can quickly respond in times of disaster or terrorism. In the realm of information security, we have established the KDDI Group Information Security Standards created by the Information Security Committee with which each company in the group outfits their operation systems.
We are also strengthening the governance for the entire Group in our efforts to make operations more efficient and transparent. As such, KDDI has established a system with the Corporate Risk Management Division at its core that promotes internal control activities. Its aim is to achieve a corporate constitution that prevents risks from materializing. The KDDI Code of Business Conduct defines the basic policies for compliance that every executive and employee must adhere to.
>Policies
・Disaster Response Regulations
Security Policy


Basic Policy for Constructing an Internal Control System (65KB)
KDDI Code of Business Conduct
Key Performance Indicators (KPI)
| | | |
| --- | --- | --- |
| | FY2015 Goal | FY2015 Result |
| Rate of issues improved extracted from 2014 company-wide disaster response training | 100% | 100% |
Highlights of FY2015 Activities
KDDI has reviewed and strengthened its disaster response measures for responding to an earthquake directly below the Tokyo Metropolitan area or a massive earthquake in the Nankai Trough, and has worked to establish a system for BCP implementation even when communications are severely impacted.
Ensure a means of information sharing in times of disaster when the terrestrial network has ceased to function (total disruption of communications)
Strengthen disaster response in office buildings in the event of an earthquake directly below the Tokyo metropolitan area
Autonomous disaster response by each division assuming nonfunctioning of the chain-of-command structure
Corporate Governance

We streamline operations and boost its transparency, so that it can increase its corporate value and continue to grow dynamically.

PDF (187KB)
Compliance

We promote the maintenance of a system environment that enables all executives and employees to behave consciously in relation to compliance.

PDF (69KB)
Risk Management and Internal Controls

We implement and operate an internal control system to increase corporate value and improve overall corporate quality.

PDF (105KB)
---
Providing Reliable Service

In order to continually supply customers with high quality and stable service, we implement service quality control and communications network surveillance and control.

PDF (184KB)
Technological Development to Improve Communications Quality

We commit to improving service and developing an agreeable communication environment for each and every user. We deliver reliable, high-quality information and communications Technological Development service anywhere, anytime.

PDF (266KB)
Initiatives in Preparation for Emergencies

We implement disaster measures in order to be able to continuously provide stable information communications services even in times of disaster.

PDF (578KB)
---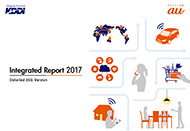 Detailed Governance part separated from Integrated report can be found here (1.1MB)


Corporate Governance Report (0.9MB)