Material Issue: Governance
Offering Reliable Information and Communications Services
KDDI's Approach
Recognition of Social Issue
In an advanced information society, communications services are the most important lifeline. The disruption of this lifeline due to natural disaster or cyber-terrorism can be a major factor behind a downturn in society and the economy itself. KDDI has an obligation to support local communities in which people can live with peace of mind by continuing to provide reliable communications services 24 hours a day, 365 days a year.
KDDI's Risk and Opportunity
Our company value will drop if we fail to provide communication services for any reason, even reasons like natural disasters or cyber-terrorism.
We believe that providing communications services continuously in the midst of unforseen events will lead to the support of society and the economy and thus result in the rise of our company value.
KDDI's Management
As the operation system for large-scale disasters, we have a business continuity plan (BCP) in place and conduct a Disaster Agreement with the Ministry of Defense and the Japan Self-Defense Forces.
Furthermore, the KDDI Security Operations Center is responsible for detecting, analyzing, and providing protection against cyber attacks in which they have a 24 hour/365 day system where they are aware of the communications conditions. With these robust systems, KDDI can quickly respond to any disaster or terrorism.
With regard to information security, we have established the KDDI Group Information Security Standards established by the Information Security Committee with which each company in the group outfits their operation systems. We are also strengthening governance throughout the KDDI Group in our efforts to improve management efficiency and transparency, and ensure a strong and stable management base. Also KDDI has established a system with the Corporate Risk Management Division at its core that promotes internal control activities. Its aim is to create a corporate structure that makes it hard to create risks. The KDDI Code of Business Conduct sets the basic policies for compliance that every executive and employee must adhere to, and efforts are made to promote the spread of the basic policies.
>Policies
・Disaster Response Regulations
Security Policy
KDDI Code of Business Conduct (Basic Principles)


Basic Policy for Constructing an Internal Control SystemBasic Views on the Internal Control System and Progress of System Development (Corporate Governance Report) (1.7MB)
Key Performance Indicators (KPI)
| | FY2016 Goal | FY2016 Result |
| --- | --- | --- |
| Rate of issues improved extracted from 2015 company-wide disaster response training | 100% | 100% |
FY2017 Goal
Rate of issues improved extracted from 2016 company-wide disaster response training: 100%
The Main Target Stakeholders and the Issues
Issues
Provide networks that offer smooth connections anytime anywhere
Maintain networks during a disaster and achieve early recovery
Strengthen group governance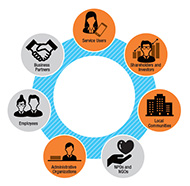 Highlights of FY2016 Activities
Recovery Support in Times of Disaster
When a disaster happens, many people try to use their phones to check on the safety of family and friends or for relief activities in the disaster area, so that there is an explosive increase in demand for mobile phones and smartphones. KDDI has built disaster-resistant communication networks so that we can meet the demands of our customers, and in the event that our networks get damaged, we have developed a secure and well-prepared system for quick recovery in all parts of Japan.

PDF (134KB)
Build a system for fast and accurate information collection in afflicted areas
Build a collaborative network that includes external stakeholders in the event that communications are cut off in afflicted areas
Further strengthen the satellite network environment by making use of stationary marine satellite antennas