| Policy |

KDDI's CSR Policy (KDDI Group)
As a telecommunications carrier that provides social infrastructure, our societal mission is to deliver stable services regardless of conditions, 24 hours a day, 365 days a year in order to achieve the corporate philosophy "contributing to the development of a truly connected society." We believe that CSR is the axis needed to carry out this mission. As our business derives from utilizing radio waves, which are an important asset shared by all citizens, we recognize that we have a social responsibility to aim high and contribute to addressing the various issues facing society.
The KDDI Group Philosophy describes the company that we need to become and the attitudes that employees of such a company need to maintain. The following 2 activities represent the axes of CSR activities. The first activity, CSR Initiatives Through Business, is an activity aimed to solve problems including social influences. These are problems that arise through business activities and are deemed as risks (chances). The other, CSR Initiatives Supporting Business, is the basis that supports providing of services.
KDDI's CSR System Diagram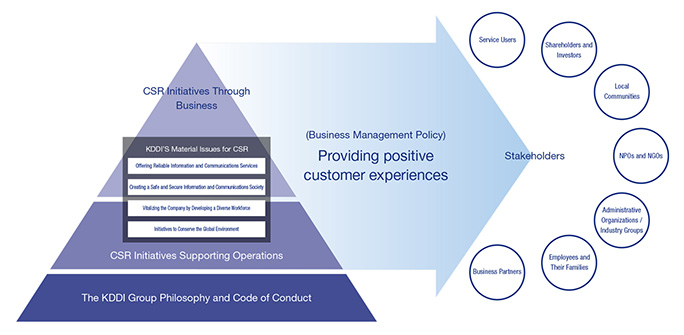 Value Chain and CSR

| Philosophy |

The KDDI Group Philosophy (KDDI Group)
The KDDI Group Philosophy expresses the attitudes, values and behavior that employees need to exhibit in order to achieve our corporate philosophy. The KDDI identity and KDDI vision that we must embrace as a telecommunications operator are incorporated throughout. The KDDI Group Philosophy is the foundation for CSR and is the basic stance KDDI employees must adopt. By putting the KDDI Group Philosophy into practice, we aim to be a company admired and trusted by all stakeholders.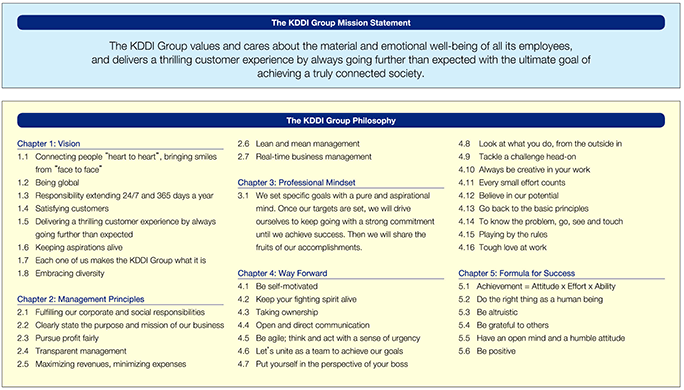 | Infusion |

Spreading the KDDI Group Philosophy (KDDI Group)
To encourage sharing and implementation of the KDDI Group Philosophy, the president and executives discuss the meaning of the KDDI Group Philosophy and good practices directly with all the employees and promote its spread. In 2016, a total 10 study meetings were held at each level, including monthly study meetings organized by the president and attended by all officers. In addition, study meetings planned and run by each division are held, as well as study meetings attended by all employees twice a year, regardless of organization or division, in an effort to promote understanding.
Every year, study meetings are held for executives at KDDI overseas bases. In FY2016, an introductory video of the KDDI Group Philosophy was produced in English and Chinese, increasing the opportunities for foreign employees to come into contact with the KDDI Group Philosophy. Through learning and implementation by these activities, KDDI aims to be a company that is loved and trusted by all our stakeholders.
Total number of study meetings held in FY2016:
582
Total number of participants
24,787
| Policy |

KDDI Code of Business Conduct (Basic Principles) (KDDI Group)
KDDI established the KDDI Code of Business Conduct in 2003 as specific guidelines toward understanding and practicing the corporate vision and the KDDI Group Philosophy. All KDDI executives and employees maintain a high sense of ethics and execute their duties in compliance with the Code of Business Conduct.
In April 2016, KDDI revised its Code of Business Conduct in response to the enacting or abolition of laws and regulations and changes in the social climate with the aim of promoting KDDI Group management. With regard to the codes of conduct for Group companies, each will successively establish or review their code of conduct in consideration of the characteristics of their business based on the KDDI Code of Conduct.
KDDI Code of Business Conduct (Basic Principles)
Overview of the KDDI Code of Business Conduct (Basic Principles)
Happiness of Our Employees and Vibrancy in the Company
I. Respect for Human Rights and Individuality
II. Conscientious Performance of Duties
III. Respect for Intellectual Properties
Earning our Customers' Satisfaction and Trust
IV. Provision of Ser vices that Respond to the Trust and Confidence of our Customers
V. Promotion of Fair Business Activities
VI. Management of Information to Protect the Secrecy of Communications and Customers' Information
Confidence of Our Shareholders and Business Partners
VII. Practice of Open and In-depth Communication
VIII. Prevention of Insider Trading
IX. Appropriate Accounting and Adherence to Agreements
Development of the Society
X. Environmental Conservation
XI. Rejection of Anti-social Forces
XII. Contribution to the Development of the International Community
| Activity and Results |

Spreading KDDI Code of Business Conduct (KDDI Group)
KDDI periodically implements measures with the purpose of spreading the code of conduct.
Measures to Spread the KDDI Code of Conduct (FY2016)
Measure
Target
FY2016 Result
E-learning
Regular employees, contract employees, and temporary staff
Participation rate: 87%
E-mail magazine distribution
Regular employees
Distributed one per month
Placement of enlightenment posters for Business Corporate for Ethics Monthly Month
Regular employees, contract employees, and temporary staff
Carried out from October to November 2016; after this period, the posters continued to be placed
Recommendation of establishment and revision of codes of conduct based on the KDDI Code of Conduct
Strategic subsidiaries
Established Company...1
Revised companies...6
| Policy |

Approach to CSR Promotion (KDDI)
KDDI's CSR activities, which serve as the base for KDDI's business, consist of operational improvements through opportunities for dialogue with various stakeholders, CSR procurement, promotion of diversity and inclusion, response to the business continuity plan (BCP), and more. Based on these activities, and our value chain, we recognize the impact of our business activities on society and, through the provision of products and services, expand CSR activities that resolve issues which occur.
By promoting CSR Initiatives Through Business and CSR Initiatives Supporting Operations, KDDI will develop its business as well as develop a sustainable society.
| System |

CSR Promotion Framework (KDDI)
The CSR & Environment Management Department designs and plans measures for the strategic integration of management and CSR at KDDI and the promotion of CSR activities throughout the company. For the formulation of CSR policies and their important items, there is the CSR Committee, chaired by the General Manager of the Corporate Sector (Executive Vice President, Representative Director) with the CSR & Environment Management Department as the secretariat, which meets two times a year to discuss and make decisions. The content of the committee's discussions is reported to the Corporate Management Committee in the form of periodic reports.
With the CSR & Environment Management Department taking the role of promotion, KDDI spreads the policies formulated by the CSR Committee to the relevant departments domestically and internationally, after which it conducts activities that cut across departments. There are also two subcommittees under the CSR Committee, the Human Rights Subcommittee and the Environment Subcommittee.
The executives in charge of CSR and the environment conduct management under a system where the degree to which KPI in CSR and environmental issues is achieved is linked to remuneration and responsibility is clearly defined.
Major Issues Addressed by the CSR Committee in 2016
Formulation of the Fourth Environmental Conservation Plan (KDDI GREEN PLAN 2017-2030)
Sharing of domestic and international CSR topics
Human Rights Subcommittee
The Human Rights Subcommittee discusses measures, as needed, to ensure respect for human rights in all business activities of the KDDI Group based on KDDI's human right policy.
Human rights include the following.
Prohibition of child labor or forced labor
Prohibition of racial discrimination in business activities (based on race, sex, religion, nationality, age, sexual orientation, etc.)
(Relating to telecommunications business) Restrictions on protection of privacy of communications or freedom of expression, eviction demands related to construction of base stations, etc.
Environment Subcommittee
The Environment Subcommittee discusses matters related to policy and planning of the environmental protection activities of KDDI and the KDDI Group.
CSR Promotion and Company Infusion System