Basic Stance on Compliance
KDDI is improving and reinforcing its compliance structures, based on its belief that compliance with the law-including strict observance of the privacy of communications by telecommunications providers as established in the Telecommunications Business Law-is fundamental to business operations. In addition to establishing the KDDI Code of Business Conduct to ensure that all executives and employees maintain a high sense of ethics and execute their duties appropriately, we are undertaking the following efforts to raise compliance awareness.
Conducting activities to instill the KDDI Group Philosophy
Cultivating a sense of organizational togetherness and improving communications
Performing activities to detect early on, analyze, and prevent violations
Blocking any relationships with anti-social forces

KDDI Code of Business Conduct (Basic Principles)
Compliance Promotion System
We have put in place the KDDI Group Business Ethics Committee, headed by the chairman of KDDI, to deliberate and make decisions on compliance-related items. The committee meets semi-annually to ascertain the situation at each company and support the establishment and reinforcement of compliance structures.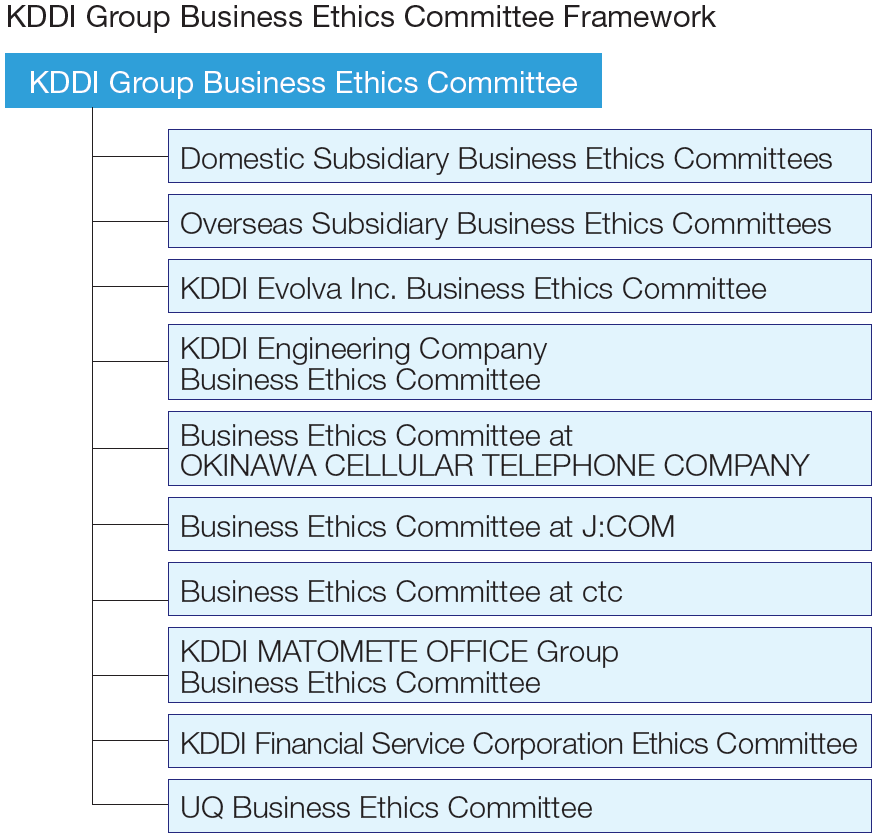 The KDDI Group Business Ethics Committee also formulates policies for educational activities and, in the event a compliance violation occurs, discloses information outside the Company and deliberates on measures to prevent recurrence. The status of the committee's activities is made available to all employees via the intranet.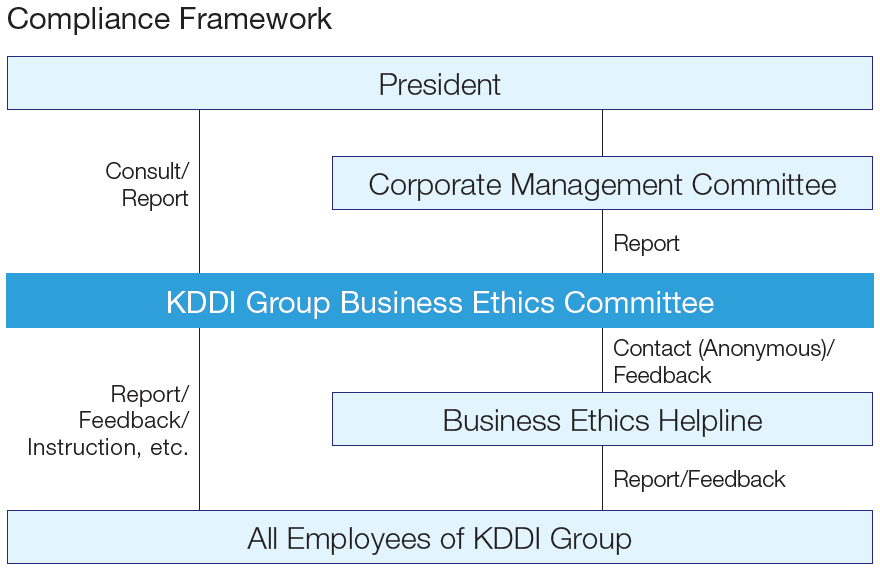 Rules for Processing Internal Reports (Business Ethics Helpline)
KDDI established the Business Ethics Helpline in 2006 to serve as a contact point for all employees of KDDI, KDDI Group companies, and business partners who have questions or concerns about business ethics and legal compliance. The helpline can receive reports through an internal contact point or an external contact point established in collaboration with external experts. Furthermore, we have established internal regulations in response to the Whistle-Blower Protection Act, enacted in Japan in April 2006, and have made it possible to make reports anonymously. We actively conduct educational activities on how to use the helpline.
In the fiscal year ended March 31, 2016, the helpline received 27 reports, including inquiries. Internal investigations were conducted primarily by the KDDI Group with regard to the issues reported, and information regarding reporters was kept confidential. When problems were uncovered, steps were taken to rectify the situation, including proposing improvements and instituting measures to prevent recurrence.
KDDI Group Tax Compliance and Anti-Avoidance Initiatives
The KDDI Group pursues the enhancement of customer satisfaction and profit and also strives to fulfill its corporate responsibility by maintaining and enhancing its international tax compliance. Specifically, we comply with international rules and tax related laws and regulations in each country and region, and pay tax appropriately.
In addition, steps are being taken in various countries, including Japan, to respond to tax revisions related to base erosion and profit shifting (BEPS) in accordance with various BEPS plans and KDDI pays taxes that match its economic activities, place of value creation and area in which taxes are paid.
KDDI strives to file appropriate tax returns and pays taxes complying with local tax systems in the respective companies in which it does business while preventing transfer of tax sources to countries or regions that excessively reduce tax burdens or do not levy taxes (so-called tax havens).
In the fiscal year ended March 31, 2016, KDDI paid \253,649 million in corporate income tax, a tax rate of 31.0% against income before income taxes.