KDDI HOME

Corporate Information

Investor Relations

IR Documents

Integrated Report (Annual Report)

Selected Pages of Integrated Report (2015)

ESG

Environment

Initiatives to Conserve the Global Environment
Initiatives to Conserve the Global Environment
Material Issue:
Initiatives to Conserve the Global Environment
As a telecommunications company, KDDI has the important responsibility of providing uninterrupted communications services around the clock, 365 days a year. To ensure this capability, we are introducing tribrid base stations powered by renewable energy and extending their battery life to 24 hours. As well as addressing the risk of power outages, this move reduces the amount of electricity required to operate base station facilities and data centers, which should lead to higher profits.
Furthermore, amid ongoing global warming such initiatives cut greenhouse gas emissions. As a result, in addition to ensuring high levels of ongoing service quality, these efforts prepare for future environmental risk.
Principal KPI: By FY2016, lower electric power consumption per subscriber [1] by 15% compared with FY2011
KDDI's Environmental Management Regime
The KDDI Group has formed an environmental management system centered on the KDDI Environment Committee. Comprising members from each division, branch, Group company, and related organization, the committee promotes efficient environmental preservation activities throughout the Group. KDDI has acquired ISO 14001 certification for this management system.
As of March 31, 2015, this certification had been obtained for KDDI, 20 of its 33 Group companies in Japan (61%), one overseas consolidated company, and four affiliated organizations.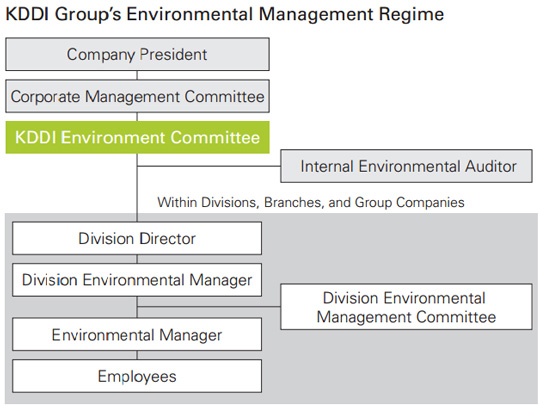 Third Medium-Term Environmental Conservation Plan "KDDI GREEN PLAN 2012-2016"
As its five-year environmental preservation plan beginning in FY2012, KDDI has formulated the "KDDI GREEN PLAN 2012-2016," its third Medium-Term Environmental Conservation Plan. This plan introduces three material issues, "low-carbon society," "recycling-oriented society," and "biodiversity," and sets specific targets for each. To reach these goals, we are promoting 3G Actions ("Green of ICT," "Green by ICT," and "Green with customers and employees (Green Road Project)") to enhance our contribution to environmental preservation.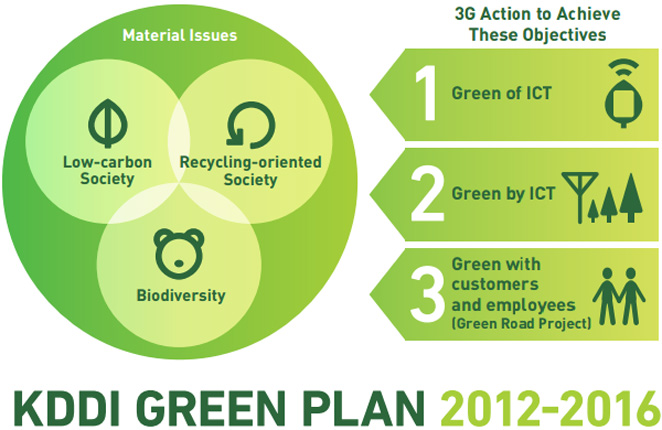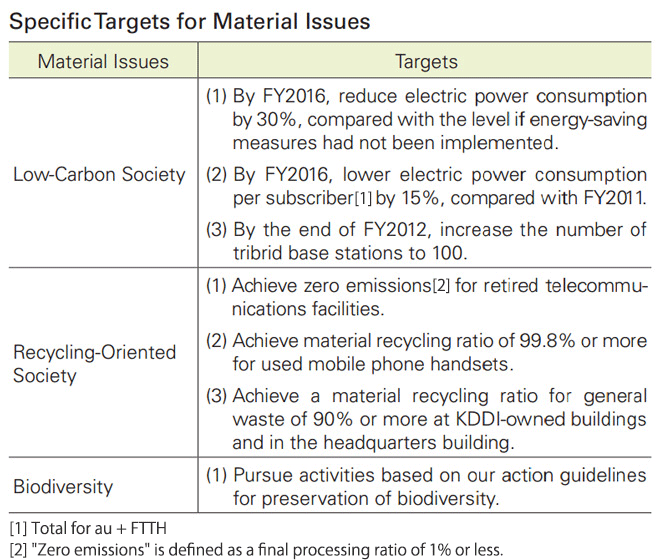 Progress on the Third Medium-Term Environmental Conservation Plan
We are working toward specific targets to be achieved by FY2016 under the Third Medium-Term Environmental Conservation Plan that we formulated in FY2012. As of March 31, 2015, we recognized that meeting our goal to "achieve a material recycling ratio for general waste of 90% or more at KDDI-owned buildings and in the headquarters building" would be problematic, as meeting this target is dependent on the facility specifications and processing areas of waste-processing contractors. However, we are on track toward our other goals, including one to increase our number of tribrid base stations to 100—a target we had already met as of March 31, 2013.
"Green of ICT"
Reducing Electric Power Consumption in Base Stations Undertaking Disaster Measure Initiatives
The dense blanket of au mobile phone base stations covering Japan accounts for 60% of the total energy consumed by KDDI. Accordingly, we are placing topmost priority on initiatives to reduce the electricity that base stations consume.
In March 2011, when the Great East Japan Earthquake struck, some 77% of the base stations that ceased to operate in the aftermath of the earthquake (in six Tohoku prefectures, as of March 12, 2011) did so because of power outages. Clearly, disaster preparedness measures that address power outages are a pressing topic.
To address this issue, KDDI is installing tribrid base stations and extending base station battery life to 24 hours. We are moving forward with this initiative, which has the dual benefit of reducing environmental impact and serving as a disaster countermeasure.
Tribrid base stations employ tribrid power control technology that uses three types of power efficiently according to the time of day and changes in the weather. This technology combines typical commercial electric power with generation from solar panels and batteries charged with nighttime power. Compared with base stations that use only conventional electric power, tribrid base stations have been confirmed to reduce annual CO2 emissions by as much as 30%. As of March 31, 2015, we have 100 of these base stations in operation around Japan.
Serving as backup in case power is interrupted, KDDI had installed batteries with life extended to 24 hours at 2,200 base stations as of March 31, 2015. These batteries are in place mainly in prefectural and municipal government offices and train stations serving more than 100,000 passengers per day. We plan to continue installing these batteries after measuring their effect on reducing environmental impact.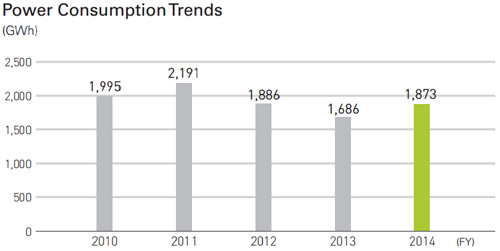 Responding to Scope 3 Emissions through Efforts throughout the Supply Chain
To quantify and disclose environmental impact, KDDI regularly conducts life-cycle assessments (LCA) of its products and services to determine the amount of CO2 generated at each stage of operations—from manufacturing and use to disposal or recycling. In recent years, efforts to visualize (determine, manage and report information on) emissions throughout a company's supply chain have gained momentum, and guidelines [1] have been formulated for this purpose. Based on these guidelines, we have been calculating greenhouse gas emissions throughout the supply chain since FY2012.
For business activities in FY2014, Scope 3 greenhouse gas emissions accounted for 81.95% of the total (which includes Scope 1, 2, and 3 emissions). During the year, measurement clarified that our Category 1 and Category 2 emissions were representing an increasing share of the total. Accordingly, we will continue to analyze these two key categories and undertake efforts to reduce these emissions.
To increase the reliability of our Scope 3 calculations, we have received third-party verification [2] by the Waseda University Environmental Research Institute. We will push ahead with efforts to identify Scope 1, 2, and 3 CO2 emissions and undertake measures to reduce our environmental impact.
[1]

Green Value Chain Platform

[2]

Third-party verification by the Waseda University Environmental Research Institute (FY2014)