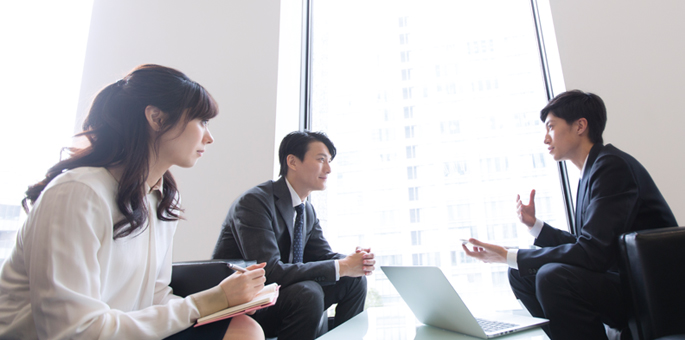 A True Business Partner Contributing to Clients' Businesses
KDDI is responding to ongoing changes in the operating environment by proposing new styles of working to its clients and, through liaisons with various corporate partners, providing one-stop services and solutions to contribute to clients' businesses.

One-Stop Optimization of Working Environments
KDDI offers clients a host of services, solutions, devices, and networks to match their needs. Our "Multi-Device" approach, which enables clients to use PCs in the office and smartphones or tablets when away, combines with our "Multi-Network" optimal network environments to deliver the applications that customers need to operate in a safe, secure, and seamless manner. KDDI provides a wealth of smart devices loaded with functions and applications that can be used in diverse business settings irrespective of location. KDDI uses security services to safely link smart devices with KDDI's cloud service so that customers can take advantage of network environments like those they use in the office even when on the go and use them anywhere, anytime.
One-Stop Solutions in the IoT/M2M Business
KDDI provides one-stop solutions for configuring Internet of things/machine-to-machine (IoT/M2M) business environments with high client needs, from communications modules to network and cloud offerings. For example, the "KDDI M2M Cloud Service" to provide an IoT/M2M environment quickly and inexpensively, and the "Closed Remote Gateway" high security network. We offer a range of services in this category that are tailored to clients' usage needs. To ensure robust business support, we also work jointly with partner companies to provide network-style advertising signage to deliver a variety of external content.
Services for Large Corporate Customers
By using the "KDDI Wide Area Virtual Switch," which boasts 99.999% system uptime, and leveraging its SDN technologies, KDDI provides intranet services such as the "KDDI Wide Area Virtual Switch 2" that offer both flexibility and scalability. Furthermore, our "KDDI Cloud Platform Service" flexibly meets clients' needs with a cloud platform service that delivers freedom and the high reliability that 99.99% system uptime confers. Our "Office 365 with KDDI" cloud service allows clients to use the Office environment they are familiar with, as well as access it from various devices. KDDI also offers various remote access services tailored to increasingly diverse working styles ideal for unified communications and to match business continuity plans (BCPs).

Business
Services for Small and Medium-Sized Businesses
In addition to KDDI telecommunications services such as au mobile phones and fixed-line telephony, each company in the "KDDI MATOMETE OFFICE" group provides many other things that offices need, such as sourcing PCs and printers, revising layouts, and preparing disaster countermeasures. Demand from small and medium-sized businesses is also high for the smart devices and "G Suite Basic (TM)" cloud services that we provide as a set, giving clients access to e-mail, schedule management, and document editing even when away from the office. By increasing office efficiency, reducing costs, and transforming operating environments through the creation of ICT environments, KDDI contributes to the business development of small and medium-sized corporate clients throughout Japan.

Small and Medium-Sized Businesses (in Japanese only)