Generating New Value on the Internet and in the Physical World
KDDI is going beyond mobile to make everyday life more enjoyable and convenient―even providing benefits in the physical world. By blurring the boundaries between the virtual and physical realms, we are getting closer to customers and offering them a host of value.
"au WALLET" Continues to Progress
In the year from its service launch in May 2014, more than 12 million people applied for the "au WALLET Card." Accepted around the world wherever MasterCard (R) is used, the new card can also be charged repeatedly and used as a prepaid e-money card. Customers earn "WALLET points" whenever they make e-money purchases or pay for monthly communications on their au mobile phones. Certain shops even offer bonus points. Accumulated points can be applied to the "au WALLET Card" balance for future shopping. They can also be used to pay communications charges and applied toward discounts when switching phone models or making optional purchases.
To make points even easier to accumulate, we offer the "au WALLET Credit Card," a particularly beneficial credit card for au customers.
Even better, in the summer of 2015 the "au WALLET Market" will open, making carefully selected products available via au shops and online.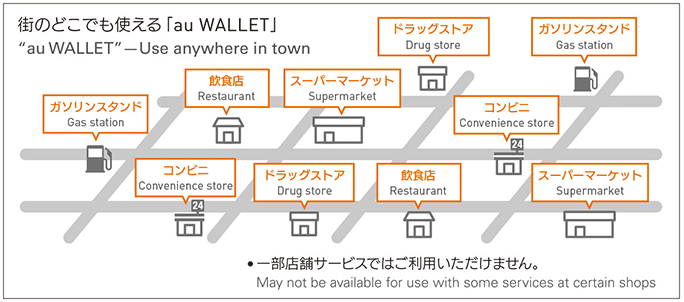 au WALLET (in Japanese only)
Opens au homepage
Making au Smartphones More Enjoyable and Affordable, and Providing Peace of Mind
More than 10 million customers enjoy using "au Smart Pass," which is available at a flat rate of ¥372 per month (excluding taxes), because of the unlimited access it offers to carefully selected apps and content, special member benefits, and various features that provide peace of mind. Special member benefits include coupons redeemable at restaurants or for popular sweets at convenience stores, passes to pre-release movies, and ticket purchases for live music events. "au Smart Pass" offers peace of mind by, for example, giving customers with AndroidTM au smartphones access to the "Virus Buster (TM) Mobile for au" app to protect smartphones from accessing fraudulent applications and blocking dangerous websites.
For iPhone users, the service offers a repair fee support service if a handset is damaged. These are just a few ways "au Smart Pass" makes the lives of customers with smartphones more enjoyable.

au Smart Pass (in Japanese only)
Opens au homepage
Making Video More Fun across Multiple Devices and in a Wealth of Genres
"Video Pass" users have unlimited viewing access to content across a host of genres, including Western and Japanese movies, dramas, and anime, for a flat fee. We greatly expanded our lineup of Japanese movies in August 2014. With more than 1,000 titles, "Video Pass" now counts as one of the most extensive [1] flat-fee video distribution services in Japan. The service is available across multiple devices as well―tablets and televisions as well as smartphones―providing easy access to video in a way that fits in with customers' lifestyles.
For example, a subscriber could begin watching a movie on her smartphone when out and about, and then continue on the television once she returns home. We plan to continue expanding service content and functions, improving the customer environment and making movie content even more enjoyable.
[1]

As of August 2014, according to KDDI's estimate

Video Pass (in Japanese only)
This link is to an external website.
Creating New Mobile Internet Experiences with "Syn."
KDDI established the "Syn.alliance" federation in October 2014, bringing together 11 Internet service providers, and unveiled the "Syn." concept, which seeks to create new mobile Internet experiences. In an era of widespread smartphone usage, the Syn. concept aims to add value to the smartphone experience by establishing a decentralized web portal in which all of the services function as entrances. The concept aims to double the value of the smartphone experience by enabling users to discover new services on the mobile Internet, and by establishing connections between the various services that encourage even further discovery of new services.

Syn. (in Japanese only)
This link is to an external website.