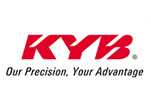 Service introduction and solution
Reconstruction of global network using the "KDDI Global IP-VPN" and streamlining through area operation
KYB is a top manufacturer of automobile shock absorbers, involved in business around the globe. It has aggressively promoted the use of IT, such as deploying ERP, in order to strengthen collaboration with overseas group companies. It uses the "KDDI Global IP-VPN" as the network infrastructure of its global network. It operates an efficient network, divided into four areas: Asia, China, Europe, and America.
---
Published December 2009
Advantage 1

Use of cutting-edge MPLS technology in creating a more efficient network
Division into four areas for operation efficiency
KYB is a top manufacturer of automobile shock absorbers. Approximately half of the cars in Japan, and one fifth of the cars worldwide, use their shock absorbers. In response to business growth, they have actively promoted operation reform with an eye on globalizing production and sales sites. They have built an ERP-based mission-critical system to handle accelerated consolidated accounting and visualize group management. They have also been involved in network construction for global information sharing and communications.
However, some issues affected their existing global network. For example, network response suffered whenever there was a major event in Asia. Therefore, they decided to use the "KDDI Global IP-VPN" to maintain and improve response levels in order to ensure smooth business operation.
They adopted KDDI's proposal to change their network layout from the existing star topology, centered on Japan, to an area-based network composed of four networks (Asia, China, Europe, and America), each with a data center hub. The "KDDI Global IP-VPN" uses cutting-edge Multi-Protocol Label Switching (MPLS) technologies. MPLS, a packet transmission technology that uses label switching, offers higher speeds and higher quality than conventional IP packet transmission technologies. KYB also implemented redundancy, using Internet VPN for backup lines.
There were two primary reasons for this network design. The first was increased cost performance. The cost of the area approach is equivalent to the conventional approach, but results in a network with greater bandwidth. The other reason was to decrease the support burden in Japan, and establish, instead, a system which provided more rapid and accurate support, nearer to where it was needed.
"We have sites around the globe, so with the previous model, we needed to be able to provide support from Japan 24 hours a day, 365 days a year. In order to tackle these distance and time problems, we decided to move to an area-based design. This made it possible not only to provide speedy support, but also to facilitate fault isolation in the event of unexpected problems." (IT Headquarters, IT Management Division, Division Chief, Mr. Minoru Shimada)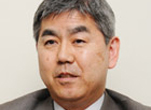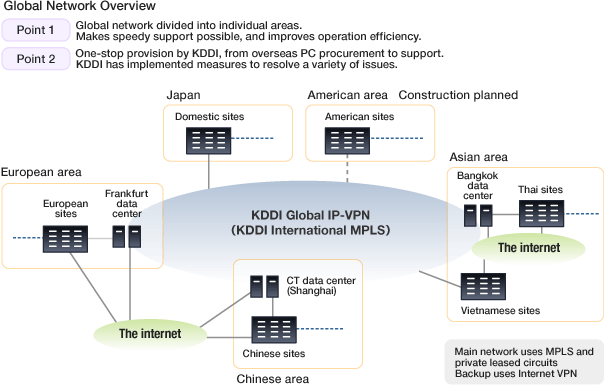 Advantage 2

Highly reliable network supports smooth business operations
Contributes to sharing of business information and reduction of transportation costs
The transition to an area-centered network design started in July 2008 with European operations by the Frankfurt data center in Germany. Bangkok data center-based Asian operations started in January 2009, and Shanghai data center-based Chinese operations started in March 2009. The current plan is for American regional operations to start when the ERP upgrade is carried out.
The required level of response was maintained and improved, facilitating ERP utilization. They also adopted KDDI's proposal for global remote access, using authentication technologies and encrypted https protocol sessions. KDDI is also contributing to business information sharing and transportation cost reductions through increasing use of teleconferencing.
"From the perspective of users utilizing services, what is most critical is the ability to use applications without having to be aware of the underlying network. This global network completely satisfies that condition. Adding speeds is also easy, providing the additional benefit of allowing us to flexibly establish future strategies." (Mr. Shimada)
Advantage 3

High expectations for KDDI's services and proposal power regarding next-generation network measures
One-stop provision by KDDI, from procurement to support
KDDI proposed comprehensive management to KYB, from an ICT solution standpoint, including local PC support. For example, staff sent from Japan need PCs with the Japanese environment they have grown accustomed to. KDDI serves as their one-stop solution, handling everything from procurement to support, as well as resolution measures for the issues that arise in global operations.
Consideration is already underway regarding the future issue of how to integrate into the network the sites that are far from the four regional areas.
"We are already feeling the benefits of the area approach, so in the future, we would like to reap the same benefits from isolated sites. We are currently engaged in active discussions with KDDI regarding this matter. We have high hopes for KDDI's proposals, backed by solid technologies and service." (IT Headquarters, IT Management Division, Section Chief, Mr. Kiyomi Moriwaki)
It appears that the role of network strategies in global business advancement will continue to grow for KYB.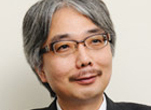 | | |
| --- | --- |
| Company name | KYB Co., Ltd. |
| Headquarters | World Trade Center Building, 2-4-1 Hamamatsu-cho, Minato-ku, Tokyo |
| Founded | November 19, 1919 |
| Capital | 19,113,680,000 JPY (as of end of March 2009) |
| Number of employees | 11,370 (as of end of March 2009, consolidated) |
| Main business | KYB was founded in November 1919 as the Kayaba Research Center. It has always kept step with the needs of the times, founded on its corporate philosophy of "contributing to society providing technologies and products that make life safe and comfortable." It currently commands the position of the world's top automobile shock absorber manufacturer. It also has a significant advantage in two-wheeled vehicle suspensions, as well as producing hydraulic equipment for construction, equipment for airplanes, special vehicles and ships, and environmental and public welfare-oriented products. Its business extends around the globe, including production and sales. |
| URL | https://www.kyb.co.jp/english/ |
The information contained in the cases of introduction is current at the time of publication.