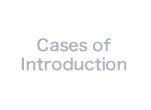 Service introduction and solution
Re-development of a company-wide network environment with KDDI's Global ICT Solution for the construction of a global core business system
NSK Ltd. contributes to customer business through offering parts and components, such as bearings, used in automobiles, precision machinery and electronic goods. NSK, who situates numerous sales and production bases abroad, is currently promoting the construction of a global-scale core business system. What supports the NSK Group's business infrastructure is KDDI's Global ICT Solutions and the communication network built on a global scale.
---
Published January 2009
Advantage 1

A new management system and business infrastructure to enable rapid response to the changing business environment
Enhancing the network for the realization of a global SCM
NSK offers essential items for industrial machinery, precision instruments, electronic appliances, and in particular, automobiles. The Group's business expansion abroad started early, in the 1960s, and currently has 70 sales bases in 25 countries and 37 production bases in 12 countries. In recent years, NSK has been focused on business in the Chinese market. In line with this business focus, the company commenced the construction of their R&D base in Kunshan in July 2008, which will become NSK's largest overseas base. The company plans to continue pushing towards a global-scale business.
In pursuing a globalized business, an enhanced comprehensive business infrastructure is required. To this end, NSK is undertaking a renovation of their core business system that forms the foundation of their global business.
Mr. Makoto Moritani, Management manager, Network Solutions Manager, and director of NSK Net and Systems Co., Ltd., responsible for IT system construction and development of the whole NSK Group, explains,
"Our conventional core business system was composed of sales, production and distribution systems built and operated in regional units. However, due to worldwide changes in the business environment, a mechanism to centrally manage business on a global scale has become crucial. For instance, if the sales system was globally integrated, any base can respond to orders from around the world in a speedy and efficient fashion. Under such a structure, the NSK Group can exert its comprehensive capacity. To make that possible, first we needed to power-up the global network". (Mr. Moritani)
Overview of the Global ICT Solutions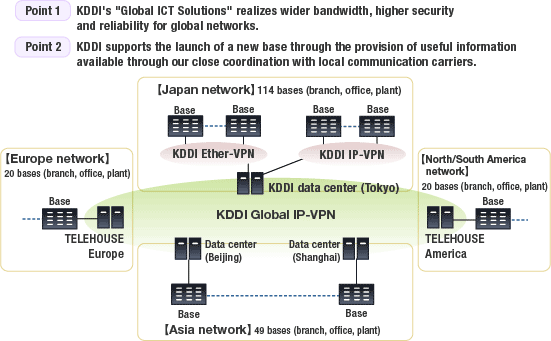 Advantage 2

Requirements for a global network: Wide bandwidth, high security and reliability
Full support of global network issues
Mr. Hideyuki Konuma, Manager of Network Solutions Division, NSK Net and Systems Co., Ltd. speaks of the approaches to enhancing the global network as follows: "The new Web-based system required a wider bandwidth, so it was essential to upgrade our network. In addition, because we will be handling confidential information globally, improved security was indispensable. To be able to manage network reliability on a global scale instead of in regional units was also a requirement".
KDDI offered a one-stop total solution that meets the NSK's network needs.
As the reason for choosing KDDI as a partner, Mr. Moritani explains, "KDDI has had a solid, established collaborative relationship with overseas carriers for several decades. We also found in our evaluation that KDDI can support our current overseas bases and future expansion abroad with their TELEHOUSE datacenters in North America and Europe".
Today, the global network of the NSK Group connects using 'KDDI Global IP-VPN' as its core network. Overseas bases connect through networks provided by communication carriers in their respective regions. Bases in Japan are connected to the NSK global network through 'KDDI IP-VPN' and 'KDDI Ether-VPN'. TELEHOUSE New York and TELEHOUSE London are hub bases in North American and Europe, respectively. In China, two KDDI data centers are situated in Beijing and Shanghai as hub bases.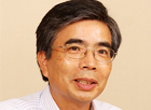 Advantage 3

KDDI's channel and support contributes greatly to global business
Supporting the launch of a new base through close coordination with local carriers
KDDI has been supporting the international expansion of the NSK Group for over 10 years, which has involved offering solutions in the development of NSK's overseas bases through KDDI's negotiation and coordination capabilities.
"When expanding into a new region, we don't know their communication environment or business practices. KDDI are in close collaboration with local communication carriers and businesspersons, and have furnished us with useful information in these processes. Particularly with establishing a base in China, where it was difficult to construct and open a network, we highly value the support KDDI was able to offer as we could not have attained it ourselves". (Mr. Moritani)
Mr. Konuma adds, "NSK aims for 'Stable, Safe and Secure IT' and have a self-defined service level agreement (SLA). In the Asian region, we demand a communication response within one second and a 100% daytime operability, and that network requirement is almost fully met every month". For KDDI who contributed to attaining these results, higher expectations are entertained for the future. "NSK Net and Systems is aiming for consolidated sales of one trillion yen and an operating profit ratio of 10% at an early stage by 2016, when we celebrate our 100th anniversary. In order to attain this goal, a speedier business administration is necessary, including the expansion of existing businesses and developing business in new fields. We expect that KDDI will aid our company in maintaining and improving the speed of development and the service level of our global network that supports that management strategy". (Mr. Moritani)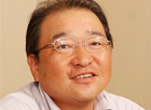 | | |
| --- | --- |
| Company name | NSK Ltd. |
| Headquarters | 1-6-3 Ohsaki, Shinagawa-ku, Tokyo |
| Founded | November 8, 1916 |
| Capital | 67,100 million JPY (as of March 31, 2008) |
| Number of employees (Consolidated) | 25,069 (as of March 31, 2008) |
| Main business | Founded in 1916, NSK continues to contribute to industrial growth and the advancement of machinery through the development and production of diverse types of bearings since introducing the nation's first ball bearing. NSK, who maintains the leading market position in the field of bearings nationally, uses advanced precision processing technologies and at an early stage expanded into other fields, including automobile parts, precision machinery and electronic appliances, promoting a diversified business. |
| URL | http://www.nsk.com/ |
The information contained in the cases of introduction is current at the time of publication.