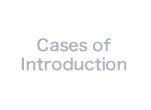 Service introduction and solution
KDDI Top Choice by the Toshiba Group. Delivering global network with regional prowess
ln striving to become an integrated manufacturer of electronics products on a world-class scale, the Toshiba Group's ambitions demand an ICT infrastructure that is as much durable as it is ubiquitous. The KDDI Global ICT solution fulfills the Group's desire for Global network reform to grow their business worldwide.
---
Published September 29, 2009
Advantage 1

Putting in place global networks that allow for far-reaching business expansion

Overseas sales account for more than half of the Toshiba Group's total revenue. North America, Europe and China remain primary overseas markets where the Group is in hot pursuit to increase revenue dramatically.
"For this reason, it is essential that we bolster our marketing ability and raise our cost competitiveness throughout our global systems. We needed to start by transforming our information network infrastructure," explains Kenji Yamamoto, Toshiba's Division Manager of the lnformation Technology System Strategy Division.
(1) Issues

Transformation and reconfiguration of the information network infrastructure
Resolution of concerns about security, management, and operations
Redundancy, scalability, and an integrated operational management

(2) Provided Services

KDDI Global Powered Ethernet (L2 network)
KDDI Global IP-VPN (L3 network)
TELEHOUSE (Data Center)
Global Managed Security Service

(3) Effects of the Deployment

99.999% network availability between regions, centering on Japan
Real-time security monitoring at overseas sites
Speedy network development at overseas sites

(4) Decisive Factor

One-stop network & security service provider
ln the past, Toshiba had focused on cost-savings whenever developing its global networks. Appointed carriers varied from region to region since the one that provided the most cost-effective services was always chosen. Toshiba ended up with a Group network handled by multiple providers.
"Network policies varied because of the different carriers; and concerns about security, management, and operations subsequently prevailed," comments Hidenori Saito, Advisor to Toshiba's lnformation Technology System Strategy Division, as he reflected on past regional practices.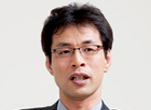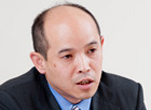 Advantage 2

Along with addressing redundancy and scalability, ensuring security

The Toshiba Group laid down requirements that the chosen carrier had to meet, which included upholding redundancy, handling appropriate scalability, and ensuring integrated operational management. Wherever and whenever, KDDI as a one-stop service provider can operate effectively, efficiently and seamlessly. The handling of data at various overseas manufacturing sites, for example, would function on time and under tight deadlines when placing or receiving orders for parts and materials. The global systems could handle huge files containing designs sent from the main office. Programs would be in place to provide accurate, detailed measurements on work progress.
"The networks through which data directly related to manufacturing flow are an important infrastructural component for business expansion, and they must never fail. Therefore it was essential to ensure redundancy," emphasizes Toshiyuki Tanaka, Advisor to Toshiba's lnformation Technology System Strategy Division.
Beyond present needs, the Toshiba Group aims to expand into the future as it develops sites further in maturing markets that include China and other Asian countries. Most imperatively as the business expands, the systems must undergo restructuring to maintain the highest levels of security and privacy protection.
"Emerging countries lag behind in security measures. As a consequence, an advanced security monitoring service, such as the one set up to prevent attacks on our own site, was essential," stresses Toshiba ITSS Advisor, Tanaka.
Consideration and comparison of all the services provided by each competing carrier resulted in the Toshiba Group choosing KDDI's Global ICT Solution. Toshiba Advisor, Tanaka points to KDDI being the only company meeting all of Toshiba's requirements and, at the same time, providing one-stop network services at a competitive price. With so much at stake and the urgency of arriving at a workable solution, Toshiba also recognized KDDI's capability to develop the optimum required infrastructure in a relatively short period of time-on a global, diverse region-specific basis.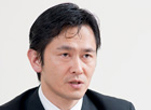 Advantage 3

Providing a 99.999% network availability between regions

Toshiba's global networks now consist of proprietary KDDI solutions-KDDI Global Powered Ethernet and KDDI Global lP-VPN. Together they achieve 99.999% network availability between regions that include North America, Europe, China and the rest of Asia-centering on Japan. TELEHOUSE data centers are directly linked to the Toshiba Group's global networks. Such synergy empowers KDDI to maintain a one-stop service capability that grows as Toshiba builds its businesses in each region.
"Thanks to full redundancy with KDDI's L2 and L3 services, we can operate our networks in a reliable and secure manner. The advantages are full scalability and the ability to develop networks in overseas sites quickly," says Toshiba's Advisor for lnfrastructure Service
Katsuhiro Nigorikawa.
The Toshiba Group was introduced to a proprietary solution developed by KDDI and LAC, a leading vendor in network security, which upholds the integrity, privacy and protection of data. The operation center managed by LAC delivers global firewalls and real-time monitoring with an lntrusion Detection System (lDS)-a level of security worldwide that the Toshiba Group deems essential to their business and future expansion.
"Now that we clearly can see the level of security at overseas sites, which had not been monitored before, we are continuing to improve data integrity through ongoing restructuring of our global security systems," adds Toshiba's lS Advisor Nigorikawa.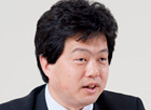 Advantage 4

KDDI offers real value through our close ties with local carriers

An integral component of KDDI's service package is the support of everything from network development to operation and maintenance that takes advantage of established close ties with local carriers in each region. Network development in China, for example, is historically very difficult-local carriers being pivotal yet cautious, and delays in work timetables more commonplace and persistent.
"However, our network development in the China region is proceeding on schedule, thanks to KDDI's exceptional ability to negotiate and coordinate with local carriers. ln the critical aspect of support, KDDI's local subsidiary visits our site, and responds to any request by us comprehensively," explains Toshiba's lS Center Advisor, Saito.
"With such significant results in China, we also would like to work together with KDDI on site developments in Central Asia and Africa in the future," adds Toshiba's lS Center Division Manager, Yamamoto.
KDDI responds to clients' expanding ambitions through exceptional human and technical resources. We provide a level of support by experienced staff and cutting-edge technology that help develop overseas businesses. KDDI ensures that the Toshiba Group's global systems provide stable, secure, and responsive network environments that improve as the business improves.
| | |
| --- | --- |
| Company name | Toshiba Corporation |
| Established | 1875 |
| lncorporated | 1904 |
| Head Office | 1-1-1, Shibaura, Minato-ku, Tokyo |
| Turnover | 3,213.8 billion yen (FY2008) |
| Number of Employees | 33,260 (as of March 31, 2008) |
| Main Business | Manufacturing of electrical machines and equipment, other commercial products |
| URL | http://www.toshiba.co.jp/ |
The information contained in the cases of introduction is current at the time of publication.