Wide coverage area
LTE, CDMA 1X WIN, CDMA 1X are available in a wide coverage with a stabilize signal.
Communication system
Speed
Uplink
Downlink
LTE
25Mbps
75Mbps
CDMA 1X WIN
144kbps
2.4Mbps
CDMA 1X
64kbps
144kbps
In some areas, the maximum receiving speed is 37.5Mbps and the maximum sending speed is 12.5Mbps.
Since this service is provided as a best-effort service, communication speed is subject to the influences of the communication environment and traffic conditions. Even within the service area, data communication may not be available in locations with weak signals.
Service area and speed vary depending on the model of your communication module and your rate plan,
KDDI Module Remote Management Service (KDDI MRMS)

This service allows users to monitor and operate communication module devices remotely via the Internet.
You can check the installation site (GPS information) of a product equipped with a communication module device as well as the signal condition in the surrounding area, and confirm and change the setting of communication module devices.

Functions
| Item | Details |
| --- | --- |
| Remote monitoring function | Allows users to check the received signal condition of communication module devices via a network. |
| Remote operation function | Allows users to check and change the detailed setting of communication modules via a network. |
Charges
Item
Charge
Monthly basic charge
¥10,000/ID
SMS distribution charge
(number of distributed SMS mails)
1-1,000
¥1,000
1,001-10,000
¥5,000
10,001-30,000
¥10,000
30,001-50,000
¥20,000
50,001 and over
¥20,000 is added every 50,000 mails
Supported communication modules
KYM11, WM-M300, WM-M320
Emergency Mail function
Emergency Mail is a service that simultaneously inform you
Earthquake early warnings
Tsunami warnings
disaster information
evacuation recommendation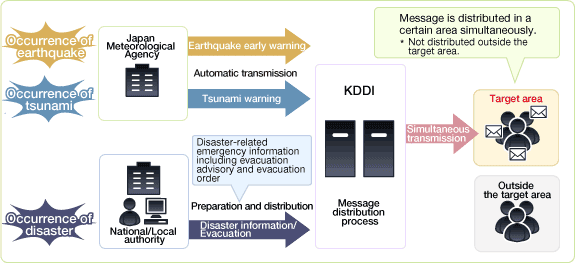 This service is only available within Japan (not available overseas).
This function does not guarantee advance notification.
Supported modules
KYM11, WM-M300*, WM-M320*, WM-M200A*, WM-M210A*
Only the earthquake early warning function is supported.
You may receive information regarding an area other than your present location.
KDDI assumes no responsibility for damages resulting from non-delivery or delay of information due to communication or system failure, or the content of the information, or any other reasons that are not attributable to the responsibility of KDDI.
Charges
| | |
| --- | --- |
| Usage fee/Information charge | Free |
Examples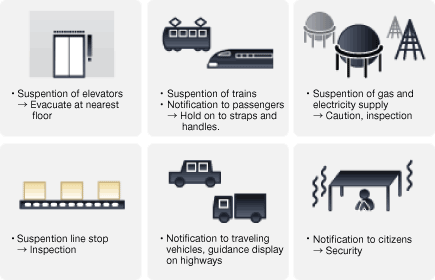 Japan Meteorological Agency
GPS function
Due to the adoption of the gpsOne system, which uses the GPS satellite positioning information in combination with the au base station location information, approximate location can be positioned even in places like underground or indoor locations where satellite signals cannot reach, as long as the device is in the au service area. In addition, shorter time is needed for positioning compared to the conventional system of positioning only using the GPS signal.
Location positioning is possible without a GPS unit.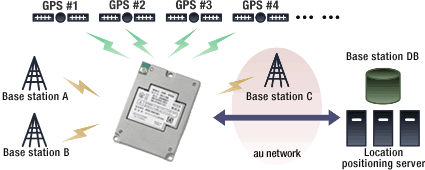 Protocol conversion function
Data transmitted from a device with embedded communication module is automatically converted to TCP/UDP protocol to be sent out as packets. This saves customer products from having a TCP/UDP stack, enabling product development with reduced cost.
Supported modules
KYM11, WM-M300, WM-M320, WM-M200A, WM-M210A, KCMV-200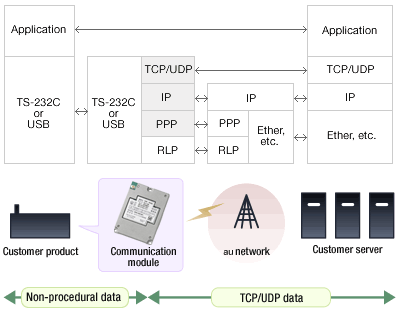 OTA (Over The Air) function
Lines can be opened or stopped by writing or deleting the ID information of a phone number via wireless operation.
This function can prevent communication charges from being incurred during the manufacturing process of a product or while a product is in stock.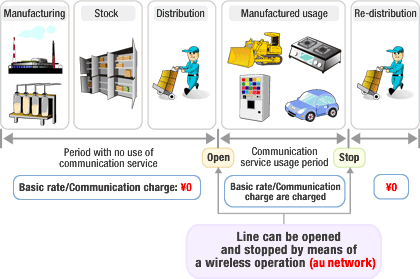 Date & Time / Easy location information acquisition function
The accurate time information and the approximate location information based on base station can be acquired with AT commands. This enables the omission of a time server and allows users to know the location the device is used at.
All of the indicated amounts

exclude tax

unless otherwise specified.