Corporate Information

Sustainability (The Environment & Society)

Continuous Reconstruction Assistance to Connect Tohoku Disaster Sites
Continuous Reconstruction Assistance to Connect Tohoku Disaster Sites
KDDI has been involved in activities to support the reconstruction of disaster areas including the removal of rubble and the reclamation of old homes since immediately after the Great East Japan earthquake occurred.
While the infrastructure in the affected areas has largely been repaired in the five years since the disaster, a new set of needs must be met which differ from those immediately after the earthquake.
KDDI continues to engage in activities to support reconstruction while listening to the people in the affected areas as they change in order to connect their "thoughts" and "smiles" through information technology.
Initiative 1 "Supporting community building through tablet demonstration classes"
KDDI held "tablet demonstration classes" in Higashi-Matsushima, Miyagi Prefecture in September 2015, and February 2016. "People who had to leave the place where they were used to living due to a disaster and move to a new location, such as temporary housing, expressed the desire to build a community in order to live and support each other," so in 2014 we started an initiative to use tablets as a tool to build communities.
At the time, we offered lessons on basic tablet operation and implemented a game that would allow the participants to enjoy communicating with each other.
Related article

CSR topics: Company volunteers hold a tablet class at the Higashi-Matsushima (Japanese version only)

Initiative 2 "Reconstruction Support Market held to highlight the delicious food products of the Tohoku disaster area"
The third "KDDI Reconstruction Support Market" was hosted at the company's headquarters (Chiyoda, Tokyo) in May of 2015. The event has been held periodically since 2014 with the goal of "introducing the delicious food products of the disaster area to as many people as possible in order to assist the affected regions.
The most recent event focused on the famous sweets and alcoholic beverages of Iwate prefecture and was a great success with almost all of the products selling out.
Related article

CSR topics: "Third KDDI Reconstruction Support Market Held" (Japanese version only)


Initiative for the disaster measures and reconstruction assistance (Japanese version only)


Initiative for the Kumamoto earthquake (Japanese version only)
Stakeholder's Voice (Organizer of Tablet Classes)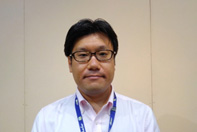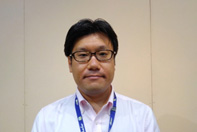 We held two tablet classes at a temporary public housing complex and a restoration public housing complex, where residents are facing various issues. The remaining temporary housing residents have said that following the restoration of the city the number of residents at the temporary housing has decreased and they feel a sense of loneliness. The restoration housing residents have said that their relationships with neighbors are shallow, and that there are few opportunities for people to see each other. The tablet classes provided an opportunity for residents to meet, establish face-to-face relationships, and engage in lively communication. As a result, a sense of mutual support was revived, providing a new start for the community. Thank you very much.