2019: Sustainability Report
KDDI issues its Sustainability Report as a means for disclosing financial and nonfinancial information. This report is a focused summary of environmental , social , governance, and other non-financial information in PDF format (Japanese and English). For information on our business strategies and opportunities, please refer to the Integrated Report.
The Sustainability Report expands on information referencing the GRI's Sustainability Reporting Standards, as well as information to promote greater understanding of how KDDI creates value. We will continue making efforts to communicate with all stakeholders and promoting our sustainability initiatives.
Download all pages
2019 Sustainability Report

Interactive PDF (3.0MB)
The interactive features may not work correctly in some operating environments; in such case, please download the alternative version below.

Printer-friendly PDF (2.8MB): A3

Printer-friendly PDF (3.0MB): Booklet
The report is available in PDF format only.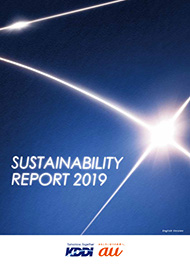 <Sustainability Report 2019 Contents>
<Top Message>
President's Message
<KDDI's Commitment to Sustainability>
KDDI's Commitment to Sustainability
Sustainability Promotion Framework
Our Business and Strategies
<KDDI's Target SDGs>
Social Issues to Be Solved through Business

Telecommunications Business―Building a safe and resilient information and telecommunications-based society
Global Business―Promoting economic development in countries with inadequate infrastructure
Regional Revitalization―Building communities where everyone can prosper
Education Business―Training the next generation of human resources
Financial Business―Providing financial services anyone can easily use

Social Issues to Be Solved through Corporate Activities
<Materiality>
Message from Executive Officer of Sustainability
KDDI's Material Sustainability Issues
FY2018 Material KPI Results
FY2019 Material KPIs


1) Safer and More Resilient Connected World

Network Quality Management and Improvement
Disaster Preparedness
Initiatives in Growing Markets outside Japan

2) Cyber Security and Privacy Protection

3) Fulfilled Life Brought through ICTs

Regional Revitalization Initiatives
Innovation Management
Responsibility for Products and Services
Initiatives Outside Japan

4) Rewarding Workplaces for Diverse Talents

Recruiting and Developing Human Resources
Labor Practices

5) Respect for Human Rights and Fairness in Business

Human Rights
Youth Education Activities
Compliance
Supply Chain Management

6) An Energy-Efficient, Circular Economy

Environmental Management
Environmental Performance

<Management Framework>
Corporate Governance/Risk Management/Customer Relationship Management/Brand Management
<Engagement>
Stakeholder Engagement/Community Involvement and Development/External Recognition
Corporate Profile
Disclosure Policy
Sustainability-related Information