KDDI's strengths in four points.
The contents are as of the end of December 2019.
Retaining a strong customer base inside and outside Japan
KDDI's services are used by many customers in Japan and overseas, and we have a strong customer base.
In Japan, we have a customer base for mobile communications including smartphones and fixed communications such as optical fiber and cable TV.
In mobile communications, the total number of subscribers of au brand and "MVNO" such as cheap smartphones offered by our group companies is 27.09 million.
For fixed-line communications, optical fiber customers such as au Hikari are 4.55 million contracts, and cable TV customers provided by J:COM are 5.54 million RGU [1] households.
Overseas, the mobile phone business in Myanmar and Mongolia has the top share in each country.
[1]

RGU: Revenue Generating Units. Each household's subscription to CATV, highspeed Internet connection, or telephony services each represent one RGU.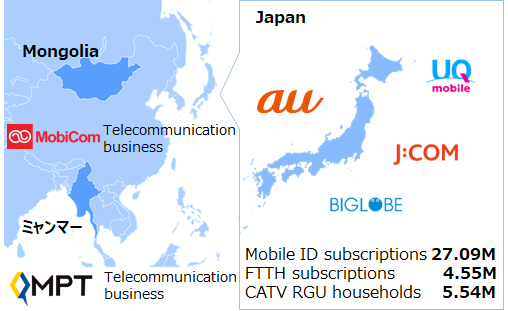 Touchpoints both online and offline
We have touchpoints with customers both online (such as smartphone apps) and offline (brick-and-mortar stores such as au shops).
As regards online touchpoints, the number of "au Smart Pass" and "au Smart Pass Premium" members is 15.42 million. The "au PAY", a financial portal application that allows cashless payments and saves up points, exceeds 22 million membership.
With regards to offline touchpoints, there are approximately 2,300 au shops nationwide that serve for au services and products.
In December, 2019, we announced the affiliation with Lawson, Inc. and a point integration with Ponta point.
The result will create member base of over 100 million in point and settlement services, which means online touchpoints will be expanded as well. In addition, offline touchpoints will be extended by including Lawson's roughly 14,600 brick-and-mortar stores (annually 4.1 billion people visited).
One of KDDI's strengths is that it has many online touchpoints on mobile phones and has many touchpoints even offline all over the country.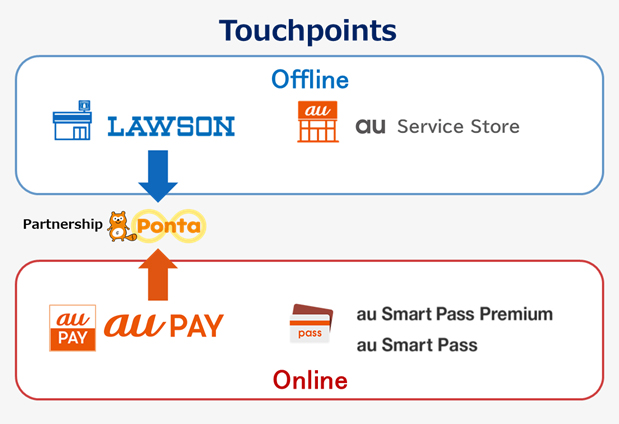 Develop new pricing plans ahead of the industry
In November 2003, we introduced industry's first flat-rate packet service.
In February 2012, we started "au Smart Value", a set discount for mobile and fixed communications, and "au Pitatto Plan" and "au Flat Plan" to meet various data communication needs in July 2017.
In addition to launching the "au Flat Plan 25 Netflix pack", a set plan with video content in August 2018, in July 2019 we launched the "au Data MAX Plan", which has no upper limit on monthly data capacity. We are developing a rate plan for the 5G era of high speed and large capacity.
We will continue to develop advanced rate plans that meet customer needs.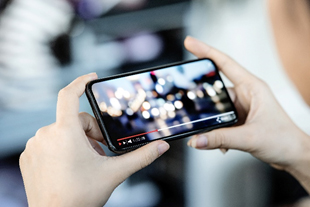 No.1 in brand strength and customer satisfaction and in both corporate and individual services
KDDI was awarded "No.1 in Overall Satisfaction" for four consecutive years by J.D. Power Japan Co., Ltd. in the mobile phone service satisfaction study on both individuals and corporations sectors.
The study on individuals sector is based on the evaluation of six factors; "handset", "services offered", "cost", "dealer/retailer experience", and "after-sales service".
The study on corporations sectors is based the evaluation of four factors, "cost" ,"sales representatives", "handset and services", and "troubleshooting".
These evaluation factors clarify the overall satisfaction level of the mobile phone survey.
We will promote "the integration of the communications and life design" and work as a "company that continues to produce excitement" so that both individual and corporate customers will continue to satisfied customers.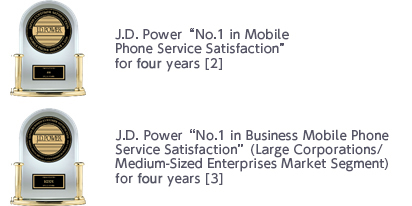 [2]

J.D. Power 2016-2019 Mobile Phone Service Satisfaction Study. The 2019 study is based on responses from 27,600 mobile phone users in Japan. jdpower-japan.com

[3]

J.D. Power 2016-2019 Business Mobile Phone Service Satisfaction Study. The 2019 survey is based on 2,890 responses received from 2,317 companies with 100 or more employees. jdpower-japan.com
Maximize corporate value across the four sources
We believe that the source of KDDI's value is concentrated in the four sources; Customer Bases, Touchpoints, Innovativeness, and Brand sterngth that we have built since our establishment.
We will further refine these four sources of value as our strengths, maximize the corporate value of KDDI by optimally distribute our management resources, and aim to achieve the medium-term management plan for the fiscal year ending March 2022.