Seven business strategies
We will pursue seven business strategies to achieve the three components of the company vision.
1. Creating innovation toward the 5G era ―Creating new experience value through collaboration with partner companies―
KDDI will actively develop 5G as a next-generation social infrastructure, develop business by co-creating with a variety of partner companies, create new experience value through open innovation that incorporates new ideas and advanced technology from startup companies, and actively utilize 5G in regional revitalization activities.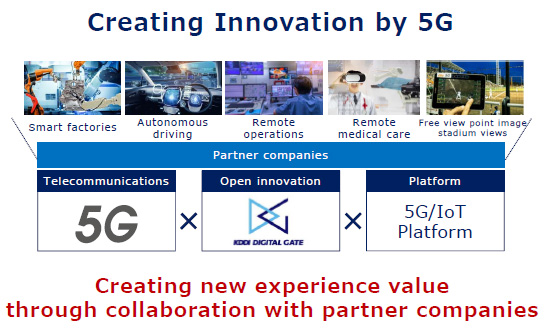 2. Integration of telecommunications and life design ―Expanding peripheral businesses around our core business of telecommunications―
For individual customers, KDDI will expand the range of life design services centered around telecommunications, such as commerce, finance, energy, entertainment, and education, while providing experience value with excitement to the customers. We will strive to deepen the engagement with customers across the KDDI Group and maximize the lifetime value (the number of customers (IDs) x total ARPA x retention rate), while also aiming for sustainable business growth through the active pursuit of efforts in the new life design domain centered around our core business of telecommunications.
For corporate customers, KDDI will support the digital transformation (DX) of their companies. In addition, we aim to achieve sustainable growth in partnership with our customers, through the integration of telecommunications and life design in the companies of our domestic and international customers.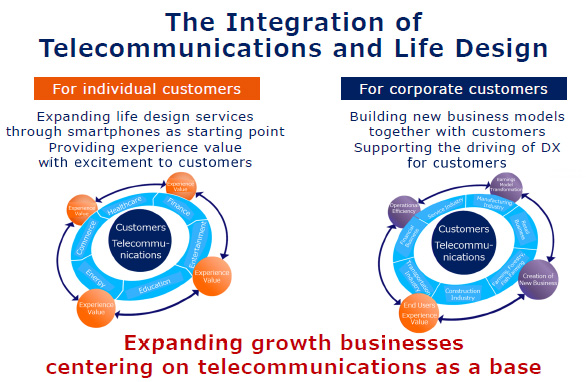 3. Further expansion of global business
―Expanding the "integration of telecommunications and life design" model overseas―
In the consumer business in Myanmar and Mongolia, we will utilize our knowledge and expertise in telecommunications and life design that we have accumulated in Japan through the consumer business, while also aiming to expand markets in other Asian regions where there is room for growth.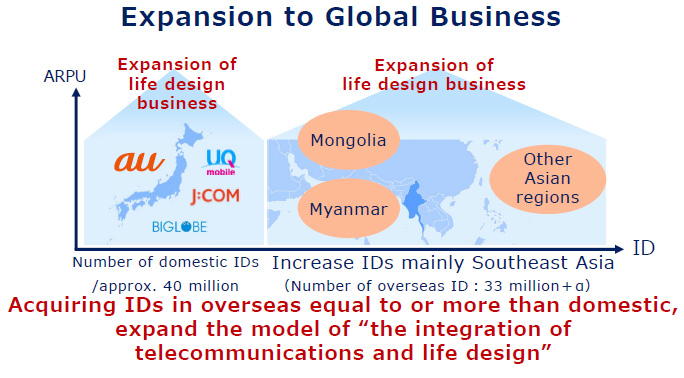 ―Using the IoT Worldwide Architecture to support the global expansion of our customers―
For corporate customers, we will strive to further expand the global ICT business internationally and domestically by leveraging our IoT Worldwide Architecture, which consists of integrated IoT platforms in Japan and overseas, as well as our data center business.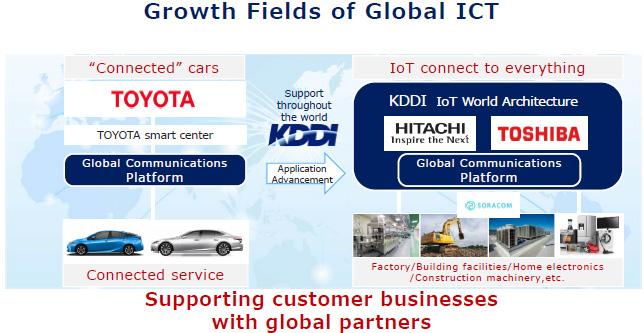 4. Utilizing big data ―Using data-driven systems to understand customers and make attractive proposals―
KDDI will strive to maximize experience value by using data to gain an exhaustive understanding of customers, and offering proposals that consider their perspective. In the future, with the rapidly expanding digitization and networkization of products through 5G/IoT, we will promote the DX of our customers' companies by utilizing big data in a variety of industries.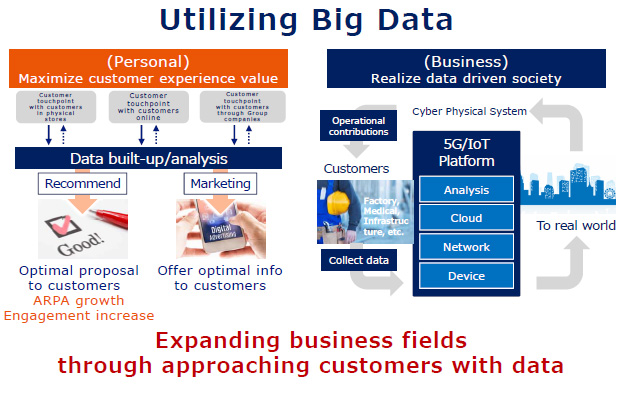 5. Expanding the financial business ―Developing the Smart Money Concept and financial services that are the most accessible to customers―
KDDI aims to strengthen customer engagement and achieve profit growth by providing a smartphone-centric financial experience that brings payment and financial services closer to customers through smartphones, which have become central to daily life.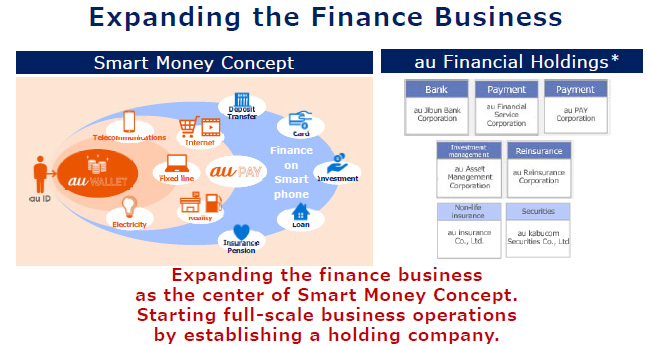 Each company whose company name will be changed to the au brand name will change name within FY20.3.
The change of the company name of Jibun Bank is subject to the obtaining of approval from the relevant authorities. Furthermore, with respect to a change of company names, au Insurance Company is required to obtain consent from Aioi Nissay Dowa Insurance Co., Ltd., which is its shareholder, and kabu.com Securities is required to complete the settlement concerning the tender offer for the company, and to go private. Logos are currently under discussion, and have not been determined.
6. Achieving growth as the Group ―Fully supporting the sustainable growth of Group companies―
By taking full advantage of our assets and supporting the growth of Group companies, we aim to maximize the mutual synergy while expanding and strengthening the foundation of new growth across the entire Group.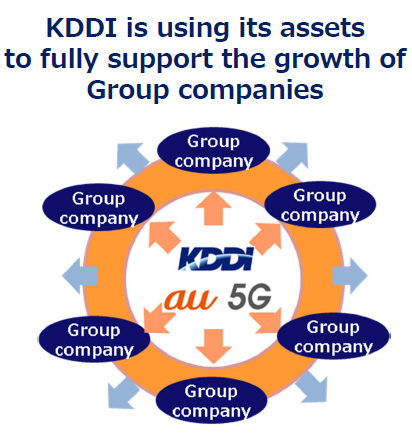 7. Sustainability ―Moving with society toward a future of sustainable growth and development―
KDDI will set the target SDGs [1] for all business and company activities, and promote sustainability activities for the entire company. We aim to improve corporate value and promote sustainable growth both in the company and in society, by achieving targets related to the business strategies in areas such as telecommunications, global business, regional revitalization, education, and finance, as well as targets related to the company's business activities, such as developing human resources, supporting women's advancement in the workplace, respecting human rights, promoting D&I [2], and conserving the environment.
[1]

SDGs (an abbreviation of "Sustainable Development Goals") are a collection of global goals that were adopted at the United Nations Summit in September 2015.

[2]

Diversity and inclusion