Becoming a true partner and contributor for customer's business
KDDI believes that digital transformation (DX) is about creating new forms of business value through collaboration with partners who set their sights on a diverse set of values. The KDDI Group is mobilizing its network technologies and know-how to fully support our customers' businesses in the 5G/IoT era.
ALL KDDI Contributes to Customers' Business
KDDI has proposed cutting-edge, optimal solutions based on our resilient and high-quality telecommunications infrastructure. It is said that in the coming 5G/IoT era, the relationships between customers and companies will be reconfigured due to the advances in telecommunications and sensor technology. This is because the application of data obtained from sensors and telecommunications to AI and personalization will make it possible to continuously provide even better services and trigger a change to a recurring model (cyclical business). The KDDI Group will mobilize AI, IoT, security, data analysis, and other group resources on top of our highly reliable network to continue helping our customers transform their businesses to the best of our ability.
Business Development through IoT
KDDI provides a one-stop destination indispensable for promoting IoT from sensors to network infrastructure, data accumulation, visualization and analysis. In addition to preparing a menu of IoT solutions according to the needs of our customers, we will jointly resolve issues and promote transformation in our customers' businesses by combining data which uses au smartphone location information with customer data. In addition to mackerel cultivation management, AI-based watering and fertilization systems, child protection services which link IoT with the backpacks of schoolchildren, and the detection of failure indicators in plant equipment, we are also carrying out tests in airports and maintenance facilities aimed at the practical application of such solutions. Going forward, we hope to live up to our customers' expectations by accumulating solutions to various problems.
KDDI "IoT Worldwide Architecture" supporting global business
KDDI "IoT Worldwide Architecture" is a business platform for supporting the global expansion of our customers which combines the assets of various partner companies with a focus on "data services" that accumulate and analyze data gathered through IoT devices, "connectivity services" that provide telecommunication lines and line management environments according to customer needs, and "professional services" that survey the frequencies and relevant legal regulations in each country to help customers obtain certifications for IoT devices.

Since 2016, KDDI and Toyota Motor Corporation have been jointly promoting the construction of a global telecommunications platform to provide high-quality and stable telecommunications between the cloud and the on-board equipment needed for connected cars. After applying and developing this global telecommunications platform, KDDI began accepting trial applications for the KDDI "IoT Worldwide Architecture" from May 2019.
The KDDI "IoT Worldwide Architecture" helps customers in various industries utilize IoT worldwide by selecting and providing the optimal network including roaming, data storage and analysis features offered in cooperation with Hitachi and Toshiba, and support for relevant laws and device certifications. In addition, we will vigorously support the corporate transition to a recurring model (cyclical business) by combining 5G and other cutting-edge technologies with various industries.
Furthermore, we will also coordinate with KDDI Group's SORACOM to enable the use of IoT in over 120 countries and regions with the goal of using this advantage to further expand global business.

Creating innovation together with diverse partner companies
KDDI is actively engaged in open innovation. Through collaboration with a diverse range of partners including large companies, startup companies, and local governments, we are aiming for sustainable growth together with our customers by envisioning new business strategies and models for the 5G/IoT era and creating a series of new businesses and services.
KDDI DIGITAL GATE
"KDDI DIGITAL GATE" is a base of business development in the 5G/IoT era which builds teams together with corporate customers to achieve digital transformation, discovers latent end user issues through agile development, and uses cutting-edge digital technologies to rapidly build and verify solutions to problems.
KDDI DIGITAL GATE is equipped with a space that allows customers to experience various solutions implemented using 5G, IoT, AR, VR, AI and other digital technologies, a dedicated space for holding co-creation workshops based on design thinking, and multiple development rooms where agile development teams can focus on development full time.
It mobilizes all of the assets which have been built up by the entire KDDI Group to date, utilizes these advantages to rapidly build new services that integrate business with digital technology, and has been used by over 200 corporate customers [1] since it opened in September 2018.
KDDI DIGITAL GATE expanded to Osaka and Okinawa in September 2019 and developed an organization to vigorously support new business creation by local companies.
[1]

As of the end of June 2019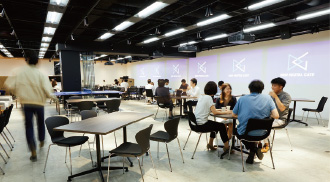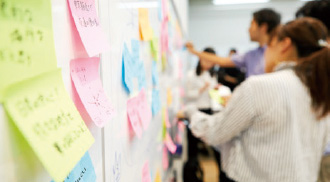 JAL x KDDI DIGITAL GATE
Japan Airlines and KDDI DIGITAL GATE designed a new service for employees and also developed and tested a prototype in three months. During the initial two months, the partners designed the service to be developed through workshops and user interviews. Next, they used agile development methods to develop a prototype through four iterations (iterative development) over a one-month period. As a result of this experience, the two companies agreed in June 2019 to strengthen their partnership to jointly develop aviation-related services utilizing 5G/IoT technologies. Going forward, both parties will jointly promote the verification of new businesses aimed at the practical application of 5G in airports and maintenance facilities as well as the research and development of new services which integrate 5G with other technologies.
Business creation through partnerships with startup companies
Together with startup companies promoting new services, KDDI started "KDDI ∞ Labo" in 2011 as a business co-creation platform aimed at the creation of new businesses with a social impact and has partnered with 66 companies [2] to date. In addition to creating businesses with KDDI, the KDDI ∞ Labo has connected startup companies with 33 major companies in diverse areas such as railways, finance, and real estate to produce over 50 partnership examples so far.
Corporate venture capital investments in startup companies through the "KDDI Open Innovation Fund (KOIF)" have been made in 60 companies [2] since the fund was started in 2012. Established in 2018, "KOIF 3" strengthens initiatives in fields which are becoming increasingly important in the 5G era such as AI, IoT, and big data, and the fund is creating a system for discovering promising venture companies.
Moreover, KDDI was selected two years in a row as the winner of the "Innovative Major Corporations Ranking [3]" survey of startup companies. Our proactive stance toward open innovation has been well received by startup companies.
[2]

As of the end of June 2019

[3]

According to a survey by the Innovation Leaders Summit (ILS) Executive Committee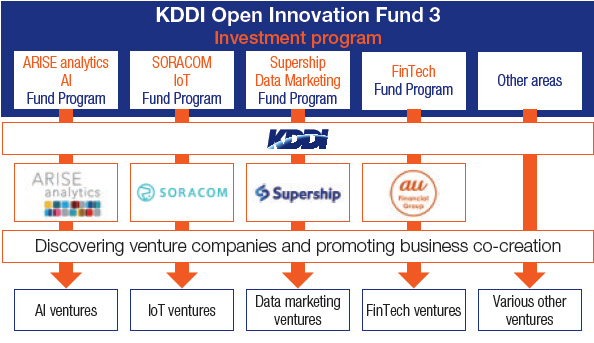 KDDI Open Innovation Fund 3
Promoting regional revitalization through local partnerships
Example 1

Ina City, Nagano Prefecture
Project to build a drone logistics business
Due to the population decrease and the decreasing birthrate and aging population in recent years, logistics and traffic functions have deteriorated in hilly and mountainous regions, and an increasing number of largely elderly people are finding it difficult to purchase daily necessities. To solve such problems, we were contracted by the city of Ina in Nagano Prefecture to build a new logistics system using drones under the "Flying Delivery Service Construction Business" project in FY2018.
Through this project, we are currently building a drone logistics business which uses the air space above rivers via a "smart drone platform" based on 4G LTE.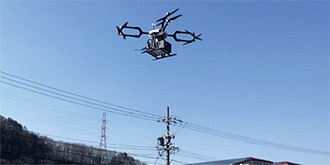 Smart drones carrying daily necessities
Example 2

"Kids Job Challenge 2019 in Hirado―Out of KidZania―" booth exhibit
KDDI also setup an exhibition booth at the "Kids Job Challenge 2019 in Hirado―Out of KidZania―" supervised by the KCJ GROUP (KDDI Group) and hosted in Hirado City, Nagasaki Prefecture in March 2019.
We exhibited a "Future Job Experience Booth" to nurture children who can create solutions to regional problems using cutting-edge technologies. The booth provided visitors with a place to rediscover local occupations and attractions while also learning about the new possibilities of primary industries through drones programmed to check the growing conditions of strawberry fields and experiencing future tourism at sightseeing spots in Hirado City via self-propelled mobility systems.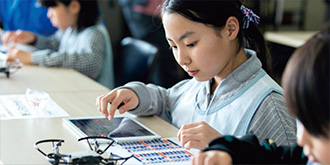 Kids engaged in programming drones