KDDI is pleased to announce that 'au design project' models 'MEDIA SKIN' and 'INFOBAR 2' will be exhibited at Saloni Milano 2008.
Saloni Milano is the world's largest interior design trade fair, attracting over 2,500 manufacturers from around the world. The fair is held in the Fiera Milano Conference Center and manufacturers' showrooms and galleries throughout the city of Milan.
This, the 47th year of the event, will be a large gathering of manufacturers, designers and buyers in the interior design and furniture fields, but recently the event has also been gaining attention as venue to announce new design trends.
KDDI will participate in the 'JAPAN DESIGN 2008 -INNOVATION-' design exhibit held by the Japan Industrial Design Promotion Organization (JIDPO) at the Fondamenta Jahier Gallery in Milan during the Saloni Milano Exhibition (April 16 to April 20), where the two models will be shown. A press preview/opening reception will be held on Tuesday, April 15.
The 'au design project'
The 'au design project', a design development project started by KDDI in 2001, brings innovative new designs incorporating new ideas and concepts as they are announced. Through collaboration with Japanese and international designers, the result had been a revolutionary series of seven innovative products: 'INFOBAR', 'W11K', 'talby', 'PENCK', 'neon', 'MEDIA SKIN' and 'INFOBAR 2'. Four models, 'INFOBAR', 'talby', 'neon' and 'MEDIA SKIN', have been selected as part of the permanent collection at the Modern Museum of Art (MoMA) in New York.
MEDIA SKIN
'MEDIA SKIN', released in March 2007, is the sixth mobile phone produced by the au design project. Created in collaboration with designer Tokujin Yoshioka, it uses a 'second skin' design concept to create a graceful mobile phone design.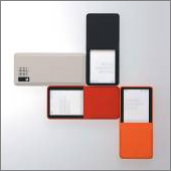 INFOBAR 2
INFOBAR 2, released in December 2007, is the seventh mobile phone in the 'au design project' series. Created in collaboration with product designer Naoto Fukasawa, this is the successor to the "INFOBAR" model, which had a very strong effect on mobile-phone design trends.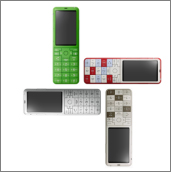 * For more information about "JAPAN DESIGN 2008 -Innovation-", please visit
* For more information about the 'au design project', please visit