KDDI announced that it will introduce KDDI Global Powered Ethernet, an international wide-area Ethernet service for corporate clients, in Germany starting from the latter part of December 2008 and in Taiwan in fiscal 2008.
KDDI Global Powered Ethernet, the first service in Japan with L2 switches overseas, is a high quality network-style Ethernet service for international communication, which involves larger and larger volumes of data. The service was introduced in September 2006 and is presently available in six areas including the U.S., Hong Kong, Singapore, Korea, China (Beijing and Shanghai), and England. The introduction of the service to Germany and Taiwan will increase the number of areas that the service is provided in to eight.
KDDI is providing even broader support for the global expansion of customers through this extension of services to Germany and Taiwan. KDDI will continue to work to expand the areas that KDDI Global Power Ethernet service is provided in to handle customer's growing demand for broadband communication and global Intranet.
1. Outline of Global Power Ethernet
Possible to economically construct an Intranet between multiple overseas offices since the configuration is any-to-any
Provides low cost and high quality broadband global communication
Ensures high security equivalent to dedicated lines
Possible to use other protocols other than IP since the service is protocol free
Possible to use with low-cost equipment through an Ethernet interface
Enhanced reliability with quadruple redundancy using submarine cables with link protection for completely different routes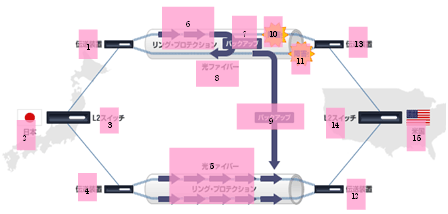 1
Transmitter
2
Japan
3
L2 switch
4
Transmitter
5
Optical fiber
Link protection
6
Link protection
7
Backup
8
Optical fiber
9
Backup
10
Damage
11
Damage
12
Transmitter
13
Transmitter
14
L2 switch
15
U.S
2. Fees
Service is provided starting from 1M bandwidth. If 10M is surpassed, the fee is based on the Intranet configuration that the customer builds for each item in increments of 10M. In terms of bit unit price, the fee is lower than that for international dedicated lines and IP-VPN.
| Bandwidth | Unit item fee |
| --- | --- |
| 1M - 10M | per 1M |
| 10M or greater - 100M | per 10M |
3. New service areas
Germany and Taiwan
Present services areas include U.S., Hong Kong, Singapore, Korean, China (Beijing, Shanghai), and England
4. Launch date
Germany Latter part of December 2008
Taiwan Fiscal 2008