KDDI is pleased to announce that it will begin accepting applications for its 'Application Optimization Service' on April 1, 2010. The service is an add-on function to KDDI global network services available in 170 countries and regions throughout the world and allows users to effectively utilize network bandwidth by accelerating and controlling the priority of individual applications.
Ascertaining the application bandwidth for individual applications used on a network used to be difficult, but this service makes it possible. Users can improve the use environment and efficiency of operations without increasing traffic on currently used lines by optimizing traffic and increasing the priority level of applications that are important for operations but easily impacted by transmission delays, such as video conference software. In addition, users who have centralized the management of their global network can collectively optimize traffic at all offices from their management office, making it possible to reduce the burden on corporate IT staff of managing the network.
Since KDDI will install the optimization equipment, which is part of the network, at the user's office and provide the service for a flat monthly fee, there is no need for investments in equipment to use the service.
There is also a virtual optimization function that allows customers to ascertain application use and utilize some of the optimization functions without installing any equipment.
1. Service Details
The 'Application Optimization Service' makes it possible for users to accelerate and set priority controls for individual applications by identifying each application used on a network. Using this service, customers can improve the use environment and efficiency of operations without increasing the traffic on lines presently being used.
On account of centralized management through a central server, users can optimize settings for all offices from the management office, such as headquarters. The reporting function allows users to view quality reports for individual applications in the mesh environment connecting offices.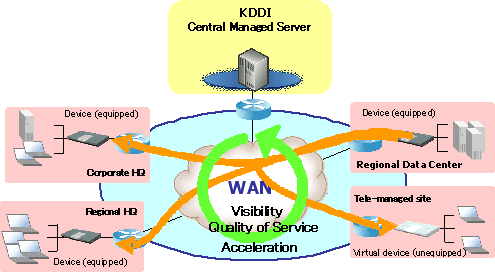 (1) Visible analyzer
It is possible to identify all applications, including network applications that are easily impacted by transmission delays, such as video conference software, and office applications.
(2) QoS and Acceleration
1) QoS
Applications can be assigned 1 of 15 quality priority levels for the network. Priority levels beyond 15 are available as an optional service for an additional fee.
2) Acceleration
In addition to increased speed through a reduced number of ACKs [1] and expanded window size [2], efficient data transmission is realized through data compression and cache function [3].
[1] Acknowledgement (ACK) is a signal sent from the destination computer in various situations, including when data has been properly forwarded from the destination computer to the source computer.
[2] Volume of data that be transmitted continuously without delivery confirmation
[3] A function that stores often-used data in a high-speed storage device in order to eliminate the need to read it from a slow-speed storage device every time the data is needed
(3) Reporting
This function provides a precise statistical report based on measurements at the packet level for all applications.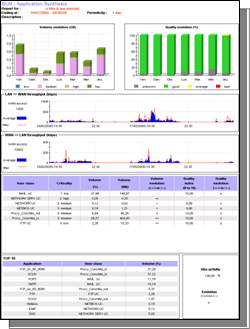 (4) Virtual optimization
With this function, users can ascertain application use without installing any equipment and utilize some of the optimization functions. Functions
Visible analyzer
QoS and Acceleration (only TCP [4])
Reporting
[4] Transmission control protocol (TCP) refers to various functions for communication between computers, including two-way connections, data arrival confirmation, timing coordination, and error corrections
2. Service area
170 countries and regions worldwide
3. Date applications will be accepted from
April 1, 2010
4. Network services covered
(1) KDDI Global Powered Ethernet
(2) KDDI Global IP-VPN
(3) KDDI Global IP-VPN Economy
(4) Overseas Area Network Managed Package
5. Fee
(1) Service introduction fee: There is an introduction support fee and equipment installation fee for each office. Ask a sales staff for details.
(2) Monthly fee: from 20,000 yen per office for optimization equipment (actual fee depends on the contracted region)
Virtual optimization: 10,000 yen/office