1. Features
TELEHOUSE SHANGHAI is a data center tenanted in a newly erected building located in Pudong district where the financial and high tech industries gather. The room temperature, humidity, power load environment, and security via surveillance video are centrally managed. In addition to being prepared for any outbreak of disruption caused by power failure or lightning, the facility is equipped with various preventative equipment, including the latest fire and flood detection systems, to prevent unexpected problems, thus ensuring comprehensive security for ICT assets entrusted to the center by customers.
In addition, the data center draws upon a network consisting of multiple communications providers, including China Telecom (CT) and China Unicom (CU), to provide the ideal network connection environment for customers.
2. Services
(1) Basic services
1) Rack collocation service
Customer equipment is installed on 19-inch racks provided by TELEHOUSE, with individual locking and power-supply circuits.
2) Cage collocation service
For customers requiring higher security, cage-enclosed spaces are provided.
3) Open collocation service
Rack space and power are also available by the rack.
(2) Optional services
1) Customer equipment monitoring and maintenance services
KDDI provides support services for confirming the status of the customer's equipment and changing and storing backup tapes on instructions from the customer.
2) ICT services
A variety of one-stop services to meet the customer's needs can be provided.
3. Data Center Specifications
General information
Location
Pudong district, Shanghai (People's Republic of China)
Space [1]
600m2
Electrical facilities
Power structure
Power received from 2 systems and N + 1 private power generation equipment
UPS
2 (N + 1) redundant structure
Air control
Air control equipment
N + 1redundant structure
Operation & security
Operation system
24 hours a day, 365 days a year
Languages
English, Chinese, and Japanese
Security
Video surveillance system, ID card verification, metal detector, security gate, and security guard checks
[1] Space for installing servers.
4. Expected launch date
Monday, July 19, 2010
5. Data Center Photos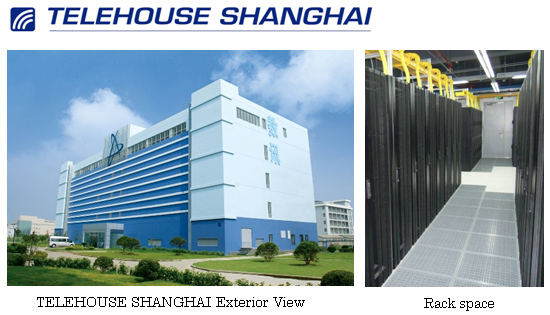 6. TELEHOUSE Global Map
TELEHOUSE location list (as of July 2010)