1. Overview
"jibe" supports 16 major services in Japan. For example, SNS(au one GREE, mixi, twitter), Blogs (Ameblo, Cocolog,) , Gourmet search services (Gourmet Navigator, Livedoor gourmet) and so on. All services are displayed on one screen and multiple posting functions are supported. jibe will be released for au smartphone.
2. Main menu
(1) My page
Direct messages, post messages history, IM messaging history
(2) Friends (Contacts)
All contacts from native address book of the handset, Friends list of SNSs, imported shop informations.
(3) Time Line
All feeds (updates) from SNSs (twitter, mixi, Facebook)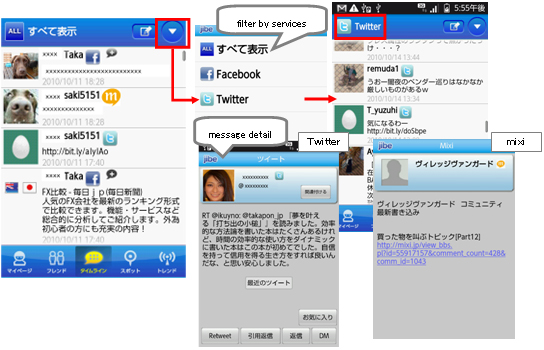 (4) Spot (Navigation)
Customers can search restaurant or hotels from multiple search services without signing up. Search results can be imported to Friends (Contacts) with single tap.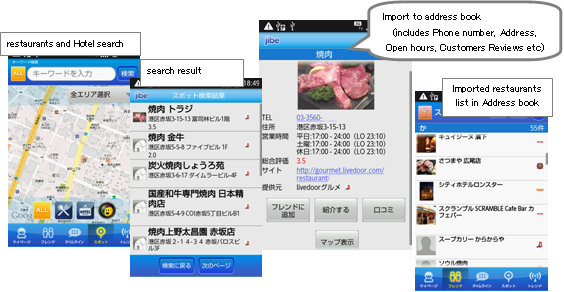 (5) Trends
Latest News (RSS feeds), Blogs and twitters of celebrities and famous people are introduced as jibe recommends. Customers can enjoy this menu without signing up to each media services.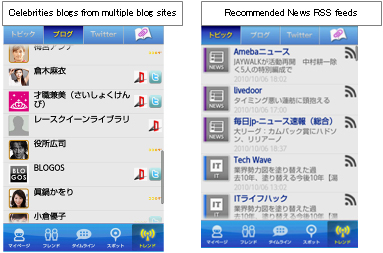 3. Supported devices
IS03, IS04, IS05, IS06
* More devices will be supported in the future.
4. Rate plans
Monthly fee/Free
* Packet communication charges are not included.
5. Release schedule
November 2010
* Released with supported devices.
6. Connected services list
SNS: Twitter, mixi, Facebook, au one GREE (release schedule December)
Blog: Ameba, Cocolog, livedoor Blog
Chat: Google Talk, Windows Live Messenger
Spot: Gourmet Navigator, livedoor Gourmet, HotPepper, Jalan
Storage: Evernote, Picasa Web Album
AR: Sekai Camera