1. Features
Services offered by "Skype™ au" are as follows.
(1) Voice call
"Skype

™

au" to "Skype" calls
Designate a Skype-ID to make a call. It is possible to call not only "Skype

™

au" but also devices including PCs and smartphones by other carriers as long as they feature Skype app.
"Skype

™

au" to oversea phones other than "Skype"
Dial the number to make a call. You need to purchase "Skype Credit" by Skype. To purchase "Skype Credit," please check their homepage.
* To make domestic calls to phones other than Skype from "Skype

™

au," you must dial the number and hence it will be regarded as a regular au mobile phone call.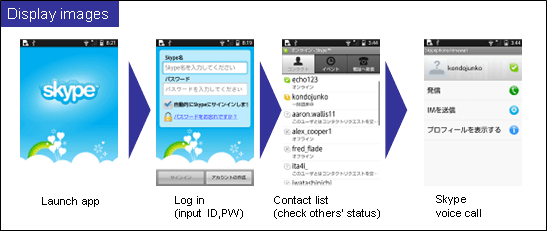 (2) Instant messaging (IM)
You can enjoy instant messaging with Skype users all the time using au's packet communication.

(3) Contact list
"Skype™ au" app works in the background so that you can check your status of your friends and family members to see if they are on-line or off-line at any time. You can choose a person from your contact list to make a voice call or send an instant message.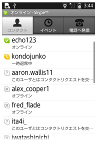 (4) Status display
You can display your status with an icon to allow the caller to see the receiver's status.
2. Charge
(including tax)
Caller
Receiver
Call rate ("Skype

™

au" user)
"Skype

™

au" user
"Skype

™

au" user
Free
"Skype

™

au" user
Skype user
Free
Skype user
"Skype

™

au" user
Free
"Skype

™

au" user
Landline and
mobile phones abroad
Fees set by Skype
(payment with Skype Credit)
[1] The fees is until Wednesday, November 30, 2011. The fees after December 2011 will be announced separately. Calls from "Skype

™

au" to domestic landlines and mobiles are charged as regular au mobile phone calls.
(2) Packet communication charge
Packet communication charge occurs according to the pricing plan/packet communication flat rate service of the subscriber in order to use instant messaging, contact list, and status display. Packet communication charge also occurs when making and receiving a voice call for ID identification.
3. Compatible models
Smartphones featuring Android™ OS.
* "IS01" needs to download the app from "au one Market." Downloading involves packet communication charge.
4. Service area
au service areas
* "Skype

™

au" cannot be used while using international roaming.
* Wi-Fi communication cannot be used.
5. Service launch date
At the same time as the release of "IS03" (after late November, 2010)
6. Service image