1. Overview of LISMO unlimited
(1) For a monthly flat-rate information fee, you can listen to as many songs as you like from the line-up of approximately one million, mainly western, music tracks, ranging from the latest releases to timeless hits.
(2) Through networks such as 3G and Wi-Fi, you can instantly access a vast volume of cloud-based music tracks anytime anywhere, just as though they were contained in a data folder.
(3) The cache function allows you to listen to a given number of previously played tracks when outside the range of communication, such as on the subway.
* Cached tracks are only available during the LISMO unlimited service contract period.
* The number of cacheable tracks varies depending on the volume of the terminal memory card.
(4) You will find all kinds of music tracks in the recommended list, which includes the latest releases as well as hit songs from various periods across a diversity of genres.
(5) Through cooperation with social networking services, you can post the track that you are currently playing on Twitter or Facebook, and through cooperation with LISMO music communication service Utatomo, you can view and share music user reviews.
2. Charges
Monthly flat rate of ¥1,480 (tax included) information fee
* Packet communications charges will be incurred separately.
3. Payment method
au Simple Payment
* All your au communications charges will be combined into one bill.
4. Start date
Mid-June 2011
5. Applicable models
IS03, REGZA Phone IS04, IS05, AQUOS PHONE IS12SH, AQUOS PHONE IS11SH, REGZA Phone IS11T, G'z One IS11CA, INFOBAR A01
* The range of applicable models will be gradually expanded.
6. Access method
<From au Smartphone>
au one Market → Category → Entertainment → Music
Or download the LISMO unlimited application from the shortcut on your au Smartphone
7. Trial campaign
(1) Campaign content
To coincide with the launch of the LISMO unlimited service, KDDI will hold a campaign during which the monthly ¥1,480 (tax included) information fee will be waived for up to two weeks.
(2) Campaign target
First-time subscribers to LISMO unlimited
* Users subscribing for the second or subsequent time will be required to pay the information fee from the date of registration.
<Reference: LISMO unlimited image>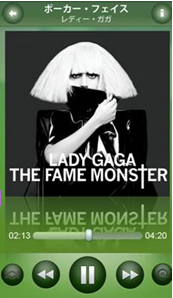 * Wi-Fi is a registered trademark of Wi-Fi Alliance

®

.
* Android is a trademark or registered trademark of Google Inc.
* Twitter is a registered trademark of Twitter Inc.
* Facebook is a trademark of Facebook Inc.
* Utatomo is a registered trademark of Label Gate Co., Ltd.
* AQUOS is a registered trademark of Sharp Corporation.
* REGZA is a registered trademark of Toshiba Corporation.
* G'zOne is a registered trademark of Casio Computer Co., Ltd.