KDDI and OKINAWA CELLULAR TELEPHONE COMPANY will release Xperia™ UL, an au original design, as the new line-up in the popular Xperia™ series on May 25, 2013.
Featuring a 5.0-inch full HD display and 13.1-million pixel camera that incorporates the brightness/chromatic noise-reducing technology used in Sony's digital still cameras, the Xperia™ UL lets you enjoy photos and videos in detailed beauty, and enables even first-time users to operate it easily and intuitively to capture beautiful shots. It also supports HDR (High Dynamic Range) video for natural-looking results.
In addition, the WALKMAN application produces impressive sound quality. The Clear Audio+ mode lets you enjoy clear, authentic sounds without having to make any complicated settings.
Original Xperia™ UL accessories in the au +1 collection will be launched on the market one after another, including the duralumin GILD Design Solid Bumper and other covers that you can coordinate with the color of the smartphone itself.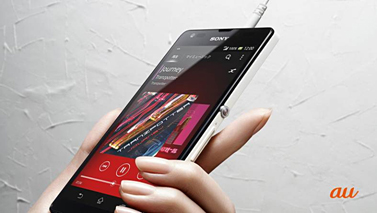 The Xperia™ UL will go on display at KDDI Designing Studio (Harajuku, Tokyo) , au NAGOYA (Sakae) and au OSAKA (Umeda) from May 21 2013.
For more details, please see the Attachment.