KDDI and OKINAWA CELLULAR TELEPHONE COMPANY will launch the HTC J One in early June 2013, enabling you to enjoy beautiful pictures, sound and videos.
The HTC J One features HTC BoomSound™ which provides rich, clear sound from dual front-facing stereo speakers with built-in amplifiers on the front of the stylish full-metal body.
By constructing tiles of news stories, photos, SNS or your au Smart Pass timeline on the new HTC BlinkFeed™ home screen, you can see your customized content and real-time updates at a glance without the need to jump between multiple applications and websites.
The popular camera functions have evolved to bring you even more enjoyment. HTC's large sensor, UltraPixel, captures light in vivid colors, gathering approximately three times more light than existing(*) cameras and delivering pictures in natural colors even in low-light conditions. The new HTC Zoe™ function lets you enjoy the entire moment by capturing four seconds starting from one second before you press the shutter button, as well as letting you choose your best shot or delete unwanted objects. It can also automatically create 30-second highlight videos.
"au +1 collection" accessories will be released one after another, allowing you to maximize the functions of your HTC J One. The HTC J One Mini is a cordless handset accessory that can be paired with the HTC J One to make voice calls or check the number of received mails. HTC J One accessories include a compact high-capacity mobile battery for worry-free use over extended periods of time, a cover for enjoying pictures or videos with music with the phone standing sideways, and a duralumin GILD Design Solid Bumper.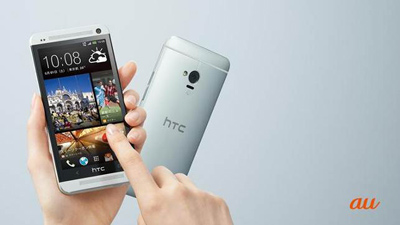 HTC J One will go on display at KDDI Designing Studio (Harajuku, Tokyo), au Nagoya (Sakae) and au Osaka (Umeda) from May 21, 2013.
For more details, please see the Attachment.
* Compared to a smartphone with an average of 13 million pixels