Corporate Information

Sustainability

Stakeholder Engagement

KDDI Corporation Integrated Report 2017 (Detailed ESG Version) Third-Party Opinion

Third-Party Opinion for CSR & ANNUAL REPORT 2013
Third-Party Opinion for CSR & ANNUAL REPORT 2013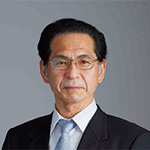 One Akiyama
President
Integrex Inc.
Earned Masters degree in finance after graduating from Keio University of Economics.In 2001, she founded the company Integrex Inc. for the promotion of SRI (Socially Responsible Investment) and CSR and became its president.
1. Points on Which to Be Commended
In the second year of publishing an integrated report, I can sense there is more harmonization of business and CSR information and that KDDI was targeting a genuinely integrated report, rather than just a combined annual report and CSR report.
Following the company philosophy, the "KDDI Outline" and "KDDI's Foundation for Growth," introduce the Company's strengths and clearly position CSR initiatives as "The Foundations to Support Sustainable Growth," and there is also the sense of management and CSR being unified in the fundamentals of the "KDDI Philosophy." Additionally, in the "Message from the President," at the same time as explaining performance and business strategy, the president makes clear the importance of the KDDI Philosophy, and that it is a basis for CSR management.
In the overview of operations by segment, as well as the "Economic Value" from previous annual reports, there is also a "Social Value" created by activities, signifying the unified nature of business and CSR.
In the CSR section of the report, this year there are also "CSR Targets, Achievements, and Issues," taking issues from the previous year's activities and making them this year's targets, summarizing achievements, assessments, and the following fiscal year's issues, and performing reviews. In this way, it is possible to see how activities continue. This year's report also gives the major opinions from three dialogues with experts about ISO 26000 core subjects.
Among the specific activities, the Reconstruction Support Office from Special Feature 1 leverages business strengths to support the areas affected by the Great East Japan Earthquake. Employees were chosen from volunteers and showed an impressive spirit as they worked together with the Group and other companies while living in temporary housing. Other deeply interesting initiatives are the Tribrid Base Stations, which aim to reduce environmental burden as well as boost disaster preparedness, the expansion in use of 24-hour batteries for base stations, and the preparation of shipboard base stations for emergencies. Furthermore, the support for municipalities using "Mi-Look" mobile pedometers is an initiative that contributes to tackling the societal problems that Japan's aging society brings.
Holding dialogues with stakeholders and using their input when setting objectives for each department is most commendable. Dialogues were held on ISO 26000 core subjects, with experts in each subject giving their opinions. By sharing their thoughts with departments, I hope that their ideas will be effectively used to develop better initiatives in the future. I also believe it is important for future initiatives to be well-organized and focused on those core subjects where the Company's business has a major involvement and influence.
Regarding negative information, it is praiseworthy to report on business problems as in the "Apology for and Report on Communications Outages," but I would also have liked to see details of and a response to the misrepresentation problem regarding service area in LTE advertising, as reported in the media in May 2013. By turning tough business situations into opportunities and taking an active approach, I hope that KDDI will be able to increase the number of its real supporters.
ICT plays a major role in tackling a variety of societal issues by connecting people with people, corporations with corporations, and corporations with society in a mutually beneficial way. On the other hand, as we can see in such words as "smartphone addict" and "net-dependent" with advances in and expansion of mobile phones and the Internet, new societal issues are also emerging.
I hope to see proactive, bold initiatives focusing not only on the positive points of this new mobile Internet society but also holistically tackling all the new societal issues as well as achieving continued growth through innovation.
Our Response to the Third-Party Opinion of CSR & ANNUAL REPORT 2013
A total of 10 years have passed since 2003, which is often referred to as the year in which Japanese companies began actively conducting CSR-based management. Accordingly, this year represents a milestone, and KDDI's CSR & ANNUAL REPORT 2013 was published during this momentous year. I was quite pleased with Ms. One Akiyama's favorable response to this report as well as her comment that the report "had a clear sense of the integration between management and CSR that forms the foundation for the KDDI Philosophy."
Nonetheless, we still face a number of issues when it comes to entrenching the KDDI Philosophy into all areas of the Company. One issue, as Ms. Akiyama pointed out, is exemplified by the LTE advertisement that misrepresented our LTE service area. In light of such issues, we recognize the necessity of steady, ongoing effort in this area.
In [the year ended March 31, 2013 / FY2012], we held our first stakeholder dialogue conducted in accordance with ISO 26000 standards. This dialogue encompassed the entire company, and proved to be incredibly beneficial. It served to reaffirm the fact that we are connected to various countries and people around the world through our supply chain. As such, we were made further aware of our mission to fulfill our social responsibilities from a global standpoint.
This dialogue served as an eye-opener for employees, who wasted no time in pursuing workflow improvements that exceeded organizational boundaries. Further, the opinions received through this dialogue, which incorporated a third-party perspective, have already begun driving the innovation of our products and services.
Moreover, this dialogue made painfully clear the importance of moving away from company-centric investigations of customer needs conducted by accumulating survey and other data. At the same time, it cast light on the necessity of creating value together with stakeholders through in-depth discussion of social issues and possible initiatives to resolve these issues.
Ms. Akiyama also pointed out the important role of information and communication technology (ICT) in addressing social issues like the need to rebuild following the Great East Japan Earthquake, the aging of Japanese society, and digital divides. We recognize this fact and aim to realize new value of the variety only KDDI can create in our quest to live up to the expectations of the Company in this area.
Details regarding KDDI's response to the LTE advertisement issue can be found on its website.