Material Issue: Society
Creating a Safe and Secure Information and Communications Society
KDDI's Approach
Recognition of social issue
Due to the rapid proliferation of smartphones, mobile phones, and other ICT, society has become more convenient. At the same time, issues such as children being caught up in trouble through the use of these devices and the digital divide among senior citizens (information gap) still exist. Furthermore, there is an increasing need for information ethics education, such as newly defined information ethics that students learn for new courses of study in elementary and junior high schools (Ministry of Education, Culture, Sports, Science and Technology).
KDDI's risk and opportunity
Through services and products provided by KDDI, it is assumed that there is a social and economical risk of a wide range of customers being caught up in crime or problems through smartphones, mobile phones, and the Internet.
There is a new demand to provide smartphones and services equipped with various functions that offer safe, secure, and comfortable use for children and senior citizens, who are particularly socially vulnerable.
KDDI's management
KDDI has established the KDDI Basic Guidelines Concerning Safe and Secure Communication for Young People so that children can communicate safely and securely. Through the activities of the KDDI Smartphone and Mobile Phone Safety Classes, we implement awareness activities to increase literacy so that children and senior citizens can use smartphones and mobile phones safely and securely. We set student satisfaction levels and target comprehension levels as key indicators, with goals of 90 points and 83% respectively, and are working to increase the quality of lectures.
We also enforce our Privacy Policy for the protection of client information in KDDI's business activities.
>Policies

KDDI Basic Guidelines Concerning Safe and Secure Communication for Young People (56KB)
Privacy Policy
Key Performance Indicators (KPI)
| | | |
| --- | --- | --- |
| KDDI Smartphone and Mobile Phone Safety Classes | FY2015 Goal | FY2015 Result |
| Level of satisfaction for children's lectures | 90points | 93.5points |
| Level of understanding for senior's lectures | 83% | 83.1% |
Highlights of FY2015 Activities
In FY2015, in order to achieve safe and secure communication for a wide range of customers from children to senior citizens, KDDI overhauled the programs of its KDDI Smartphone and Mobile Phone Safety Classes and established new courses based on the latest trends and the views of stakeholders.
In terms of products, KDDI released the mamorino Watch, a wristwatch-type mobile phone for children, which is the first of its kind in Japan to enable voice calls. Designed to provide comfort and peace of mind to children and their parents or guardians, the device is equipped with a wealth of safety-oriented functions, such as the ability to check the current location and prevent the child from becoming lost.
In terms of services, KDDI started providing a Net Skills Checkup service that assesses the Internet literacy of children and introduces measures based on their results, in an effort to raise awareness and establish an environment for safe and comfortable Internet use.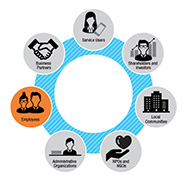 Respond to the needs of a wide range of customers, including children, senior citizens, foreigners, and people with disabilities
Enrich the programs of the KDDI Smartphone and Mobile Phone Safety Classes to respond to the diversification of trouble
Provide products and services that prioritize privacy protection and data security
Material Issue: Society
Vitalizing the Company by Developing a Diverse Workforce
KDDI's Approach
From a global perspective, women in politics and the workplace advancement for women have progressed greatly. The gap between men and women has decidedly decreased. In line with this global trend, the Japanese government adopted the Act to Advance Women's Success in Their Working Life, which became effective in April 2016. In addition, there are increasing demands for companies to accelerate the advancement of women in the workplace.
"Equal pay for equal work" is a basic concept in Europe and America, and the principle of preventing wage gaps in the employment system is becoming universal. In Japan, on the other hand, there are many gaps between regular and non-regular employees in terms of factors such as the stability of wages and employment, and the challenge is to implement efforts aimed at more balanced and equal treatment.
KDDI's risk and opportunity
When it comes to the workplace advancement of women, simply relying on approaches based on domestic standards increases the risk of criticism from society in labor practice aspects such as equal opportunity and decent work when expanding business activities globally to achieve sustainable growth.
KDDI is re-evaluating its management strategy making women in management a sustainable company requirement to accelerate its diversity promotion with a global outlook. Internally, KDDI is creating an organization that promotes openness where a different value system based on the advancement of female employees functions organically, that is filled with different working styles, and where employees with disabilities can advance.
KDDI's Management
KDDI established four basic principles aimed at achieving our transformation into a "Life Design Company", as outlined in the FY2016-FY2018 medium-term management plan. One of these principles is to improve the strength of employees, and one of the objectives of this principle is to utilize diverse human resources. For this objective, KDDI has set targets for the advancement of women in the workplace.

Improve the strength of employees
Introduce talent management
Shift personnel to strategic enhanced departments
Cultivate global human resources
Utilize diverse human resources

KDDI advocates "diversity is fundamental" as the aspiration of The KDDI Group Philosophy. We established the Diversity & Inclusion Department in 2008, and we achieved our target of 90 female line managers in FY2015. As a new goal for FY2016 and beyond, we have set a target to promote 200 females to line manager positions by FY2020.

KDDI has set the following targets for FY2020 in relation to our action plan for the Act to Advance Women's Success in Their Working Life.
1. Number of female line managers: 200
2. Usage rate of paid vacation time: 70%
3. Percentage of recent graduate hires who are female: 30%
>Policies
The KDDI Group Philosophy
KDDI Code of Business Conduct
KDDI Group Human Rights Policy
Key Performance Indicators (KPI)
| | | |
| --- | --- | --- |
| | FY2015 Goal | FY2015 Result |
| Female line managers | 90 (7%) | 94 (7.1%) |
Highlights of FY2015 Activities
In recognition of our efforts to proactively promote women in the workplace, KDDI was selected as a "Nadeshiko Meigara" in March 2016 for the fourth consecutive year since FY2012. KDDI was also selected for the "Diversity Management Selection 100" award presented by Japan's Ministry of Economy, Trade and Industry, making this our first year to receive both awards.
In addition, KDDI achieved its FY2015 goal of a 7% share of female line managers. As of the end of March 2016, there were 94 female line managers, comprising 7.1% of the total.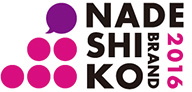 Achieve KPI of 200 female line managers
Enhance employment of persons with disabilities