KDDI is improving and reinforcing its compliance structures, based on its belief that compliance with the law―including strict observance of the privacy of communications by telecommunications providers as established in the Telecommunications Business Law―is fundamental to business operations. In addition to establishing the KDDI Code of Business Conduct to ensure that all employees maintain a high sense of ethics and execute their duties appropriately, we are undertaking efforts to raise compliance awareness. These include conducting activities to instill the KDDI Group Philosophy, cultivating a sense of organizational togetherness and improving communications, performing activities to detect early on, analyze, and prevent violations, and blocking any relationships with anti-social forces.
Compliance Promotion System
To provide a guideline for employees to act ethically and with an awareness of compliance, KDDI has established the KDDI Code of Conduct, and published it on our intranet to ensure employees are familiar with and act in accordance with it, making it available so that anyone can refer to it when dealing with doubts about their own judgement.
We have also put in place the KDDI Group Business Ethics Committee to deliberate and make decisions on compliance-related items. The KDDI Group Business Ethics Committee is headed by the chairman of KDDI, a non-executive director, and is comprises committee members and other people that the chairman appoints as necessary. The committee meets semi-annually to ascertain the situation at each company and support the establishment and reinforcement of compliance structures.
The KDDI Group Business Ethics Committee also formulates policies for educational activities and, in the event a compliance violation occurs, discloses information outside the Company and deliberates on measures to prevent recurrence. The status of the committee's activities is made available to all employees via the intranet.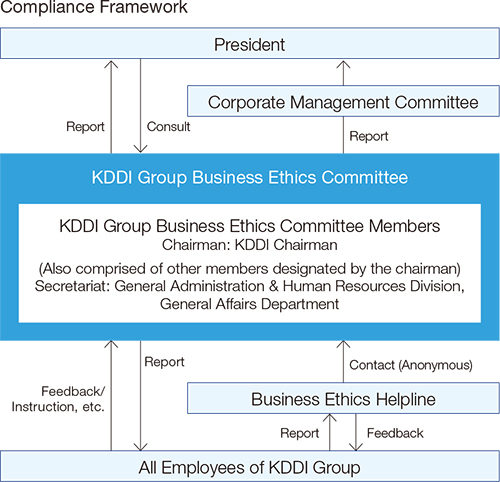 KDDI established the Business Ethics Helpline in 2006 to serve as a contact point for all employees of KDDI, KDDI Group companies, and business partners who have questions or concerns about business ethics and legal compliance. The helpline can receive reports through an internal contact point or an external contact point established in collaboration with external experts. (Reports can be received by email, telephone, or letter, in several languages). Furthermore, we have established internal regulations in response to the Whistle-Blower Protection Act, enacted in Japan in April 2006, and have made it possible to make reports anonymously. We actively conduct educational activities on how to use the helpline.
Issues reported to the helpline are dealt with primarily by the KDDI Group Business Ethics Committee which, while mindful of privacy protections, will conduct an internal investigation when necessary. If problems are discovered as a result, they are promptly reported to the members of the committee, other members of management, and the Audit & Supervisory Board members, and corrective action is taken along with measures to prevent a recurrence.
The KDDI Group pursues the enhancement of customer satisfaction and profit and also strives to fulfill its corporate responsibility by maintaining and enhancing its international tax compliance.
Specifically, we comply with international rules and tax related laws and regulations in each country and region, and pay tax appropriately. In the fiscal year ended March 31, 2017, KDDI paid ¥253,282 million in corporate income tax, a tax rate of 28.3% against income before income taxes.
Management works to promote a tax strategy from the perspective of correctly recognizing international tax risks associated with the increasingly multinational nature of Group companies and a rise in international transactions, and their importance as an issue tied directly to management. We are also working to maintain and enhance tax-related compliance by providing guidance to employees and receiving technical tax support from outside experts.
By submitting tax information in a timely, appropriate manner, we increase transparency and thereby build relationships of trust with tax authorities in other countries. We also work to reduce tax risks by conducting advance inquiries when necessary.
Steps are being taken in various countries, including Japan, to respond to tax revisions related to base erosion and profit shifting (BEPS) in accordance with various BEPS plans, and KDDI pays taxes that match its economic activities, place of value creation, and area in which taxes are paid. Furthermore, KDDI prevents the transfer of taxable revenue sources to non-tax or low-tax countries and regions (so-called "tax havens") to save excessively on paying tax, and strives to declare and pay taxes properly in accordance with the tax systems of each country.