From late June 2013 onward, KDDI and OKINAWA CELLULAR TELEPHONE COMPANY will release the latest model in the popular URBANO series.
In addition to its much loved high class design, the URBANO comes equipped with a function that makes it easy to switch to a home screen (entry home screen) with large, easy to read text. And it has also actualized a level of user-friendliness that is convenient and easy for users who are used to traditional mobile telephones.
It also comes full of popular features like the Smart Sonic Receiver®, which makes voices easy to hear even in loud environments, an approx. 13 million pixel camera, a high capacity battery, and a waterproof/dustproof design.
What's more, another special innovation will be released this autumn: the international Qi standard-compatible Non-Contact Charger Compatible Battery Pack and Dedicated Battery Top that allow battery charging simply by placing the device on top of a non-contact charger.
Also, the "au +1 collection" will support customer smartphone options with a great lineup of special URBANO accessories like a cover compatible with tabletop holder charging and a cover featuring a luxurious feel to match the phone's high class design.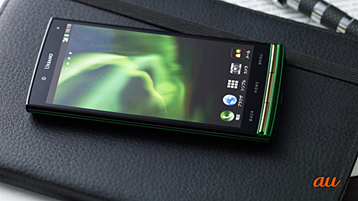 URBANO will go on display at KDDI Designing Studio (Harajuku, Tokyo), au Nagoya (Sakae) and au Osaka (Umeda) from May 21, 2013.
For more details, please see the attachment.