Material Issue: Environment
Initiatives to Conserve the Global Environment
KDDI's approach
Recognition of social issue
In these times when global warming is evident, along with measures to mitigate global warming by reducing greenhouse gas emissions, people are asking about adaptations to global warming where nature and society are changing in response to the effect on the global environment. For companies, making simultaneous efforts to mitigate and adapt to this issue is important.
KDDI's risk and opportunity
KDDI is aware of the risk of global warming and other climate changes, as well as large-scale natural disasters, and is taking the opportunity to mitigate and adapt to those risks. Global warming increases the risk of natural disasters, which greatly increases the chance of damage or disruption to communications equipment and interruption of communications hindering the provision of stable information communication services. Meanwhile, we are taking the opportunity to provide ICT services by using equipment that has a lesser environmental load and developing and proposing services, solutions, and other efforts that reduce the movement of customers. Furthermore, ICT services have become a valuable means of communications during times of disaster functioning as a lifeline that society cannot do without. As such, we are constantly working to provide high quality information communications services 24 hours a day, 365 days a year.
KDDI's management
KDDI has in place the KDDI GREEN PLAN 2012-2016 Medium-term Environmental Conservation Plan based on the KDDI Environmental Charter, and the KDDI Action Guidelines on the Preservation of Biodiversity based on this Medium-term Environmental Conservation Plan. As of March 31, 2016, we are progressing in line with achieving the KDDI GREEN PLAN 2012-2016, barring one of the items.
>Policies
KDDI Environmental Charter
KDDI Action Guidelines on the Preservation of Biodiversity
Key Performance Indicators (KPI)


FY2016 Goal
FY2015 Result
Amount of power consumption
(compared to when energy conservation measures are not taken)
30% constraint
Progressing at pace to achieve this goal
Amount of power consumption per subscriber
(compared to FY2011)
15% reduction
33.4% reduction
Number of Tribrid Base Stations established
100 stations
(FY2012 Goal)
Achieved at the end of March 2013
Achieve zero emissions for retired telecommunications facilities
(* Zero emissions is defined as having a final disposal rate of 1% or less.)
Final disposal rate of 1% or less
Final disposal rate of 0.8%
Recycling rate of used mobile phone material
Over 99.8%
99.8%
Recycling rate of general waste material for KDDI buildings and headquarters
Over 90%
85.7%
KDDI GREEN PLAN 2017-2030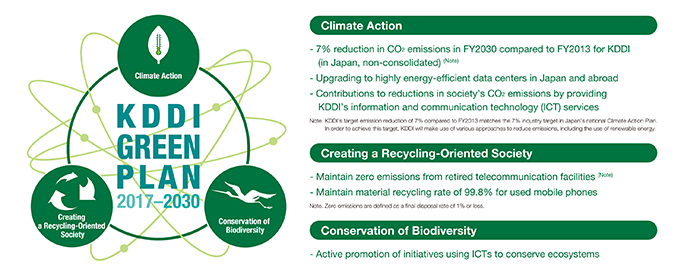 Efforts to reduce environmental load for the supply chain
Transferring environmental technology that considers the environment overseas