KDDI's Approach
KDDI, au, UQ mobile, and povo each have brand slogans.
The slogan for the KDDI brand, "Tomorrow, Together," is the common message for corporate businesses, expressing the brand value effectively.
KDDI has developed the multi brand strategy for the consumer market, taking full advantage of the features of each brand, under the slogans: "Explore the extraordinary" for the au brand, "Simple-wo-minnani" (Simple for all) for the UQ mobile brand, and "Kimini-pittarino-jiyuue, isshoni" (Together to the freedom that is right for you ) for the povo brand.
The slogans are a reflection of our commitment to better understand our customers and continue being the company that people choose. They also express our endeavors to increase the trust we have earned from many companies and to work together as partners. We are making company-wide efforts to promote the improvement of customer experience, which leads to customer satisfaction. Establishing a strong brand and managing it properly is one of our key issues. For the proper management of our brands, we are striving to raise employees' awareness of issues like unauthorized use of trademarks and inappropriate use of logos by third parties, so as not to affect customer satisfaction or bring any disadvantage to society.
Advertising Policy to Establish Our Brands
True to our Company Vision "The company the customer can feel closest to," "A company that continues to produce excitement" and a company "Contributing to the sustainable growth of society," we aim to promote the improvement of customer experience. We aim to understand our customers through all points of contact and provide the best services at the right time.
Our advertising and publicity are strongly promoted as one way to realize this policy.
Our Approach to Advertisement Production
KDDI advertisements are created with the idea of contributing to improved customer satisfaction, based on the rules of the Act against Unjustifiable Premiums and Misleading Representations as well as voluntary standards and guidelines on placement of telecommunications services advertisements, to avoid interfering in the autonomous and rational choice of customers by unfair enticement.
When creating an advertisement, each department shares detailed information about the purpose of the advertisement and the details of the product or service. The created advertisement is inspected at each department before it is submitted to the review department for final approval. As a rule implemented since 2013, advertisements cannot be used without passing the final review. We select media that can be effective points of contact for communication with customers, as well as being cost effective.
FY2021 Violation of Regulations
There were no violations of any regulations related to marketing or communication (the Act against Unjustifiable Premiums and Misleading Representations).
FY2021 Review Results
Number of advertisements inspected by the review department: 6,716
Results of review: Advertisements that might violate laws and regulations were all rectified
Promotion Regime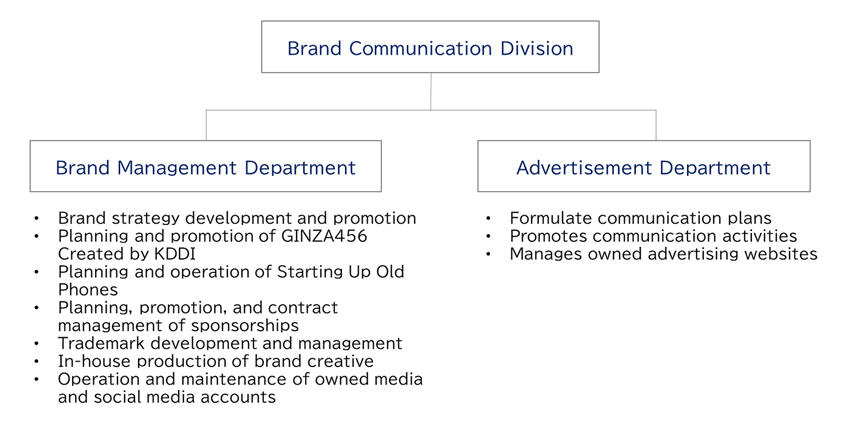 Advertisement and Brand Building Efforts
For the initiatives of au, we rolled out the Santaro TV commercial series from January 2015 and "too sophisticated Takasugi-kun" series from January 2018. In an effort to spread the brand image of au under the brand slogan "Explore the extraordinary," we will continue to run both series with the aim of further increasing our popularity.
For UQ mobile as well, the new UQUEEN series was launched in September 2021 and we are striving to get the brand slogan, "Simple-wo-minnani" (Simple for all) widely recognized among consumers and improve the brand's favorability.
External Recognition
au (Subject: The Santaro TV Commercial Series and the "Too Sophisticated Takasugi-kun" Series)
CM Soken Consulting
FY2021 Commercial Popularity Ranking by Brand:
First Place (November 2020 to October 2021)
*

Listed as Brand of the Year for seven consecutive years
UQ mobile (Subject: The Three Sisters TV Commercial Series, September 2021 - UQUEEN Series)
FY2021 Commercial Popularity Ranking by Brand:
Sixth Place (November 2020 to October 2021)
KDDI (Subject: au, UQ mobile, each povo series)
FY2021 Commercial Popularity Ranking by Company:
First Place (April 2021 to March 2022)
Sponsorship
As one of our initiatives to improve our brand value, we sponsor sports contests, sports organizations and social and cultural projects.
By offering new ways of watching sports and social contribution activities in the upcoming age of 5G popularity and through other forms of support, we aim to create new value and provide excitement for customers.
| | |
| --- | --- |
| Soccer | As a supporting company of Japan's national soccer teams, we support all the soccer teams representing the country, including the Samurai Blues (men's team) and Nadeshiko Japan (women's team). We also sponsor the J.League teams Kyoto Sanga F.C. and Nagoya Grampus. |
| Baseball | We support baseball as a sponsor of the Yokohama DeNA BayStars. |
| Sport climbing | As the official sponsor of the sport climbing category of the Japan Mountaineering and Sport Climbing Association, we support sport climbing and sponsor "TEAM au," made up of five climbers. |
| Motor sports | We sponsor the TGR Team au Tom's in Japan's biggest GT race, the Super GT. |
| E-Sports | E-sports are growing in popularity around the world, and we support the spread of e-sports in Japan as the official sponsor of the Japan eSports Union (JeSU) and as a sponsor of the pro team DetonatioN Gaming as well as various e-sports competitions and events. |
| UNIVAS | We support the promotion and development of university sports as a partner of the Japan Association for University Athletics and Sport (UNIVAS). |
GINZA 456 Created by KDDI
Since September 2020, we have run a concept shop where customers can turn their imagination into reality and enjoy experiencing "Explore the extraordinary" by utilizing au 5G and other cutting-edge technologies. On the first floor, you can see the latest 5G smartphone models, au official accessories and 5G-related items offered by KDDI. On the first basement level, you can enjoy experience-based contents utilizing au 5G and other cutting-edge technologies in a space with a sense of immersion. On the second floor, the latest products of au/UQ mobile are displayed and visitors have access to advice on product purchasing, subscription, and after-sales service.
We hope that customers can feel "Tomorrow, Together" and "Explore the extraordinary" through the brand experience at GINZA 456 Created by KDDI.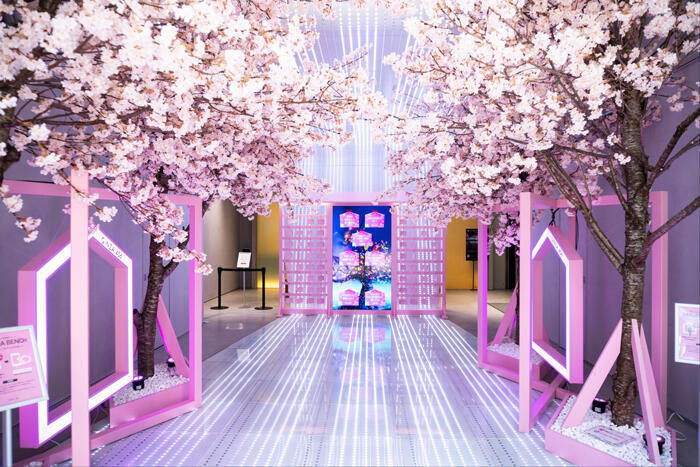 Starting Up Old Phones: A Trip Down Memory Lane
Mobile phone Reboot is an event held by KDDI. Old cell phones that can no longer be turned on are rebooted using a special device to retrieve photos, e-mails, and other precious memories. Memorable photos are printed out and given to the owners. The service is free of charge and also accepts phones that are not au. So far, it has been held 280 times at KDDI directly managed outlets across Japan and at various events. Over 9,100 people have participated (as of July 2022).
We had suspended events since March 2020 due to the spread of COVID-19, but in September 2020 resumed holding some of the events in accordance with the COVID-19 guidelines outside the areas subject to the state of emergency and the priority preventative measures.