Select a plan with basic rates and calling charges that suit your needs!
I would like to get a discount on both basic rates and calling charges!
Direct-access-type phone services provided through KDDI's own network, instead of NTT's communication equipment, are recommended.
For customers who want to install optical fiber communication cables at home!
Low-cost service provided through cooperation with a cable television service!
---
I would like to talk with my friends free of charge as much as possible!
Free calls between subscribers/partner ISP users!
I would like to lower calling charges as much as possible!
Get a discount only by registering a phone number in advance!
---
Compare calling rates of individual fixed line services.
List of calling rates
It's easy to make international calls from your mobile phone. No basic rates!
You only pay for calling time!
KDDI international call services are available not only from mobile phones and fixed line telephones, but also from public phones and IP phones.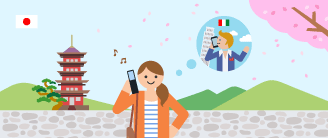 International Calls
Integrated services of "fixed line + Internet" and "fixed line + au mobile phone"
offer value and convenience!
---
Combine home phone and mobile phone. More discounts! More convenient!