Corporate Information

About KDDI

Released Information

Security Portal

Smartphone Security Measures
KDDI recommends precautions and security measures for customers to help you avoid falling victim to cybercrime.
Keeping your smartphone updated
Your smartphone is a useful tool that enables you to connect to the Internet like a computer to view various websites and videos, and install different apps for use.
On the other side of its usefulness, smartphones are also not free from virus infections and attacks targeting software vulnerabilities just like computers. Keep the OS and apps on your smartphone updated to the latest versions to protect them from such attacks.
Updating the OS
Android smartphones and iPhones offer new functional additions, bug fixes, and patches for newly discovered vulnerabilities as OS updates and security function improvements (collectively "Updates").
When an OS update for your smartphone is available, you will see an OS update notification displayed on your smartphone. Make sure to run OS updates.
See below for OS update information for Android smartphones.
Visit the

Apple Inc. website (in Japanese only) for OS update information for iPhones.
Updating Apps
For smartphone apps, you may need to apply security patches to protect against vulnerabilities in addition to updating the app for new functional additions and/or bug fixes. Likewise the OS, keep your apps updated to their latest versions. It is also useful to set up automatic updates for apps in the OS settings so that apps will be automatically updated.
For instructions on how to set up automatic updates, visit the respective Web pages provided by

Google (in Japanese only) for Android smartphones and by

Apple Inc. (in Japanese only) for iPhones. Setting automatic updates for apps may incur communications fee with each update. If you are concerned about communications fees, it is recommended that you set up your automatic app updates to only take place while connected to a Wi-Fi network.
Do not install unauthorized apps―Protect your smartphone from malware and viruses
There is an increasing number of cases where scammers try to lure you into installing malware, guided from fake warnings that appear in phishing and smishing messages or on websites. Once you install malware, you may end up having information on your smartphone stolen or making payments that you never made yourself. To keep your smartphone protected from such danger, do not install any suspicious apps.
You can reduce your risks of being infected with malware by not installing apps from anywhere other than the App Store, Google Play, or other official markets.
Do not install apps from unknown sources (Only install apps from official markets)
On Android smartphones, you can install apps from providers other than the Play store (Google Play) and other carrier-provided official markets. These unknown apps, or apps from unknown sources, may not be sufficiently verified to be safe, and therefore as a general rule, you should not install such apps.
Android smartphones are initially set to block installations of unknown apps or apps from unknown sources. When you attempt to install such an app, a warning will be displayed. You can still install such apps by allowing installation of apps from unknown sources or apps from a particular source, but this setting does not need to be turned on for normal use.
Keep this setting turned off unless you are completely aware of the risks.
On another note, while it is possible for you to click an app file (APK file) attached to a message and install it on your Android smartphone, generally APK files are not attached and sent via emails. In most cases, they contain malware. You should ignore such messages from unknown senders, but even messages from people you known can be impersonated. Unless you can be sure that such files are safe by checking with the sender in person or over phone, it is better not to install such attachments.
Using a strong password
Reports have been made about damage caused by unauthorized logins to online services resulting in theft of money and personal and other important information. Most of such damage have occurred as a result of a simple password being cracked, or using the same password for multiple websites and the ID and password leaking from one of the websites ending up in unauthorized access to services.
In order to avoid incurring such damage, it is important to set a strong password and not share one password across multiple websites.
au ID also offers a fingerprint and face authentication function that allows you to more safely log in with a stronger security, and we recommend the use of this function.
Using fingerprint and face authentication not only saves you from remembering complicated passwords, but also enables you to log in easily without entering passwords. Moreover, because there is no password involved, there is altogether no concern for having your passwords stolen by phishing.
This function is not available with non-smartphone devices, including computers.

Fingerprint and face authentication settings (in Japanese only)
The following link also provides precautions for using the au ID.

For your safe use of au ID and passwords (in Japanese only)
Using the password management app
This is also available to UQ mobile and povo users by subscribing to au Smart Pass Premium.
If you have not registered for au ID, you can register from here (in Japanese only).
Preparing for loss and theft
Smartphones tend to carry important information, and in case they are lost or stolen, the important information may be disclosed or wrongfully used. We provide the information below to deal with such circumstances.
If you have lost your smartphone or had it stolen, use the following links as reference to take action.
Screen lock
Set a screen lock when you purchase a smartphone. A screen lock can reduce the risk of someone else seeing the information in your smartphone in case you misplace your smartphone.
Remote support function (remote lock and location search)
A remote lock function and location search function are provided as preparation in case your smartphone is lost or stolen. Setting these functions in advance is recommended. With these functions, you can remotely lock your smartphone and/or delete data on your smartphone to prevent information leaks in case of loss or theft.
Device data backup
If your smartphone is lost or stolen, you may lose important information saved on your smartphone. There may be cases where you have to delete data on your smartphone using the remote support function to avoid leakage of important information.
It is recommended that you make a backup of your smartphone data so that you can recover data later even if you end up losing the data on your smartphone.
au provides a data storage service that saves the photos, contacts, and other important data saved on your smartphone to au's servers.
This is also available to UQ mobile and povo users by subscribing to au Smart Pass Premium.

Data storage (in Japanese only)
Taking precautions against phishing
Click the link below for information about phishing.

To protect yourself from falling victim to phishing (in Japanese only)
Taking precautions against Web browser warnings
A Web browser may display a warning screen when you access unsafe websites such as phishing websites. If a warning screen is displayed, close the browser page and do not access that site.
Users are not warned on all unsafe websites, so you cannot be too careful even when a warning screen is not displayed.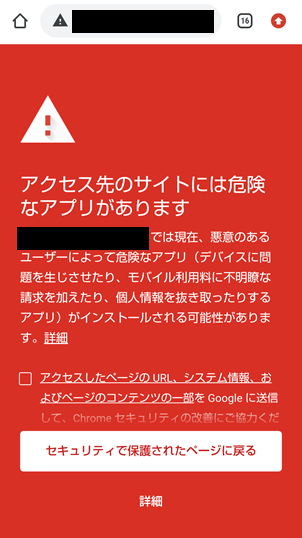 Android Chrome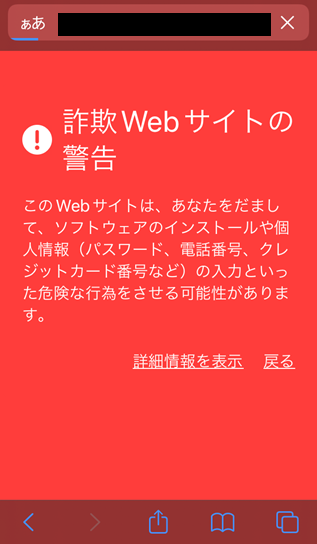 iPhone Safari
Taking precautions against fake warnings
While browsing websites, you may suddenly see a warning message like "Warning―Your Computer Is Infected!" pop up on the screen. This is a fake message intended to redirect you to a page that prompts you to install a malicious app or provide your personal information. When you see this kind of display, close the page and do not further access the page.
Taking precautions against shortened URLs
In SNS, SMS, and emails, sometimes a shortened URL link called short URLs may be used to work around lengthy text size and the resulting reduced readability when the full URL is included.
By clicking the short URL, you will be directed to the intended website, which means that you cannot tell from the short URL which website you will be accessing.
An attacker often takes advantage of this function to direct you to phishing and fraud websites. Therefore, try not to casually access links in SMS and emails that you are unsure of.
Particularly beware of content in text that foments anxiety or attracts interest.
It is recommended that you bookmark the official websites of services you use and access the websites from the bookmarks.
Using Wi-Fi carefully
While public Wi-Fi is freely accessible by anyone, there are Wi-Fi networks that are not sufficiently secure or are set up with the intention to harm users. Therefore, it is important to use public Wi-Fi upon confirming its safety.
Using Wi-Fi services provided by telecom carriers
You can safely use Wi-Fi by connecting to a Wi-Fi service provided by a telecom carrier.
au provides Wi-Fi services at stations and cafés.
Using the VPN function
With public Wi-Fi, many people share the Wi-Fi-network to connect to the Internet. Therefore, a Wi-Fi network without sufficient security leaves a chance of having your transmitted or received data tapped by a third party. As an approach to use Wi-Fi networks safely even in such environments, you can use a VPN to protect your communications. When using a VPN, communications take place over a virtual dedicated network, which prevents data tapping by a third party.

au Wi-Fi Access (in Japanese only) provides a security mode that offers a VPN when using a Wi-Fi service.
Subscription to au Smart Pass Premium is required.
Checking how your privacy information is used
Many smartphone apps collect necessary information during your app use. On the other hand, some apps also collect unnecessary data, which is considered questionable from the user privacy perspective.
When you start an app for the first time, you are shown its terms of use and privacy policy to which you are asked to agree regarding the collection of information from your smartphone. Check for any unnecessary data collection.
Both on App Store and Google Play, the app download pages display an explanation of what data is handled on the app, so it is better to check this information before downloading an app. If the app handles data that does not seem necessary for using the app, it is possible that the app is collecting data inappropriately. In such a case, you should either stop using the app, or if you are continuing use, take appropriate caution during use such as not agreeing to unnecessary permissions.
Checking the privacy information on iPhone apps
When downloading an app from App Store, you will see "App Privacy" displayed at the bottom of the app download screen, and by tapping [See Details], you can view what kind of data that app may handle.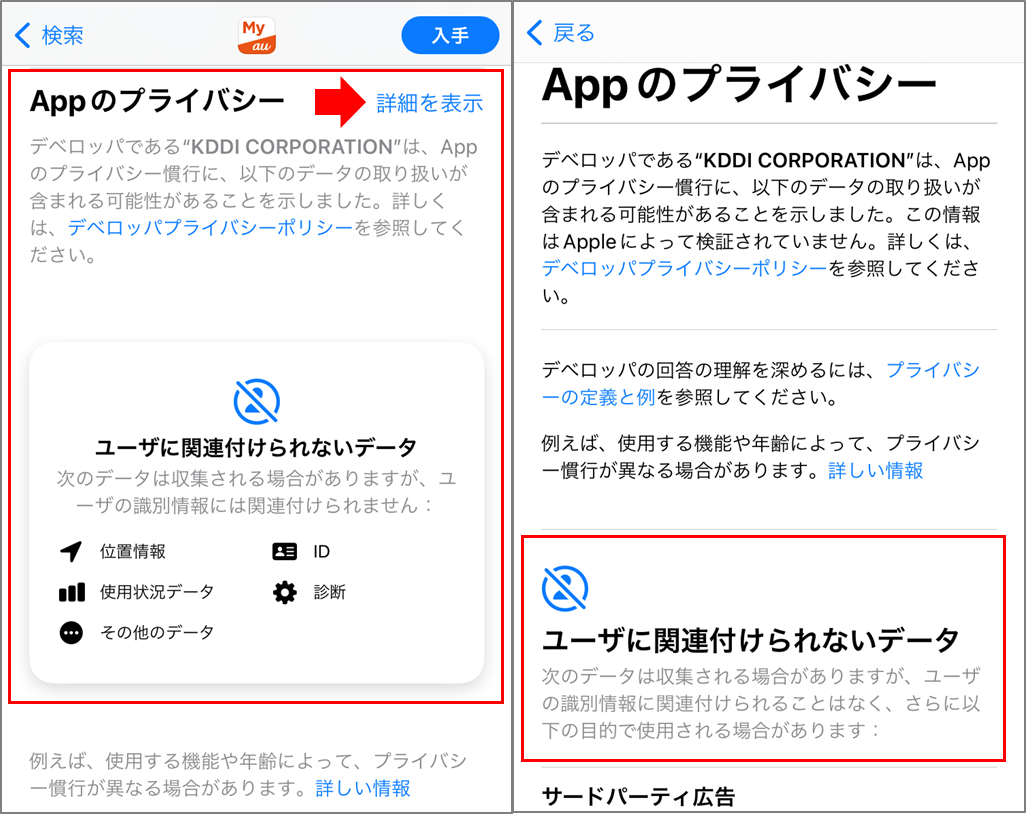 Checking the privacy information on Android apps
When downloading an app from Google Play, you will see "Data Safety" displayed at the bottom of the app download screen, and by tapping [See details], you can view what kind of data that app shares and collects.
Using security software
As detailed below, security software offers a variety of security measures.
Protecting against malware
This function protects your smartphone from installing malware from email attachments and phishing and other dangerous websites.
However, security software is not a be-all-end-all solution and cannot defend against all dangers. Do not put excessive trust in security software-simply avoid accessing suspicious websites.
Protecting against unauthorized Wi-Fi connection
This function detects dangerous Wi-Fi networks and stops your smartphone from connecting to detected dangerous networks.
In some cases, this function may come with a function that performs VPN connection for Wi-Fi connections. For a detailed explanation of VPN connections, see "Using Wi-Fi carefully."
Protecting against unauthorized Web access
This function detects phishing and other malicious websites and displays a warning similar to a warning screen on a Web browser, preventing you from accessing such websites when you make an attempt. This function prevents unauthorized access based on the security software company's information.
Likewise the warnings in Web browsers, users are not warned on all unsafe websites, so you cannot be too careful even when a warning screen is not displayed.
Dark Web monitoring function
Dark Web refers to a part of the World Wide Web that is "underground" and cannot be searched by normal search engines. On the dark Web, cyber-criminals trade personal information such as email addresses, and the dark Web monitoring function checks whether the user's personal information is being traded on the dark Web.
Since different types of security software support different functions, it is necessary to thoroughly check what functions you need before making a selection. Some products are also provided combined with computer security software, which is another option that you can select according to your usage needs.
KDDI offers security software at au Style/au shops.
It can also be purchased at the au Online Shop (see sales page for sales conditions, etc.).


au Online Shop (in Japanese only)
In addition, if you are using an Android smartphone, you can subscribe to au Smart Pass Premium to use Virus Block, which prevents virus infection.


Virus Block (in Japanese only)