Corporate Information

Sustainability (The Environment & Society)

Dialogue Archive

Stakeholder Dialogue in FY2017 (environment)
Stakeholder Dialogue in FY2017 (environment)
Dialogue on the environment
In March 2018, we invite Mr. Keisuke Takegahara, Executive Officer, Deputy Chief Research Officer, Chief Manager, Sustanability Management Office, Corporate Planning & Coordination Department, Development Bank of Japan , to have dialogue about the following theme:
Task Force on Climate-related Financial Disclosures (TCFD), RE100 and other latest trend of decarbonization by governments, businesses, and institutional investors
Opinions about KDDI's long-term vision and material sustainability issues
Participating expert
<Participating expert>
Keisuke Takegahara
Executive Officer, Deputy Chief Research Officer, Corporate Planning & Coordination Department Development Bank of Japan
<KDDI participants>
Dobashi, Executive Officer, CSR Environmental Sustainability,General Manager, General Administration & Human Resources Division
Tanaka,General Manager, General Administration Department, General Administration & Human Resources Division
Torimitsu, General Manager, CSR & Environment Management Department General Administration & Human Resources Division
Participants' titles as at end of March 2018
Decarbonization: risks and opportunities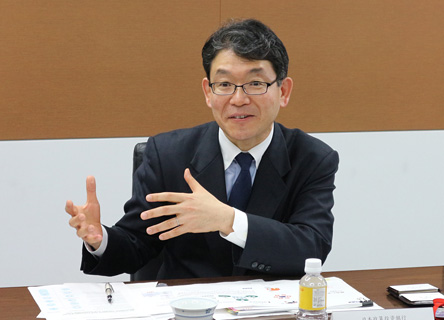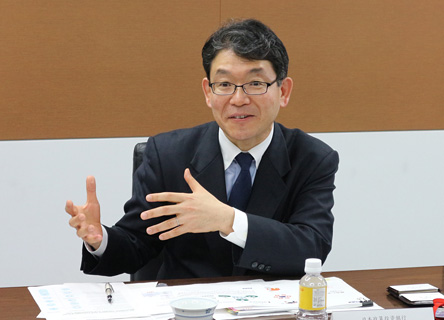 Takegahara: 2015 was a watershed in the shift towards decarbonization. It was the year in which the Paris Agreement and the Sustainable Development Goals (SDGs) were adopted, and the international society has been moving towards the goal of keeping the increase in global average temperature to well below 2°C above pre-industrial levels since then. However, it's clear that this cannot be achieved by continuing "business as usual." We must make a huge leap at some point to get there. A consensus is emerging that businesses too need to have a vision of how to reach the goal and start preparing for that leap.
The final report of the Task Force on Climate-related Financial Disclosures (TCFD) set up by the Financial Stability Board (FSB) calls for the disclosure of climate-related financial risks and opportunities. In the past, environmental information was considered just one of many pieces of non-financial information, but it is increasingly included in mainstream financial reporting as an almost financial topic.
In terms of material issues, as network services become more sophisticated and breakthrough technologies such as IoT become the foundation of the society, the information and communications services industry must first address the question of how to recruit and retain high-quality human resources and how to ensure the security of their databases and network services. On top of that comes the question of how much energy efficiency can be achieved in building the huge infrastructure needed. KDDI's material issues neatly sum up these points and places the environment as an additional pillar around which the company has consistently been working. In Europe, debates are taking place on the requirement to disclose climate-related risks and opportunities in line with the TCFD recommendations on the disclosure of non-financial information, and corporate environmental information disclosure is increasingly important. You could say that KDDI is ahead of this trend.
KDDI: We are reviewing our materiality statement and launching a new list in April 2018, which defines six material issues. This is the culmination of in-depth reviews by multiple stakeholders as well as ESG investors, and we continue to hold the environment as one of the core pillars of our work.
Takegahara: The Ito Review 2.0 [1] published in 2017 says that it is important for companies to demonstrate that their comparative advantages and business models will still be sound in 20-30 years from now, and that this is what long-term investors view as material ESG issues. As the climate change becomes more serious while Japan's depopulation accelerates, it is important from ESG investors' point of view that materiality and KPIs are defined based on what companies regard as keys to maintaining their strengths.
When we examine KDDI's environmental efforts from this point of view, what's important is, again, to look at both the risks and opportunities. KDDI is addressing the risks associated with the transition to a low-carbon economy by disclosing CO2 emissions and presenting a clear vision for long-term reduction, and that's very good, but it should also be making a case for positive opportunities its communications services offer to the users.
Positive impact of communications services
KDDI: Until now, we have focused on reducing the absolute volume of our CO2 emissions and based our environmental targets on this aspect, but we now feel that it is also necessary to set a KPI for contribution to CO2 reductions in the wider society through our businesses. It's much harder to calculate, so the challenge is to work out how we can present this aspect in quantitative terms.
Takegahara: I understand the difficulty in coming up with data, but another way to look at it is: how precise does it really need to be? The key questions are how we can innovate to make the necessary leap, and what vision for the future we can create at this point. It is more important to set a long-term goal, even if it's not quantified, then work back from there to a medium-term management plan; and to ensure that the end point of this exercise is backed up by science. With the TCFD recommendations calling for scenario analyses, I think many concrete case examples will start appearing in the future.
It is natural that more advanced services require more energy. While keeping a clear commitment to reducing absolute consumption of energy, it is vital that KDDI presents itself as an important contributor to efficiency improvements in the wider society.
KDDI: Once that's made clear, then we can say that achieving our business targets contributes to the environment. This makes it easy to understand not only for people outside but also within the company.
Takegahara: As KDDI Green Plan 2017-2030 touches upon, it's not just limited to energy use. For example, used mobile phones provide resources for urban mining. Drones can be used for forest management. ICT can definitely play a vital role in biodiversity conservation. There is no limit to what KDDI can do to provide value to the society through its services. As companies set out to draw their own roadmaps to a zero carbon society, the message sent out by the providers of information and communications services, which form a part of the ecosystem, can significantly impact the scenarios of their users. I would like to see KDDI telling the world that there is a telecom carrier right here in Japan that can inspire other companies to be bold.
KDDI: Today's discussion has reminded us of the need to see environmental issues not just as risks but also as opportunities and tackle them through our core businesses if we are to continue growing and making a difference in the society in the next 20-30 years. We are determined to continue our efforts based on the advice we received today.
[1]

Final report of the Study Group on Long-term Investment (Investment Evaluating ESG Factors and Intangible Assets) toward Sustainable Growth, published in October 2017 by Japan's Ministry of Economy, Trade and Industry