The July 2 Communication Failure and Our Response




On July 2, 2022, starting at about 1:35 am, KDDI experienced a significant communication failure.
We deeply apologize for the inconvenience for those affected.
As a telecommunications carrier, supporting social infrastructure
and providing stable service, we take such incidents seriously.
We have implemented measures to try to prevent recurrences and will make every effort to foster smooth operations going forward.
Outline
General Outline of Communication Failure
Affected time
From July 2 (Sat) 1:35 am (JST)
to July 4 (Mon) 3:00 pm
(Total : 61 hours 25minutes)
Affected area
Nationwide
The number of affected customers
Voice
(VoLTE)

About22.78 million




Calculated based on differences of the number of calls and average calls per person between at normal time and at communication failure

Data
(4G/5G)

7.65 million or more




Difference of the number of location registration for 4G/5G services between at normal time and at communication failure (Maximum value)
normal times: the same time zone one week before the communication failure
Impact on Corporate Customers
Industries and Infrastructure
Logistics
Delivery status updates
Contact with delivery drivers
Automobile
Connected car services
Administrative services
Weather data collection
Water meters
Banking
ATMs outside of banks
Transportation
Wireless transceivers in airports
IC cards for buses
Overview of Communication Failure and Response
Failures caused by maintenance work cascaded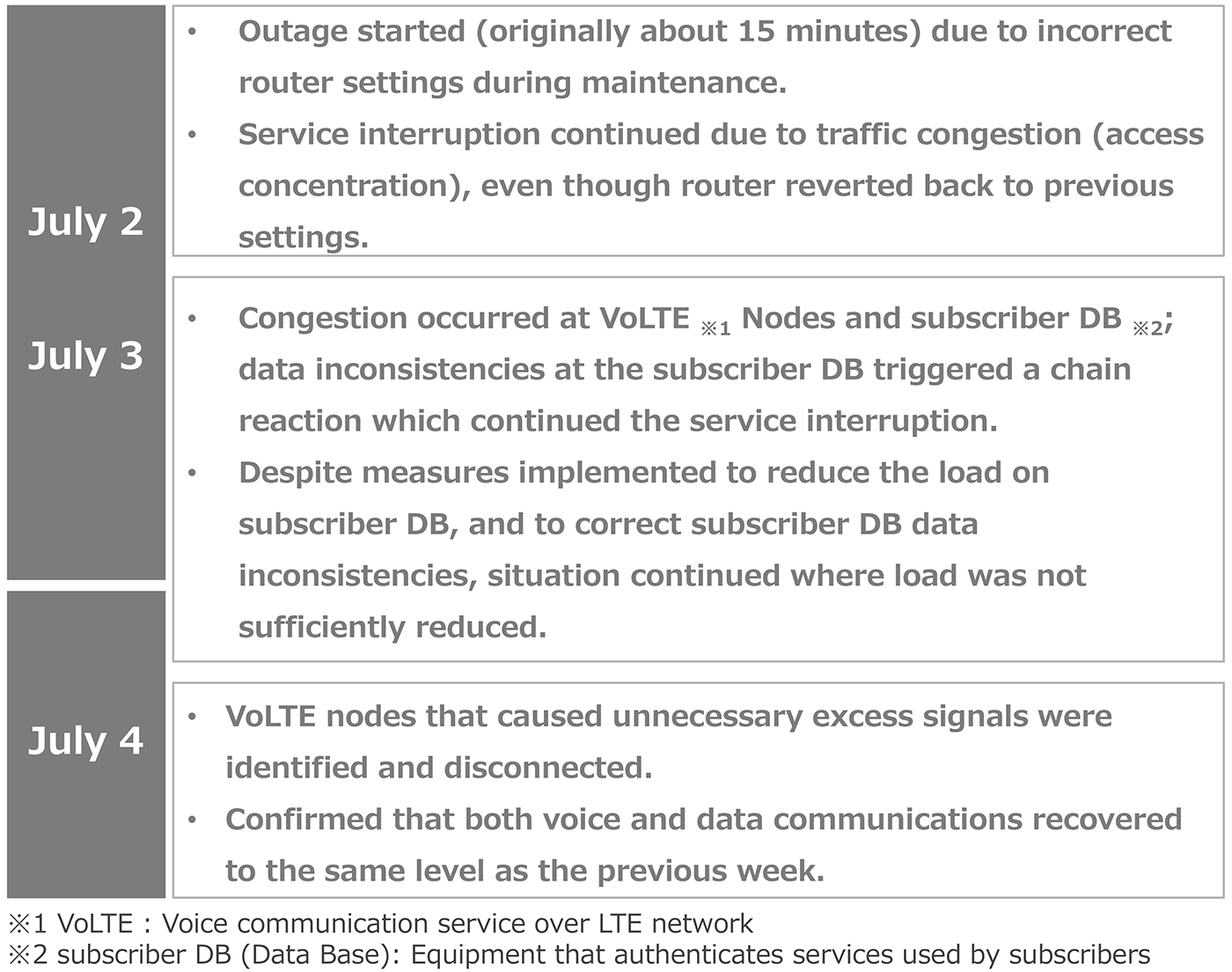 Occurrence and Cause
Overview of the Communication Failure
Large number of location registration request signals generated due to incorrect router settings.
VoLTE nodes and subscriber DB nationwide were congested.

Communicationflow at a normal time
System configuration diagram is as follows.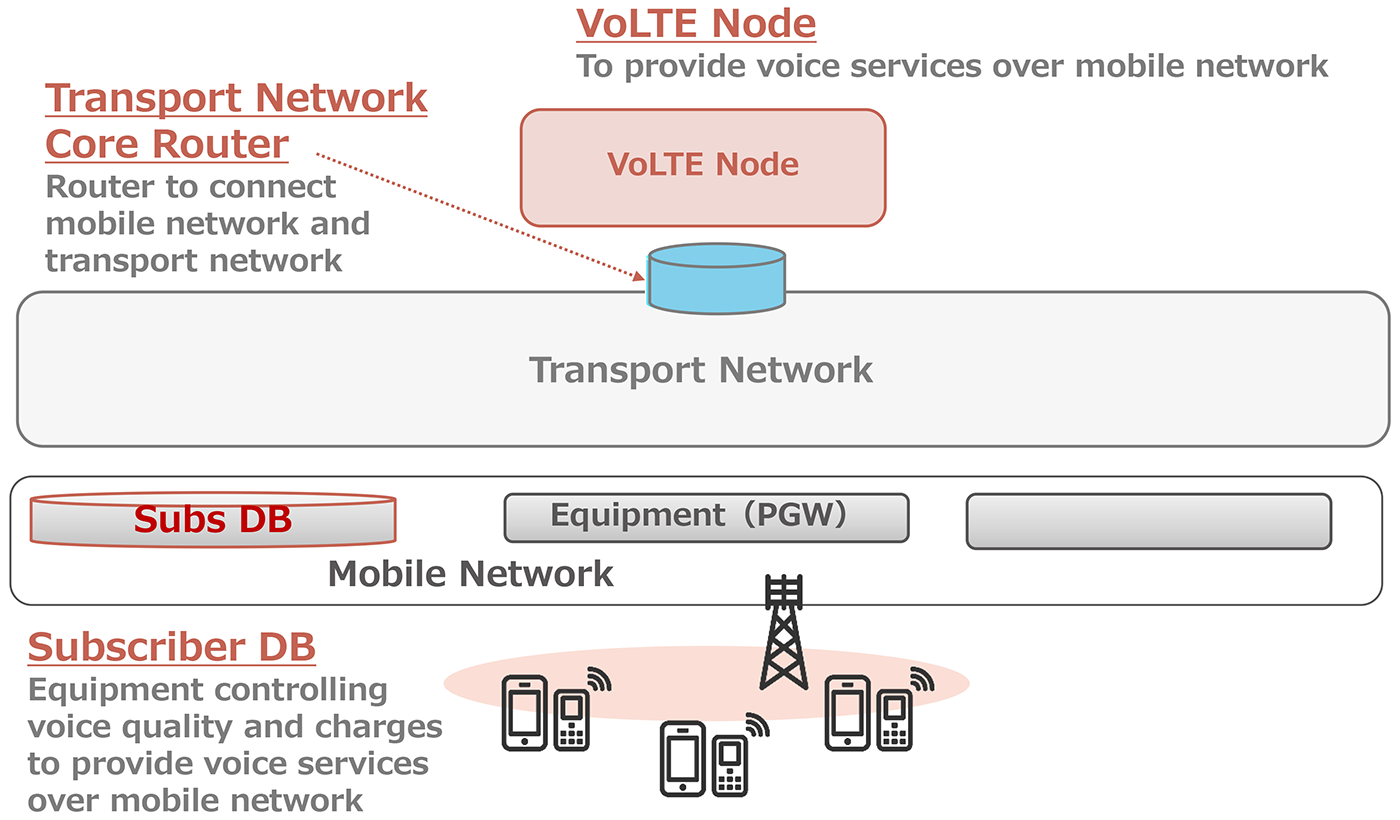 To make voice calls (VoLTE), devices register locations, then outgoing and incoming calls become possible.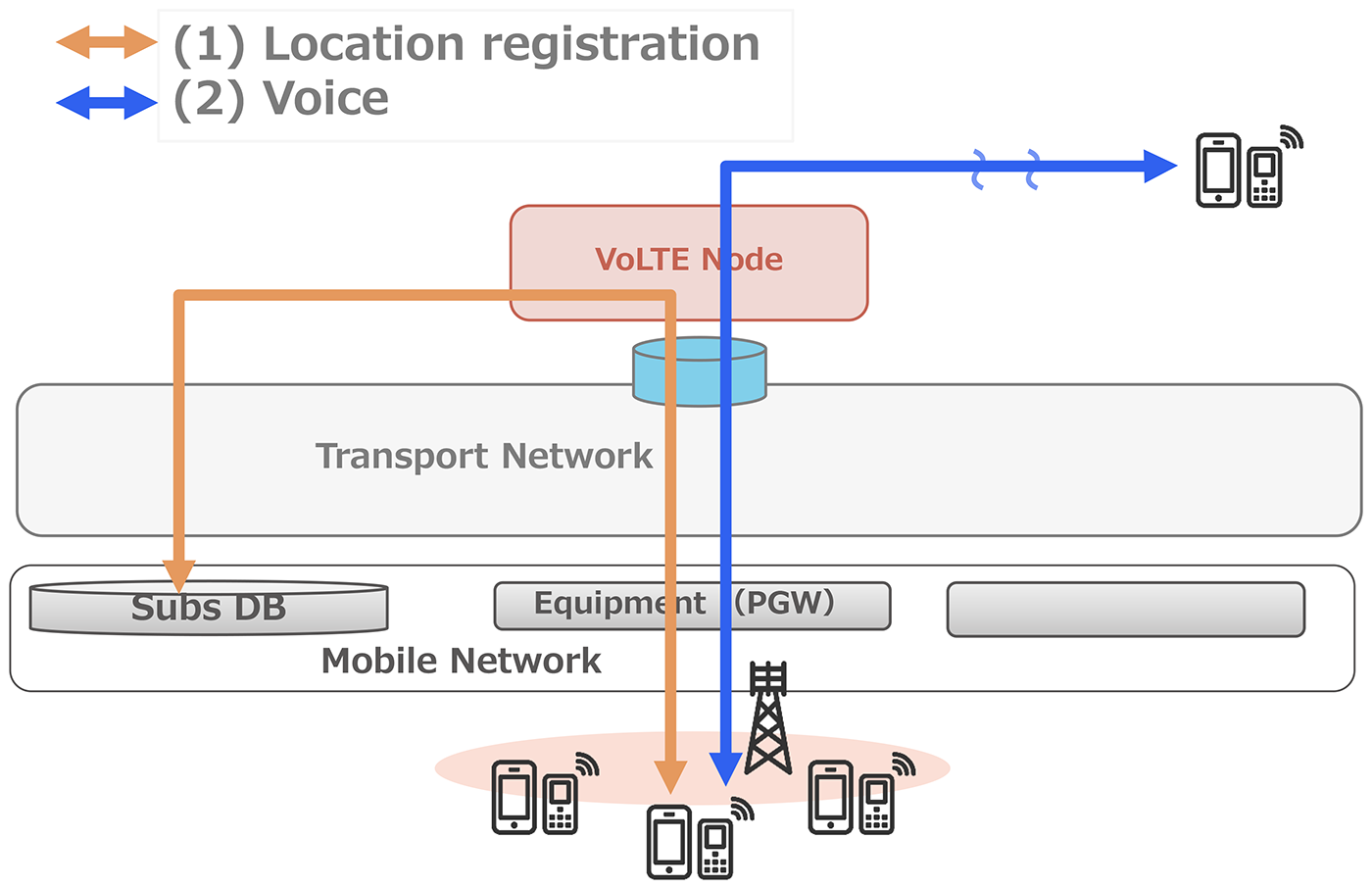 (1) Congestionat VoLTE Nodes
Router incorrectly configured during maintenance of nationwide transport network router in Tama. The location registration※ request was abandoned, rapidly triggering numerous retransmissions in network and Tama's VoLTE nodes became congested.
VoLTE nodes at other sites became congested because distributed processing was performed via the nationwide transport network.
(2) Congestion atSubscriber DB
As the VoLTE nodes and mobile network equipment (PGW※) authenticate at the subscriber DB each time, it was retransmitted, causing excessive signals flows and subscriber DB became congested.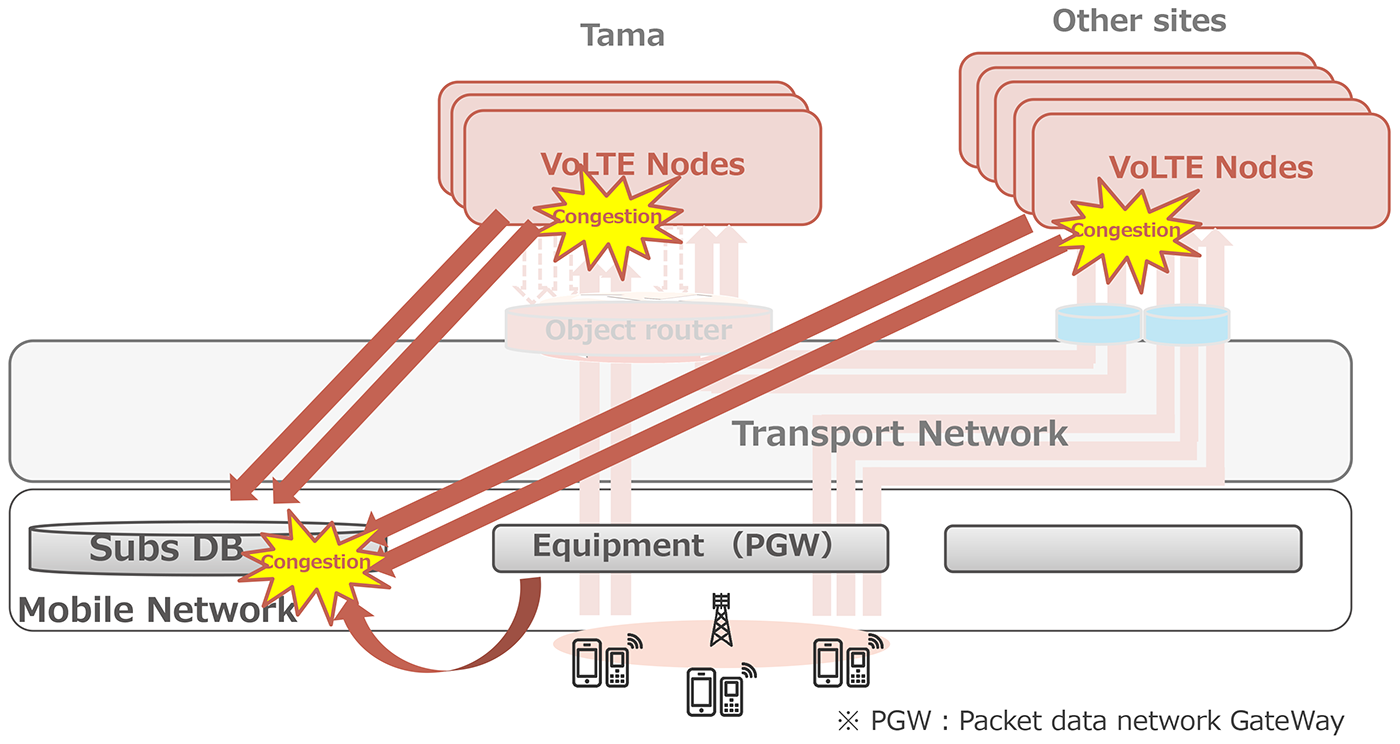 (3) VoLTEnode disconnection (recover)
In order to reduce congestion on subscriber DB, flow rate control was implemented, but congestion was not eliminated. Some VoLTE nodes continued to send excessive signals, so high volume on subscriber DB continued.
The VoLTE nodes (6 out of 18 nationwide) were separated, and thus eliminating retransmission from devices.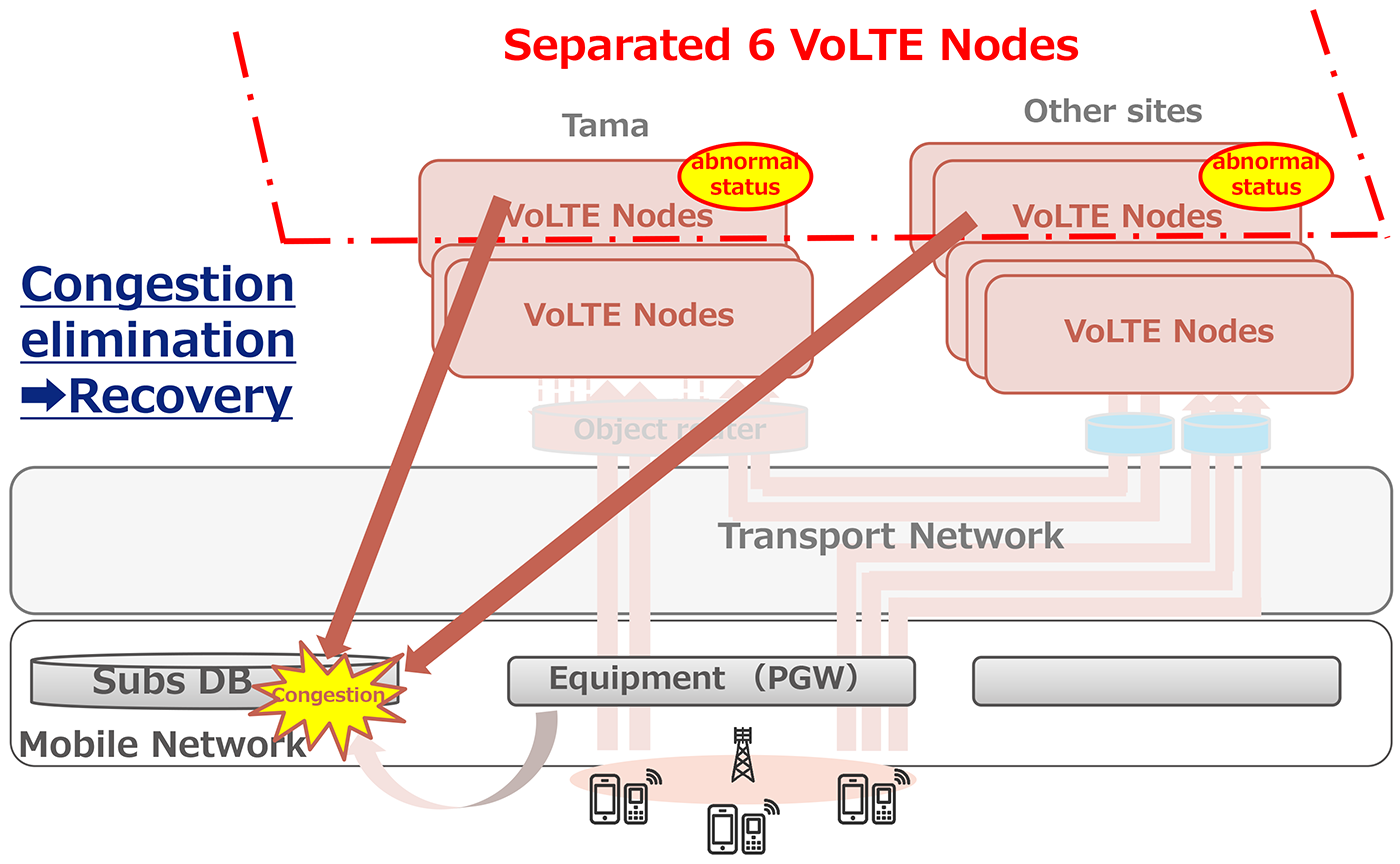 Overview of Occurrence and Cause
Failure occurred due to lack of consideration for congestion caused by an incorrect setting.
Challenge
Reason
During maintenance work
Misconfigured router route

・

Work preparation insufficient(management rules, confirmation items and the way of approval)

Get larger scale
Insufficient anticipation of congestion control

・

Congestion control in irregular network status was not fully considered, causing congestion nationwide

Prolongation
Recovery work procedure in a congested condition

・

No procedure had been established to recover from complex congested condition
Recurrence prevention measures
Improving Quality and Services
Building a cross-organizational system, granting highest priority to network stabilization and improvement of customer relations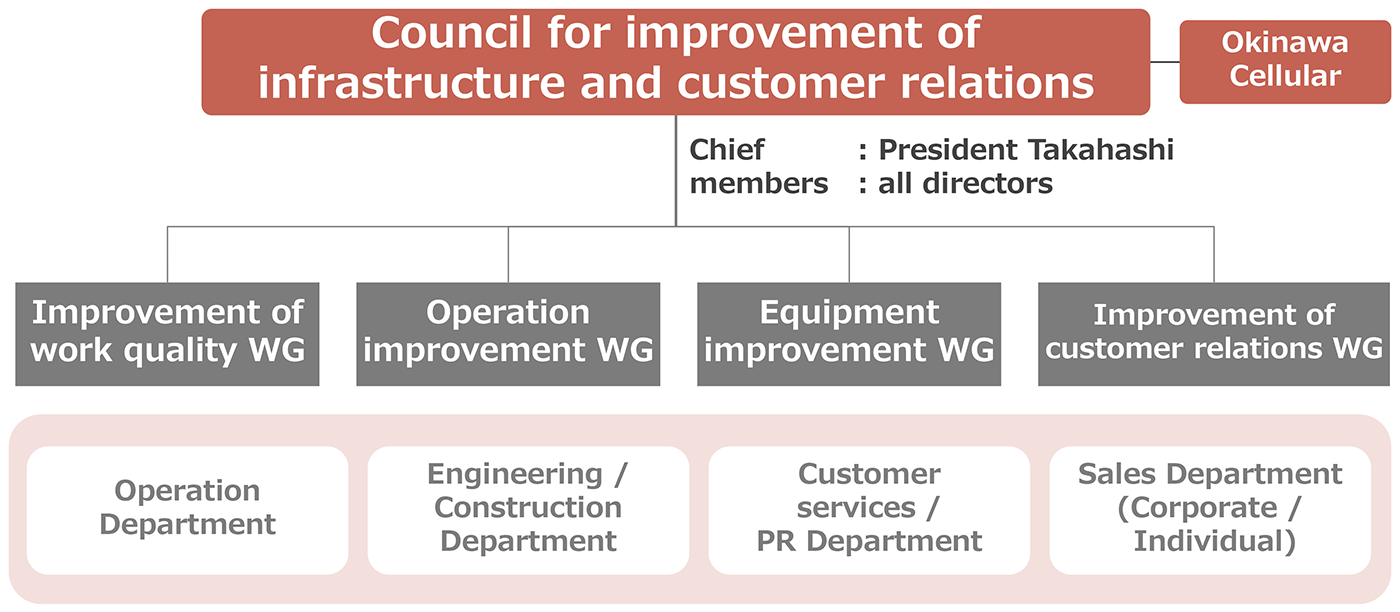 Recurrence prevention measures
Measuresand implementations are in progress for each factors
implementation details
implementation period
Maintenance work

(1)

Review of the procedures for work and project approval

(2)

Project risk analysis of work scheduled to be performed

(1)

July14, 2022 implemented

(2)

July 22, 2022 implemented

Get larger scale

(1)

Development of more elaborate tools to detect congestion at VoLTE Nodes

(2)

Review and inspection of design for congestion control

(1)

July28, 2022 implemented

(2)

Inspection in progress and to be completed by the end of August 2022, followed by plan formation

Prolongation

(1)

Review of recovery procedures when congestion occurs

(2)

Development of tools to recover congestion at VoLTE Nodes

(1)

July11, 2022 implemented

(2)

Planned by the end of August 2022

Announcement for customers
Improvement of information disclosure to customers; timely and appropriate announcements
Partially implemented on July 14, 2022, the rest of parts planned by the end of September2022
Refunds to customers
Details of refunds
Please select one of the communication services you use.
Schedule for sending SMS regarding information on refunds
KDDI has completed sending SMS to customers who are eligible for a refund.
(Click here for how to check your refund.)
SMS notifications will not be sent to customers who cannot receive SMS messages due to use of Home-plus phone (including Home phone) or other reasons, and customers with corporate contracts.


If your mobile phone is out of range, turned off, or cancelled, you may not receive an SMS message.
There will be no link URL or request for customer information in the body of the SMS sent by KDDI regarding the refund. Please beware of fake e-mails and SMSs purporting to be from our KDDI.
Phone number from which SMS sent from KDDI will be sent
Depending on the receiving app, the following will be displayed. These phone numbers are connected to KDDI's customer center.
Customers using +Message
The sender of the message may be displayed as "157" in addition to the above "Information from KDDI" depending on the model you are using.
Customers using mobile phones
If a message received by the +Message app is only partially displayed, the full message can be viewed by clicking on "See More".
Depending on the model you are using, you may need to click "View Full Message" after the above operation.
How to confirm your refund
The amount will be deducted from the billing starting from September [

1] [

2]. No procedures or declarations are required to receive a refund.
You can check your billing statement, Bill on WEB, My au, and My UQ mobile.
[1]

In the case of cancellation or transfer between au, UQ mobile, and povo after the communication failure period, refund will be made according to the payment method used during the communication failure period.
Note that some customers may be asked to confirm their refund method in writing.

[2]

For customers who use Home phone, refunds will be made by subtracting the amount from the charged amount of the cable television company to which they are applied.
Information on refunds
Since povo2.0 has a basic usage fee of ¥0, KDDI will give customers a data topping (1GB/3 days) in lieu of a refund.
Schedule for sending e-mail
KDDI has completed sending the e-mail regarding the data topping (1GB/3 days).
Please enter the "promo code" in the body of the e-mail using the povo2.0 app to redeem.
KDDI will not ask you to enter any customer information in the body of the refund e-mail. The "promo code" is included in the body of the e-mail and KDDI will not ask customers to confirm the "promo code" via a URL link. Please beware of fake e-mails and SMSs purporting to be from our KDDI.
How to receive data toppings
To receive your data topping (1GB/3 days), you will need the promo code that you receive via e-mail.
Check here for information on how to redeem your promo code.
Refund overview
In addition to the policy refund, an apology refund will be issued as follows.
Refund based on Terms and Conditions
■Eligible customers:
2.71 million (KDDI),
70,000 (OKINAWA CELLULAR)
Customers who could not use all communication services consecutively for more than 24 hours, or those who were in the same level of situation, during the communication failure (customers who have made a contract for voice services only)
■Approach
Subtraction of the amount equivalent to 2 days of basic charge of subscription plan from amount billed
Refund with apology
■Eligible customers:
35.89 million (KDDI),
660,000 (OKINAWA CELLULAR)
All customers who have made a contract for smartphones, feature phones, and Home plus phone services(Fixed services with VoLTE) , during the communication failure
■Approach
Subtraction of 200 yen (excluding tax) from amount billed
Customers who use povo2.0 will be given data topping (1GB/3days) instead due to 0 yen base plan.
Customer Notice for Refund
July 29

Announcement of refund approach (Refund on terms and conditions / refund with apology)
Post the announcement on our website

From July 30

Notice of refund approach in newspapers

From mid August

Eligible customers confirmed
SMS notices to eligible customers for refund

Those who use Home plus phone services and corporate customers that cannot receive SMS will check it with invoice after September.

We will not request sensitive information and not include application links in SMS notices.

From September

Subtractions will be applied to bills
We are implementing company-wide efforts
to prevent similar future occurrences
and continue to provide reliable communication services
by taking appropriate measures to support increasing data traffic
in this 5G/Beyond 5G era.
The KDDI Group, united as a team,
will help mold a truly connected society.